EXCLUSIVE
By
Chris Myson
& Victor Vago
In a dramatic transfer window where
Robin van Persie
swapped
Arsenal
for
Manchester United
and
Chelsea
won the race for
Eden Hazard
,
Swansea City
's purchase of
Michu
from
Rayo Vallecano
somewhat slipped under the radar.
Bought for just £2 million from a side who finished 15th in last season's Liga, the arrival of a 26-year-old attacking midfielder who has not been capped at any level for Spain did not raise much excitement amongst the casual Premier League fan.
But observers with a keen interest in the wider European game were quick to point out that Swansea and their new manager Michael Laudrup had got themselves a gem at a bargain price. After all, Michu had scored 15 goals for Rayo in the Spanish top-flight last year.
What we have seen since then has proven those supportive statements to be more than true. Michu scored twice and set up another as the Swans hammered QPR 5-0 away from home on the opening day of the season and since then he has not looked back.
Santi Cazorla, Juan Mata and David Silva are fellow countrymen who have bigger profiles but are making similarly large impacts. The former Celta Vigo man describes the trio as 'greats' who provide him with an inspiration to succeed in the Premier League.
"Arsenal have lost Cesc Fabregas and Robin van Persie who are great footballers, but so is Santi," he exclusively told
Goal.com
.
MICHU'S CAREER SO FAR


2003-2007

Real Oviedo
2007-2011
Celta Vigo

2011-2012
Rayo Vallecano

2012 -

Swansea City

"In the last seasons he has won the respect of all Spanish football and that's why he's a two-time winner of the European Championships and only injury prevented him from being a World Cup winner too.
"To have a space in the national team you have to have a lot of quality and he's got it. He had it in Real Oviedo's youth teams and I'm sure he'll keep showing it with Arsenal.
"I think they've made a great signing in Cazorla and that he'll be an important player throughout the season."
The Swansea No.9 was also happy to sing the praises of Silva and Mata, saying: "David Silva is a similar case to Cazorla. Ever since he joined Manchester City, he's shown the enormous quality he's got and put an end to the comments, especially in Spain, which questioned whether he could adapt to English football.
"With the quality he has he will triumph in any country and of course he's a player to take note of to learn from him. He does a lot of things well and also makes his team-mates play better, which is one of the most difficult things there is in football.
"To tell the truth, there's hardly been time to be in contact with Mata since I've got here. We're both from Oviedo and from Real Oviedo, and I'm sure that if I needed his help he would give it.
"Juan is an incredible player, but as a player he's at that level and even above it. He's a top man in every sense."
Nine Swansea appearances this season have already brought seven goals and Michu has slipped in perfectly to the Welsh club's stylish brand of football. He has also shown some impressive versatility – in recent weeks he has been deployed as a 'false nine'.
He says the Swans' impressive style of football has not come as a surprise to him but dismissed comparisons between them and Catalan giants Barcelona.
"We try to play well, with less direct football than other English teams," Michu said.
"Our fans like it and it has been giving the club good results in the last seasons, so we have to keep using this style and believing that it will give us the results we desire.
"I wasn't surprised by Swansea's style of play. Before joining I got information and, anyway, having a coach like Michael Laudrup it's normal that they play touch football. It was his style as a player and it continues to be with him as coach.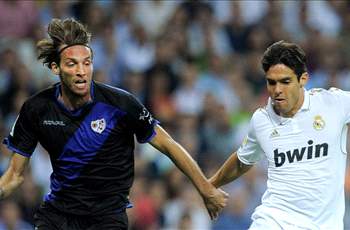 "A lot of the best players in the world are in Spain. Messi, Ronaldo... but perhaps there is more passion in the stadiums in England"
"But I don't think there's any team in the world which can be compared with Barcelona at the moment. The key to their game is in the players they have. To bring together Messi, Xavi, Iniesta, Cesc, Villa, Pique… that's not within the reach of any other club.
"We're talking about several of the best players in the world, the base of the Spanish national team and the best player on the planet right now."
The prospect of playing under Laudrup was a decisive factor in luring Michu to the Liberty Stadium in the summer and the Dane has not disappointed him in his experiences so far.
Michu said: "For me it's a pleasure to be under the command of a coach I admired a lot when he was a player.
"His teams always try to play football, as they did when he was a coach in Spain, and now he wants to transfer the same idea to Swansea. I like that and moreover it's fantastic for my way of playing.
"On a personal level we have a normal relationship in the way that players should have with their coaches. It's a privilege that someone like him has put his faith in me so strongly and that he's allowed me to play in the Premier League.
"His presence at the club had a lot of influence on my decision to join. He called me personally to show me the interest he had in signing me. He knew me well from his time in Spain and I'm very grateful to him for putting his faith in me.
"It's not easy with the current situation to pay large amounts of money for a player who had only played one season in the Primera Division in Spain, but he did so and now it's down to me to return that confidence with my work and, if I can, with my goals."



"For me it is a pleasure to be under the command of a coach I admired when he was a player - Laudrup's teams always try to play football"




- Michu
One of the hottest debating points in football today is whether the Premier League or La Liga represents the best league in the world. Michu has played in both in recent times but would not be drawn on saying which his favourite was, commenting that each division had different key strengths.
He continued: "They are two different leagues and the two most attractive to play in.
"A lot of the best players in the world are in Spain. Messi, Ronaldo, most of the Spanish internationals... but perhaps there's more passion in the stadiums in England.
"It catches my attention how fans applaud a good move or good goal by an opponent. It's harder for that to happen in Spain. English football has grown a lot in the last years and clubs have financial power which is much greater than that of most Spanish clubs, so the league contains more and more of the best players. Both leagues are at a great level and at the top in world terms."
Having only played in his native country prior to moving to Wales to play in the English league, Michu has found some aspects of British life a challenge but says he is enjoying the experience.
"Something I don't master perfectly is the language, but it's just a question of little time for me to do that," he admitted.
"There are several Spaniards in the team and that always helps to make integration easier. What I have more difficulty with is the food. In Spain we eat very well, and in Asturias much better.
"Fortunately, my family tends to come and see me and there's always the chance to remember the good dishes from there.
"The truth is that I'm delighted with my arrival and I hope it continues this way in the future."