EXCLUSIVE
By Martin del Palacio Langer | Goal.com Spain Chief Editor
Radamel Falcao Garcia is one of the most in-demand players in European football. Ever since his arrival on the continent in 2009-10, the striker has not stopped scoring goals. First with Porto, where he was proclaimed champion of Portugal and won the Europa League, and then with Atletico Madrid, where he went on to claim another continental crown in an exact repeat of the previous campaign.
In total, the Colombian attacker, who made his professional debut with River Plate in Argentina, has scored 65 goals in 85 games since moving to Europe, and is considered by many to be the third best player in La Liga, behind only legendary pair Cristiano Ronaldo and Lionel Messi.
Goal.com
spoke to the Colombian striker about his career, his past, present and future, touching on many of the relevant topics in today's game. The result is a fascinating insight into one of the world's finest footballers.
Was the name Falcao chosen because of the Brazilian international from the 1980s?RF:
Yes, my dad was a big fan of Falcao and so, when I was born, he didn't think twice about giving me the name. I am used to people calling me Falcao. My father is also named Radamel, so I like to be identified more by the name Falcao.
What is your first memory of football? Were you one of those kids who always kicks a ball around?RF:
Yes, exactly. From when I got up in the morning I was playing with the ball, for as long as I could.
I tried to sneak away any time I could and play with my friends. I did everything to play football.
You were very young when you went to River Plate, and you hadn't even made your debut in Colombia. What was it like to live far away from home at such a young age?RF:
It's true. I went alone. The first four years I was in a residence at River, where they house players who aren't from Buenos Aires. That's something that helped me mature and grow both in a sporting sense and on a personal level. I lived with [Javier] Mascherano for two years and with several players who became professionals in Argentina.
Why do you think you were able to grow and triumph at River, when other players weren't able to?RF:
I think because of the discipline and commitment I had with myself and with football. That, in a given moment, is the difference between a player who has talent and one who is disciplined, consistent, perseverant.
But then the team fell apart ...RF:
The last years at River were hard, I couldn't enjoy my time as River were crumbling as an institution. Things were not right with the structure of the club itself, not just the football. Then one thing led to another and the team went broke and were relegated. It was hard for me even watching it from afar because I love River and it is more than a football club for me.
There were lots of rumours about a move to Europe, but when you left it wasn't to one of the strongest leagues. What made you decide to join Porto?
RF: There was a time where I felt I had completed a cycle at River and I really wanted to experience Europe. Porto offered me that opportunity and were very interested in me. As I realised when I arrived, it is a very good institution, very structured and very successful, which gives players the chance to grow and really helped me. It was a season that marked my career, how many titles we won and the importance of them. It is a season that I will never forget and neither will the people, the fans of Porto and world and European football.
Many Latin American footballers struggle to adapt to European football, but you were quite the opposite. How did you manage to acclimatise yourself so quickly?RF:
Fortunately, I adapted very quickly to European football. First in Porto and then when I was transferred to the Spanish league, which is the most competitive in the world. I had no problem fitting in the teams, with my team-mates and to understand the system that both clubs used. I have been able to deliver results and be effective for the institutions I have played for. I think Porto gave me everything I needed to showcase my skills, so I just had to focus on giving the team the best of my potential. They put me in the right system and in the right position, they did what they had to do to simplify my efforts and help the team.
FALCAO'S FIRST SEASON AT ATLETICO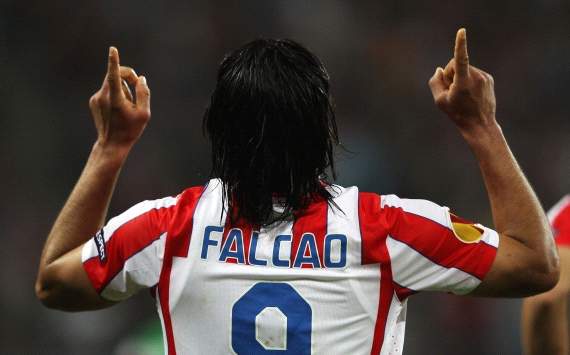 | | | | |
| --- | --- | --- | --- |
| GAMES | GOALS | LEAGUE FINISH | HONOURS |
| 50 | 36 | 5th | 1 - EUROPA LEAGUE |
Again, you were linked with many clubs, but you ended up joining Atletico, a big club with lots of tradition but one which had gone a long time without winning one of the top titles ...RF:
After very successful years in Porto, I thought it was the right time to make the leap to a major league. I wanted the challenge of coming to Spain and playing in one of the best leagues in the world with the best players. It was a challenge for me. Atletico gave me the chance to come, to try to fight with the bigger teams, to try to reach the Champions League, to win the Europa League again. We managed to do well in Europe but were not good enough in the league. I think, all in all, it was a positive first year.
Could you have joined an even bigger club? Were there offers?RF:
There were some offers, from different parts of Europe. But in the end I chose Atletico because they were the ones that showed me that they wanted me and made a big effort to bring me.
Where does your 'Tiger' nickname originate from and what was it like to pose with one?RF:
They call me the Tiger from my time at River. A team-mate thought it represented my style and started calling me that. It stuck, to the point that last season I had to pose with one. They asked me to touch it, but I couldn't, it was frightening! I caressed a cub though, it was a great experience all in all.
Atletico struggled to perform in the key moments prior to your arrival, but you were fundamental in last season's Europa League success. Do you think you have changed the mentality of the club?RF:
Everywhere I go, I am my own fiercest rival, I push myself to the maximum, set new goals and put pressure on myself to excel. But I also realise that top clubs do not give you much time and you have to deliver immediately.
I imagine it wasn't at all easy to arrive at Atletico in the shadow of Diego Forlan and Sergio Aguero, who both left last summer ...RF:
I knew that Forlan and Aguero were idols here, but I didn't think I was coming to replace them or do what they had done. I just wanted to leave my mark on the institution, help them with goals and help the team improve in relation to the previous season. I always put pressure on myself and that helps bring out the best in me. I knew that if I did the right things that would somehow help the team make things better than how they were when they were here. But I wouldn't think of making the fans forget them because I think they are great players who did so much for the institution.
Follow Martin del Palacio Langer on