EXCLUSIVE

By Kengo Nakamura
Translation by Dan Orlowitz
Despite the overlap with our World Cup qualifiers, I've been following the Euros as much as I can. Aside from a wide-open Group A and Holland's exit, the results in the group stage felt appropriate. I learned something watching the quarter-finals: defensive teams struggled. All four semi-finalists won by retaining possession and attacking. I think this is going to become a big part of how football is played in the future.
Greece won in 2004 through their defending, but at that time other teams couldn't break their wall down. After that, tactical focus shifted to defence, and that's how Italy won the 2006 World Cup. Defence is important in tournament play, but recently passing football has emerged to overcome it.
"Even Italy has changed directions in a big way under Cesare Prandelli, unveiling an aggressive style of passing football"


- Kengo Nakamura
Even Italy have changed directions in a big way under Cesare Prandelli, unveiling an aggressive style of passing football. I enjoyed watching Italy play with a 3-5-2 formation; it's not too different from when they spread out in a 4-3-1-2, but Daniele De Rossi and Andrea Pirlo's vertical play is really interesting. Even if Pirlo is stopped, De Rossi can immediately create chances when he plays forward. Christian Maggio and the other defenders go wide, so even if the two strikers failed to use the flanks, they can still succeed on the attack.
Pirlo is just one player I've paid close attention to. Some people said his glory days were over, but then he moved to Juventus and resurrected his career. In a league that's good at pinning down attackers, he couldn't be stopped. He's always looking for one-touch passes, is great at reading the run of play and positioning himself on defence.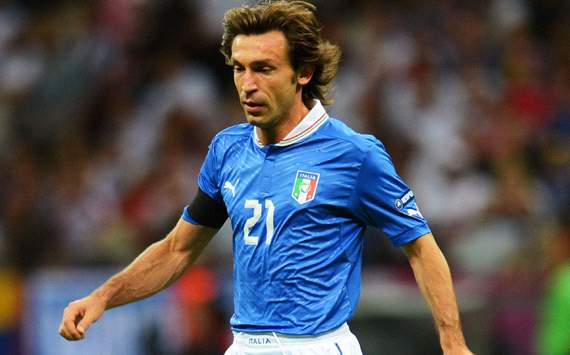 Peerless Pirlo |
The Juventus star's superb play has been a highlight for Nakamura
His penalty kick against England was incredible, too. Mentally, Pirlo was unstoppable; I could never take on that sort of strike. You could tell from Ashley Young's attempt that England took an emotional hit.
Germany also shone in attack, with lots of fast players who can move quickly up and down the pitch while delivering quick passes. Their players don't change their positions often, but Mesut Ozil and Sami Khedira in particular are adept at such changes.
Germany didn't have as much depth as Spain, but their passing sense and timing were similar. Ozil is incredibly talented, and Germany can focus their attack on his position. Khedira works very well with Schweinsteiger too; overall there just weren't many holes in that line-up.
On the other hand, Spain are a very 'heavy' team. And that could be why neither of their central forwards fit in well enough. If they can use their second line of attack to break through the opponent's defence like they did against Croatia, Spain can use a striker-less system. But it doesn't work when their players are pulled back and can't break away. Spain's style of play is to pass the ball around the centre of the pitch for 90 minutes and try to score at the end.
"[In Holland] there were too many stars and not enough role-players"



- Kengo Nakamura

I should also discuss Netherlands. One of their problems could be that they simply have too much talent. They had top scorers from the Bundesliga and Premier League; even Rafael Van Der Vaart was only a substitute. There were too many stars and not enough role-players. But as a coach you have to choose players with proven results so it's a tough call to make.
Before the tournament began I wanted to watch Germany play Spain, but I also thought Spain-Italy would be a good match. Italy are strong when they're overcoming a scandal; look at 2006. In the penalty shoot-out against England, you could see how they banded together.
They played 3-5-2 in their first match against Spain but if they play 4-3-1-2, I wonder how they'll do ... will Italy defend or push forward? If Spain create their rhythm then nobody can stop them, but deciding how to manage a midfield can have a huge effect on your strength. Can they be patient as a team? If they play as they did against Portugal, they'll be in with a shout to win.
The substitutions will also be critical. Spain have Pedro, Italy have Antonio Di Natale, who scored a goal against Spain in the first match and has a good reputation in such decisive moments.
Whatever the case, I'm sure it'll be a great match.

This is the second in an ongoing series of columns written by Kawasaki Frontale and Japan midfielder Kengo Nakamura. Stay tuned for more thoughts on football from around the world from a true connoisseur!
Follow Goal.com Asia on

and


for the latest in Asian footballing news, features, and analysis