EXCLUSIVE

By Rob Stewart
Former
Tottenham
and
Chelsea
midfielder Micky Hazard believes Spurs will be able to seek inspiration from their most recent meeting with their London rivals when they face each other in Sunday's FA Cup semi-final at Wembley.
Harry Redknapp's team may have gone off the boil in the Premier League of late but Hazard thinks that the way they approached the 0-0 draw at Stamford Bridge last month can be a blueprint for success.
"If you look over the course of a long season and you look at what has worked and what has not worked then you have to go with what has made you good and if you look over the few weeks, or certainly the last seven or eight weeks, you will see that our results have really dropped off when we have played two strikers," he said.
"What I feel is that Harry has to revert back to is having one up front with Rafael van der Vaart in the little space in behind the lone striker – the hole – and then have Luka Modric and Scotty Parker behind that.
"Hopefully Harry has learnt a lot from the second half at Chelsea when they really should have come away with more than a draw because they had enough chances to win the game. So that would have been a great tactical learning curve for Harry in that in the second half we pressed on a bit and squeezed the play and were able to get at their defence more and put them under pressure."
Here Hazard - who helped Spurs win the FA Cup in 1982 - gives Goal.com readers the lowdown on where he thinks Sunday's showdown will be won and lost.
Emmanuel Adebayor vs John Terry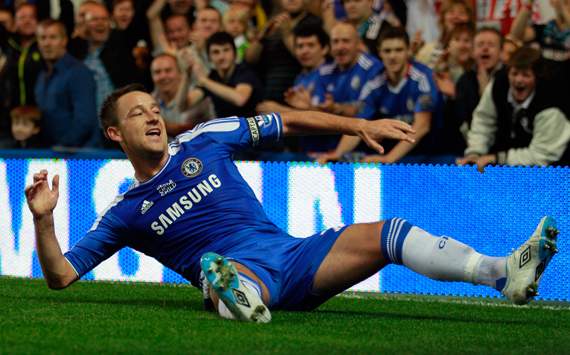 "Chelsea will have to work out a plan to stop Spurs because if Spurs get going they will be very difficult to stop because pace is very hard to cope with if you have got the creativity to back it up," explains Hazard.
"Chelsea are very experienced and they have got a lot of know-how. They have been here at this stage of the season when the pressure is on and they need to perform and they have done it.
"On the other hand the Spurs team haven't been in this situation for quite a while where they are going for Champions League football and the FA Cup. It will be interesting to see how Spurs cope with the pressure of the game whereas with Chelsea it won't be a problem for them.
"If I was in charge of Spurs I would revert back to what they have had success with already this season because it suggests that what you were doing in that period was right.
"We were scoring goals for fun and generally regarded as the best team in the country and that was when Adebayor was up front with Van der Vaart just off of him. I would be looking for what was fruitful earlier on in the season – what system, what style and what has enabled us to get the best out of all our players.
"For me Adebayor up front, Van der Vaart sitting just behind with Lennon and Bale out wide with Modric and Parker sitting in front for me that is the shape that has brought about the most success for us this season.
"Together with Didier Drogba and Frank Lampard, John Terry has been at the heart of Chelsea's success over the few years. I know he has cracked ribs but I doubt that will stop him playing which says it all about how much he wants this. He is key to organising the defence and is dangerous at set-pieces as well."
Gareth Bale vs Branislav Ivanovic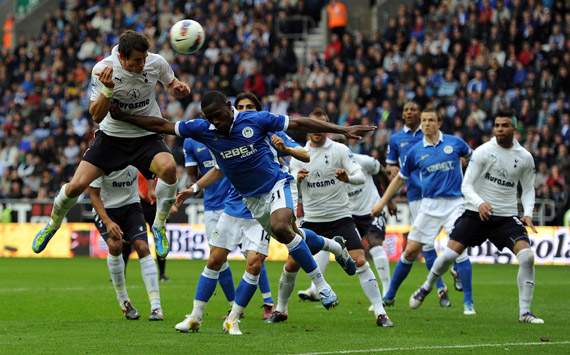 "If Spurs are going to be beat Chelsea for starters they need all their players fit and available and secondly they need to put their best team out on the park and thirdly you have got to hope that the individuals you select go out and perform," he added.
"With that in mind they need to get Gareth Bale attacking Chelsea down the left and Aaron Lennon down the right and with that phenomenal pace they will scare defenders. When that happens defences drop deep to compensate for their own relative lack of pace so they can close the space that they have to run into behind the back four.
"The more the defence drops back because they are afraid of the pace of Lennon and Bale the more Rafael van der Vaart and Luka Modric come into play because with their creativity, the more space they have to play in, the more chance they have to really make things happen."
"There is no doubt that the suspension of Branislav Ivanovic will be a blow to Chelsea because he has probably been their most consistent player this season and Spurs are bound to target his replacement with Bale marauding down the left and every now and again switching with Lennon."
Frank Lampard vs Luka Modric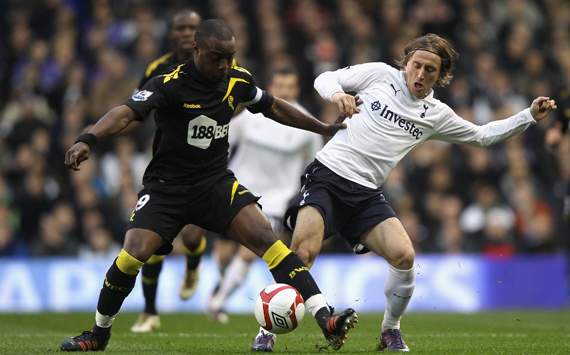 "Chelsea are a very good side and on their day they are capable of beating anyone. But with this Chelsea team you have got to get at them. You can't just sit back and let them play. If you get at them then you have a chance. If you let them play then they are capable of beating any team in the world," adds Hazard.
"Whilst ageing Frank Lampard is still key to Chelsea's hopes of success. People like Frank are quite rightly still very well respected throughout the club and they are still very good players and they still have enough left in them to cause lots of problems or inspire the people around them because that is ultimately what they do.
"It is not about whether they get a grip of the game and run it for 90 minutes it is about what they make the rest of the players around them do. They provide the inspiration that the others feed off. That is why they are so important to Chelsea and their re-building programme. They are part of the old guard but you don't dismiss the old guard before you have rebuilt. They can play a key role in helping the other players that come in. That is what I would say their job is. They are players that Spurs will have to really look out for because they are major threats.
"That will be a key area and for me Modric will be a key play in the centre of the park. He really is the main playmaker. He is blessed with superb vision, a great range of passes and he also has a good shot on him plus he works his socks off for the team."
Ledley King vs Didier Drogba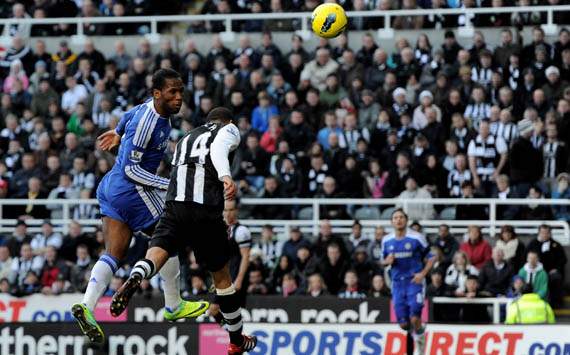 "On his day, Didier Drogba could win any match on his own. He has probably been the best lone striker the Premier League has ever seen. He is brilliant at holding the ball up and bringing team-mates into play but he runs his heart out for the team and plus he is a constant threat in the penalty box both on the deck and in the air," he added.
"Spurs have missed Michael Dawson but William Gallas will have seen him in his prime at Chelsea so he will know what is coming his way and he will have to use all his experience to keep him under control.
"The back four needs to defend a lot higher up the pitch because if they defend too deeply then they can not get enough support through to the front man so it is important that, as we saw at Liverpool away and Chelsea away, that the minute we started to defend higher up the pitch as we did against Swansea at White Hart Lane the rewards were there for all to see.
"That is that when we get the ball we don't have to pass the ball five or six times to get further forward because we are already there and secondly we are in much better positions to support balls into the front men and then there is movement off those balls. So it is important that the defence squeezes the play a lot more than they have done recently.
"When we did it against Chelsea what happened is that the midfield was pushed further forward and that meant they did not have to make too long a run to get in support of the front man and he has got people to lay the ball off to rather than hold it up for three or four seconds until everyone gets there.
"If the play is on the halfway line you are looking for your goalkeeper to be on the penalty spot really. If someone scores from the halfway line it is a wonder-goal and you have to hold your hands up and say okay that was unbelievable. So the goalie is key. If he plays higher then it pushes the defence higher and so on. It is a combination of the goalie and the defenders to set the tone by not playing too deeply."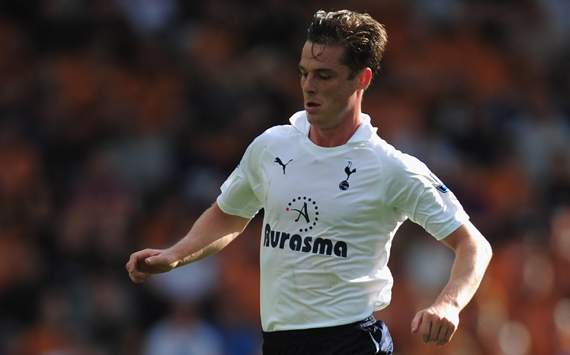 "Chelsea have played really well over the last few weeks and they have had some fantastic results, particularly in the Champions League quarter-final second leg against Napoli," says Hazard.
"So they will be going into the game full of confidence. But there will be a bit of trepidation as well because of the way that Spurs really got at them in the second half at Stamford Bridge. They were a bit vulnerable to the pace and creativity in the Spurs team when they were in full flow.
"It is up for Spurs to go for it but I have got to say that I have been very impressed with Chelsea of late. Roberto Di Matteo has reverted back to the old guard as such and results have turned in their favour and they are capable of winning the Champions League. I really believe that.
"They have got a tough draw in the semi-finals with Barcelona but their style, organisation and discipline and their ability to defend and fight when they are not playing well and their ability to nick a result when they are not in control of the game will stand them in good stead against Barcelona."
"There is no doubt about it that this is one extremely tough game for both Spurs and Chelsea, neither of them will have been pleased with the draw because, for me, they are the two best teams left in the competition.
"There was a bit of sadness for me when the draw was made because they are my former clubs and I have a lot of affection for Chelsea and obviously Spurs are in my heart. I didn't want either team drawn against each other until the final and then I wouldn't have to make a decision until then.
"It will be up to Scotty Parker to protect his back-four. He wll need to play in a very disciplined manner to knit play together between defence and attacking players but also to shield his back-four when players like Ramires bomb forward."