EXCLUSIVE
By Alexander Brinkmann
From Westfalenstadion to Stamford Bridge, millions of football fans are anticipating the next move of Borussia Dortmund attacker Shinji Kagawa, whose contract is set to expire next summer. Rumours continue to swirl over whether the Japan international will extend his current deal past the 2012-13 season, or force a move to the Premier League or La Liga.
While media have been quick to speculate on potential destinations, the man who may hold the key to one of the summer transfer season's biggest decisions is not ready to reveal his hand quite yet. Thomas Kroth, executive director of management agency PRO Profil, would not comment on where his star client will be playing next season, but instead provided valuable insight into the recent influx of Japanese players into Germany in an exclusive interview with
Goal.com.
"Shinji Kagawa is an outstanding player who would fit in any league"



- Thomas Kroth

"I can give no status updates and cannot make any speculation," Kroth said when asked about Kagawa's ongoing negotiations. "I'll have to stick to my principles here.
"[But I'll say] only one thing: Shinji is an outstanding player who would fit in any league."
Kroth would know; for much of the last two decades he has emerged as a dominant force in both German and Japanese football. As many Bundesliga teams look to capitalise on the abundance of talent and - for the moment - low transfer fees to be found in the J-League, the former midfielder explained how he became one of Japan's most influential agents.
"First, I brought players from Germany to Japan," he reflects. "I was invited to represent [former Koln attacker] Pierre Littbarski and that was my first contact with Japan. Then I brought Michael Rummenigge, Reinhard Stumpf and Ned Zelic to Japan.
"During my travels, I quickly realised how good Japanese football is. In 2002, in bringing Naohiro Takahara to Hamburg, I helped complete my first transfer of a Japanese player to the Bundesliga."
Just the third Japanese player to play professionally in Germany, Takahara blazed a new path for his countrymen in six seasons with Hamburg as well as Eintracht Frankfurt. His 11 goals in the 2006-07 season were the high water mark for Japanese players in top flight European leagues, at least until Kagawa shattered that record with his 12th goal of this season two weeks ago.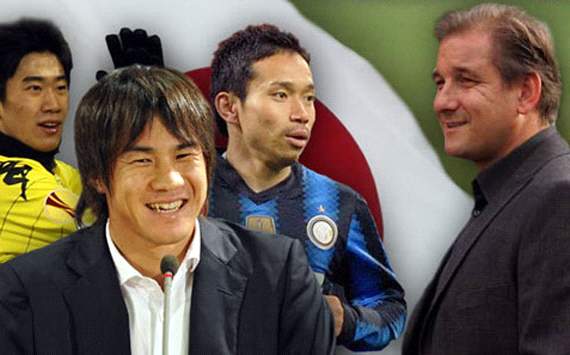 Japanese talent | Kroth (right) alongside some of Japan's most recognisable stars in Europe
The recent success of Japanese players in Europe does not surprise Kroth, who has been involved with the J-League since its first year.
"The J-League certainly is at a higher level than the leagues of neighbouring countries, but there is a little luck involved," the agent admitted. "Takahara and Makoto Hasebe and ultimately of course Kagawa have unleashed a wave of enthusiasm that has brought many Japanese players to Germany."
Although Kroth may potentially be in the process of engineering a blockbuster move to England for Kagawa, he believes that his homeland of Germany is the best possible home for Japanese talent.
"The Japanese mentality is very similar to [that of] Germans," he proposes. "So most Japanese in Germany feel comfortable very quickly."
But while over 20 Japanese players currently ply their trade in Europe, some have found the transition difficult. Tomoaki Makino and Kisho Yano both returned to Japan this winter after unsuccessful stints in Germany, while starlet Takashi Usami has failed to make progress with Bayern Munich since joining the club on loan from Gamba Osaka in July.
"Above all, I always warn against overdoing it with transfers from Japan. Not every Japanese talent fits into the Bundesliga," said Kroth in response to a question about the perils of young Japanese players leaving for Germany too early and causing a 'talent drain.'
"This is not a bazaar, where you walk by and pick out bargains. You have to spend time with players who come from a different culture"



- Thomas Kroth

"This is not a bazaar, where you walk by and pick out bargains. You have to spend time with players who come from a different culture. You have to handle the situation gently, reach an understanding and then decide whether their personality, maturity and talents fit."
Kroth also remained coy on whether or not players such as Hiroshi Kiyotake and Hiroki Sakai are close to making the jump to Germany.
"It's too early to talk about it," the 52-year-old dodged. "What is certain is that are still a few interesting players in Japan that in the future we will see in the Bundesliga."