EXCLUSIVE
By Jong Tae-Se
Translation by Dan Orlowitz | Japan Football Editor
It's been a little while since my last column, but a lot has happened since then.
I came to Koln thanks to the enthusiasm of general manager Volker Finke. I don't know the entire situation, but for a while Finke had not been getting along with coach Stale Sobakken. I thought it was just a rumor, but after I signed my contract, I triumphantly opened a local newspaper to see how they would welcome me.
I immediately saw negative headlines such as
"Koln's coach didn't know about Tae-se transfer until it was announced," "Finke acted alone,"
and
"Can Tae-se save Koln?"
, and instantaneously threw the papers into the trash. They were just reports from the media, and it was impossible to know if they were exaggerations or not, but as someone involved, I couldn't help but be interested.
Obviously when a team fighting to avoid relegation looks to pick up a striker in the winter transfer period, they're looking for someone who can immediately make an impact. But in the three matches since I've joined Koln I haven't made an appearance, and it eventually dawned upon me that this may not have been the club's true intention.
Then, after our big win in a very important home match against Hertha Berlin, 'it' happened.
"Koln part ways with GM Finke after disagreement over the team's direction"
I couldn't believe my eyes. It felt like hearing thunder on a sunny day. Well, for me it was more like hearing thunder on a cloudy day, as after not playing in the Hertha match it seemed as though dark clouds were appearing around my development as a player.
Back when I was an amateur, you could become a pro if you played well. I believed that when you joined a pro club, you would get playing time if you worked hard, no matter the circumstances, but I was also proud of myself for getting that far. In my first year as a professional I put myself under incredible pressure to perform, because I might only have one year to prove my skills. But time has passed, and with that I've been given the ability to look at myself objectively.
And with that, I've understood the importance of "adult circumstances" [things that cannot easily be said]. They don't affect everything, but when you want to become a pro your connections become invaluable. When there are other players at your level, whether or not you get chosen can be determined by the manager's preferences. I've realised lately that this sort of 'political strength' is absolutely necessary.
"When I look around me, the players who perform well have either been blessed with talent, or have put all of their efforts into making it to the top"




- Jong Tae-Se

But even though I understand it, I'm still clumsy at that sort of thing. Even when practising with the same players on the same pitch, I've reconfirmed my belief that even if other players are looked at more favourably, with time I can change people's minds.
In the end, I think that players who have the attention of their coach will play every day with the same level of passion. When I look around me, the players who perform well have either been blessed with talent, or have put all of their efforts into making it to the top. Incidentally, the players who seem to disappear the fastest are those who defy their coach, but I don't think anyone here is that foolish. I can't say which type of player is better; that 'political strength' may have nothing to do with a player's passion, but no matter how hard a player tries he's nothing without it.
When I face an opponent like this situation I worry about what I can do; I can't knock down the obstacles in front of me or grow as a person. When I fall into that mood I think of a quote I heard in a movie: "Think of someone bullying you as a nail file." However much that person torments you, you'll shine as a person while they wither.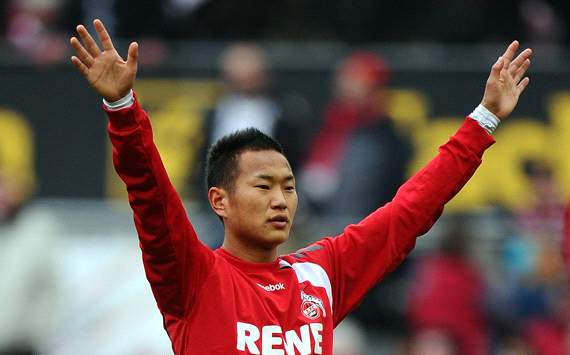 Waiting game | Tae-Se bides his time to make his mark at Koln
I may have gone too far in my expressions, but I certainly don't think of my coach as an enemy! Right now I've just retreated a little compared to the other players, but it's an opportunity for self-improvement. I talked with the coach today, and he responded cheerfully. He used kind words to explain his ideas, and told me I can come to him anytime.
In Japan it's not considered proper to approach the coach in these sorts of circumstances. But Junichi Inamoto told me that over here it's considered popular for players to communicate with their coaches about their situation.
This has got too long, but to sum it up I first have to show my strength on the pitch, and aside from that it's important for me to do what I can in other aspects.
Incidentally, last weekend we played Shinji Kagawa's Dortmund. As you can imagine from reading this, I didn't play.
Since I came to Germany, Dortmund has been the team I've watched the most on TV and at the stadium. I wasn't able to stand with them on the same pitch, but even watching them from the sideline was a huge step.
"More than anything, I'm upset that under those circumstances, we didn't bring a striker like me into the match"



- Jong Tae-Se

Kagawa's play was god-like, recording two goals and one assist as we lost 6-1. More than anything, I'm upset that under those circumstances, we didn't bring a striker like me into the match. At the time, I thought, "This guy's amazing." But even after playing against Kagawa when I was in the second division and thinking I had finally made it when I joined him in the Bundesliga, watching him play made me understand his greatness even more.
I'm on a team facing relegation and have yet to play as a regular member or substitute, but I'm still proud of Kagawa's MVP-worthy performance this season. I want to play at a level that will keep him from becoming MVP, and knock another wall down.
Follow Goal.com Asia on

and


for the latest in Asian footballing news, features, and analysis