EXCLUSIVE
By Ben Hayward | Spanish Football Editor
Neymar is part of a grand plan for Barcelona. The Brazilian forward is
edging closer to a move to the Catalan club after rejecting Real Madrid
,
Goal.com
revealed on Tuesday. And his arrival at Camp Nou has everything to do with winning the battle with the club's eternal enemies - but as much off the pitch as on it.
Barcelona were
alerted to the possibility of a move for Neymar after talks with Madrid broke down last year
, with president Sandro Rosell flying to Brazil on a charm offensive with the player and his father. And whereas Madrid chief Florentino Perez had told the youngster he must respect Real and that he would by no means be guaranteed a place in the first team at the Santiago Bernabeu, Rosell adopted an altogether alternative approach, telling Neymar he would be 'at home' at Camp Nou.
Rosell has long been keen on recruiting Neymar. The Barca president is a former footballer himself, having turned out for Catalan club Hospitalet in the 1980s, but he made his name as a brilliant businessman, specifically in marketing and, intriguingly, with Nike.
Rosell, now 48, was employed by Nike in 1996 and given one clear brief: to strike a shirt manufacturing deal with either Real Madrid or Barcelona. And following tough negotiations with the Catalan club, an agreement was signed.
His next assignment was to popularise the brand in Brazil. Rosell moved to the South American country and worked closely with the national side to create a strong relationship, which culminated with the ultimate dream: a World Cup win for Brazil in 2002, wearing Nike shirts.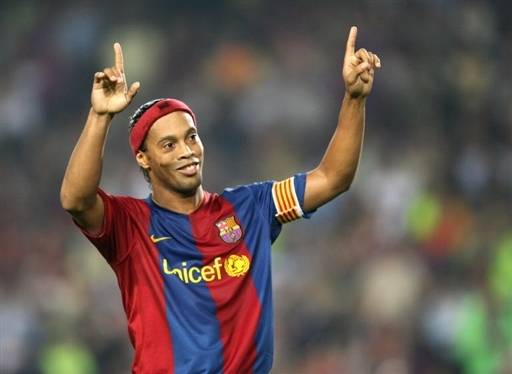 Brazilian charm | Barca believe Neymar can be a commercial success - like Ronaldinho


Back in Barcelona a year later, Rosell used his marketing skills to help former friend Joan Laporta to the Barca presidency, overseeing a clever publicity stunt as the Catalans claimed the would-be signing David Beckham, but instead used his army of contacts in Brazil and close personal rapport to bring in Ronaldinho - a signing that changed the modern history of the club.
Something similar is now being planned with Neymar. Spectacular success on the pitch has brought fantastic financial rewards off it for the Catalan club, but
Barca still trail Madrid in the Deloitte rankings for the world's richest club
. Neymar, it is thought, can change that.
Nike's contract with Barcelona is set to expire in 2013, and although there is no question of the club looking around for another kit manufacturer, both parties are keen to maximise the potential of an already profitable partnership.
As well as supplying shirts and sportswear, Nike boast contracts with a number of Barcelona players, including Gerard Pique, Carles Puyol and Andres Iniesta. Crucially, however, Lionel Messi left the North American company to sign for Adidas in 2006, while Xavi and David Villa also represent the German mark. Cesc Febregas, meanwhile, recently ditched Nike in order to sign up with Puma.
The players still on their books are not high-profile enough to boost the brand on a world level, as Cristiano Ronaldo has done for Nike at Real Madrid, albeit sporting Adidas kits with his club side, or Wayne Rooney at Manchester United. In fact, Iniesta was not even included in the firm's World Cup advertising campaign, with a hastily arranged press conference in Barcelona organised only after the midfielder had netted the winning goal for Spain in South Africa. Since then, Nike have been pushing Barca to sign one of their elite players for several seasons, only to be frustrated as the Catalans looked elsewhere.
D.O.B: February 5, 1992
AGE: 20

CLUB STATS

LEAGUE APPEARANCES



85


CONTINENTAL APPEARANCES




18



TOTAL APPEARANCES

169



TOTAL GOALS


90




INTERNATIONAL FILE

U20 APPEARANCES

7

U21 GOALS


9



SENIOR APPEARANCES
16
SENIOR GOALS

8



Neymar, though, is already one of the world's most marketable sportsmen and, more importantly, he is a Nike player. The young forward, who turned 20 last month, is seen as a perfect product not only for his spectacular skills on the pitch, but because of his charisma off it - his Mohican hairstyle, his love for dancing and tendency to hit the headlines even when he is not playing football. The youngster already boasts eight sponsorship deals, supplementing his already lucrative playing contract worth around €7m per year.
Coach Pep Guardiola, however, has his reservations where Neymar is concerned. The Barca boss is unsure the forward is needed at Camp Nou, especially given the emergence of Cristian Tello and Isaac Cuenca, as well as the successful adaptation of Alexis Sanchez. The Catalan coach is also uneasy when presented with players who can upset the harmony of a dressing room, highlighted by his prickly relationships with Samuel Eto'o and Zlatan Ibrahimovic. Neymar falls into that category, having sparked a series of controversies in his homeland and once even refusing to pass to his team-mates after he was not allowed to take a penalty himself.
IN NUMBERS
Barca, Brazil, Nike & Neymar

8

The Brazilian already boasts eight sponsorship deals - all at just 20.

7
Neymar gets €7 million per year at Santos, but earns much more through advertising contracts.

7
Rosell spent seven years working for Nike, several of those in Brazil.

27.5
Ronaldinho cost the Catalan club €27.5m in 2003, but much of that was recouped through shirt sales.

60
Neymar's release clause is set at €60m after he signed a new deal with Santos late last year.

Guardiola previously encouraged his players to sign up with Nike, where his brother Pere worked until last year in the public relations and marketing department. Guardiola is not against the acquisition of Neymar, but is unsure whether the Brazilian fits the team's most pressing needs.
That, however, is unlikely to be a problem because Guardiola is expected to remain for just one more year at Camp Nou before departing to pastures new or taking time out in a well-earned sabbatical season.
In the meantime, Rosell and his board strive to make Barca the world's biggest brand off the pitch, together with a growing group of sponsors, led by Nike, and the Barca president is in constant contact with former Nike colleague Andre Curi, now at Traffic (a company specialising in the transfer of Brazilian players), over Neymar, with the businessman in Barcelona just last month for talks with the Catalan club.
Behind the scenes at Barca, it is hoped and believed the Brazilian can be the next Ronaldinho at Camp Nou, helping the Spanish and European champions surpass Madrid as the world's richest club, while maintaining the side's spectacular success on the pitch as well.
So, a new-brand Barca is already in the making, with or without Guardiola, and the new project on and off the pitch is set to be spearheaded by Nike - and by Neymar.

Follow Ben Hayward on