EXCLUSIVE
By Peppe Di Stefano | Sky Sport 24
On the field, but above all in the transfer market, Napoli can, and will, pick up from here.
There remains the race for third place in Serie A, but also there is set to be a push for new faces who can complete the growing process at the San Paolo which has so far seen many great times but also, the odd painful low. They need not necessarily be big names, but they need to do the job.
The tie with Chelsea in the last 16 of the Champions League proved that Napoli are still not as big as they wish to be. It is not a question of the men, but of the mind, and Walter Mazzarri knows it well. He knows that president Aurelio De Laurentiis is ready (together with his sporting director Riccardo Bigon, who recently renewed his contract) to sit at the big table; the table of dreams.
However, it is not true that dreams come for free, because in football you have to pay for them. The failure to reach the quarter-finals has left a bitter taste in the mouth, and above all the loss of further potential millions in prize money will be missed. It is not too bad when you consider the strong financial position developed under De Laurentiis, but it is lost cash all the same.
Still, there remains the push for the top three. It is not the podium that is the big reward, but a place in the Champions League play-offs, and with that comes more money. Lots of it. And all of it will be reinvested in a reshaped squad to have another go at taking Napoli closer to the dream.
There are possibilities all over the field:
Between the posts, little will change, with De Sanctis starting the last year of his current contract with the Azzurri. Also on the books will remain Antonio Rosati, six years De Sanctis' junior and backed by those at Castel Volturno to reach the top.
In defence, reinforcements will arrive to help out Paolo Cannavaro. After a performance at Stamford Bridge which showed the back line's technical limitations – despite the character – there are changes to be made. Salvatore Aronica could well be sold to hometown club Palermo. Either way, younger players will arrive, perhaps from South America. None will be signings of folly though.
In midfield there is a need for fresh troops. Andrea Dossena and Juan Camilo Zuniga, who have always performed well in Italy, don't seem to have adapted particularly well to the big challenge of Champions League football. And now, with Christian Maggio untouchable, Napoli are on the hunt externally, with one name that excites the imagination more than any other: Juan Cuadrado.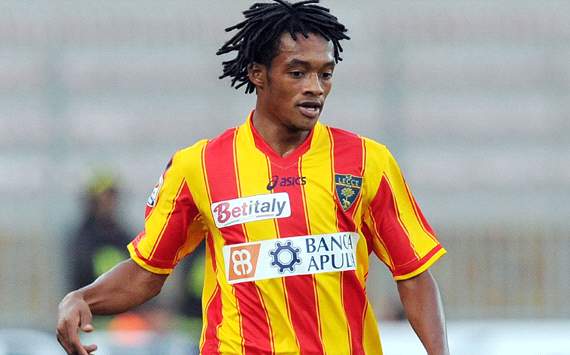 Cuadrado | Watched by many, but Napoli have already spoken to Udinese
The 23-year-old, currently plying his trade with Lecce, is the property of Udinese. In January he was the first name on Inter boss Claudio Ranieri's shopping list. Today he has fans far and wide. Originally a full-back, he can also take on the roles of a wide midfielder and attacker. De Laurentiis has already tested the ground with Udinese director Gino Pozzo and at the end of the season, they will meet.
In the centre of midfield though, there has been criticism over the invisible Marco Donadel, and there are now plans to bring in another big name as they did last summer with Gokhan Inler. This comes despite the magnificent season enjoyed by Walter Gargano and signs of constant growth from Blerim Dzemaili. The bottom line is that to improve, you must dare to invest.
There are a few more names, and probably many more different ideas. The Napoli scouts always keep a keen eye across French football. One of the possibilities on their radar is Stephane Mbia, who impressed many for Olympique de Marseille against Inter. At 6ft 2in, he possesses valuable height along with tactical intelligence.
There will also be no silly moves made in attack. Everything depends on the outgoings on the market because while Edinson Cavani and Marek Hamsik have become unsellable, it is a different story with Ezequiel Lavezzi. The Argentine has a €31 million release clause in his Napoli contract. Maybe it remains a lot of money, but in recent months 'El Pocho' has demonstrated that he is worth the outlay. There have been the usual warning sirens, especially with English clubs having a look, and Manchester City are believed to be at the front of the queue.
If the 'three tenors' end up all staying in Naples, the move would be made to keep current loanee Goran Pandev, while Eduardo Vargas would be released on loan, and another interesting young player would be brought in. One target could be Edison Flores, a 17-year-old trequartista at Universitario in Peru.
Then there is always room for manoeuvre when considering the infinite genius of De Laurentiis, who remains the heart of Napoli and could decide (as he has often done) to invest money independently despite missing out on the bonus pot of cash from the Champions League quarter-finals, and regardless of their final placing in Serie A.
He is the boss, and he will decide if, when, and how much, to spend. De Laurentiis is the reference point: he insists on not forgetting the past, but also to look to the present and plan for the future. Maybe he is full of dreams, just as in his films, and just as he has transformed into reality so far in his spell as president of Napoli. Despite Chelsea. Despite everything. 'Wait for the bad spell to pass' as is said in Naples, the smiles will return.