EXCLUSIVE
By Kris Voakes | Italian Football Editor
Calm and relaxed, with a smile on his face throughout, Zlatan Ibrahimovic appears a man without a care in the world just days after turning in a performance which made a mockery of the countless claims that he's not a big-game player.
The giant Swede was instrumental in AC Milan's 4-0 Champions League last-16 first-leg victory over Arsenal at San Siro on Wednesday, giving him a sunny demeanour as he spoke to
Goal.com
about his new biography app for the iPad, entitled 'I Am Zlatan'.
And he was at his candid best when discussing a range of subjects about his life and his profession, as well as his plans to stop his children from playing football!
The full interview can be read below ...
What made you want to do an autobiography in the first place?
I wanted the people that have been wondering about me and having questions about me, especially in Sweden, where I grew up and where they known me the most, to have answers. And I said that I wanted to tell my story, like what happened and what I went through. It was very important to me, because if I say it once then I don't need to say it twice. They hear it from me, and then they understand the situation more and they have a different opinion about the person, not only about the football player.
With the app you get a greater sense of who you are and where you come from, and particularly of your home town of Rosengard. Is that something that you're really pleased with?
I think it's really cool because it is one thing reading it, and it is another thing seeing it. And now we have two in one, so I think it is very cool because you sometimes have people reading things and they don't really get into it, but here it is more like "Wow, you can really see it". I would like when I read about another image or another person to be able to see it too. For example I was following Mohammed Ali, and I didn't read any book but I followed him and the things he did, and it makes it totally different because you feel like you are really inside it and understand it much more.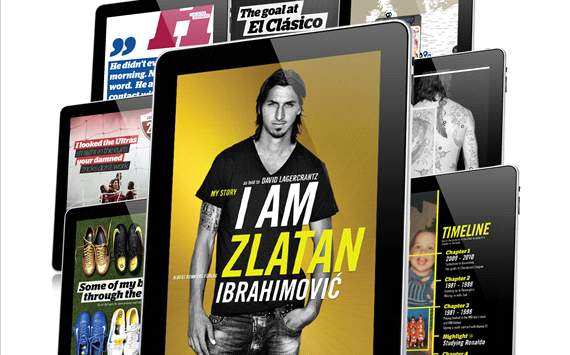 I am Zlatan | The app allows you to see inside Ibrahimovic's world
You're clearly proud of Sweden, and of Rosengard, so do you feel like you're an ambassador for Sweden when you are playing big Champions League games or big Serie A matches?
I feel I have a responsibility for where I come from and I am representing Sweden with a lot of pride. I hope to continue, and I hope I am doing a great job because we have nine million people living in Sweden, and when people ask me where I'm from I say I'm from Sweden even if my background is different. I always try to do my best, and I hope I am doing something that people will always remember for Sweden.
The big question about Wednesday night is: Did Novak Djokovic buy you dinner?
No, we got it for free! It was the third option, because he said I should buy it for him, and I said he should buy for me, and then I said maybe we will get it for free. So it was for free.
But you said that because he'd won more than you he should buy, so maybe if Milan go on and win the Champions League you could buy him dinner?
Oh, then I would invite him for a big dinner, this I promise!
How has the mood been at Milanello since Wednesday, because obviously it was a huge win?
It has been OK. Of course everybody is happy, we had been struggling – not struggling really, but we had some bad negative results – before Arsenal, when we lost against Juventus and then against Lazio, and that is not good when you are a top team obviously because you have to win all the time. But the spirit in the team is very positive because a match can change everything in 24 hours; from being OK, or being bad, it becomes "Wow". But we are under control because we play for a club that is used to winning everything, and has won everything, so the organisation already knows what kind of situation it is. We have many new players that can say "I have done this" but they are coming into history, and then we have all the experienced players that are more cool with the situation, and we have many of them.
Arsenal didn't seem to have an answer to yourself, Robinho or Kevin-Prince Boateng. Was it a surprise how easy it was to win by four goals against an Arsene Wenger side?
No, it wasn't easy. Everybody says it was easy because it was 4-0. Afterwards people said they hadn't expected it to be so easy, but, if you go through the game, it wasn't easy even if it was 4-0 because you still have to play the game. Beforehand, nobody thought the result would be like that, but I think we were mentally very prepared and when we came out we knew what we wanted. And normally at 1-0 or 2-0 you could relax and play out the result, but we wanted to continue. We had the engine going on, and for 90 minutes we continued, and we probably played the best game in a year. Well, I have been here a year and a half, and it's probably the best I have ever seen us play as a team, as a collective.
Sometimes you have those days when everything goes as you want it to go, but it's easy to talk then. That's why I chose not to talk after the game, I prefer to talk when it goes bad, because then you see how strong a person is mentally. After all, everyone can dance when they are winning, but we should dance when we are losing also. Then you see how strong a character you have.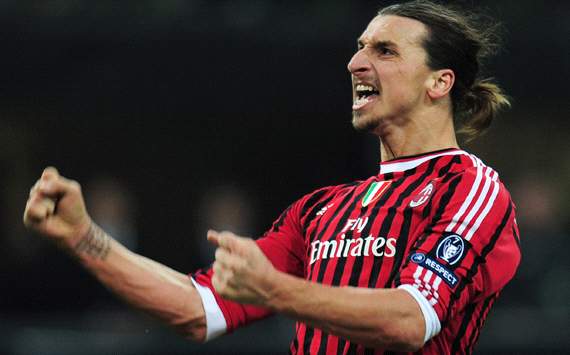 'It was 4-0, but it was not easy' | Celebrating his penalty against Arsenal
Wenger tried to sign you in 2000 when you were at Malmo. What happened there? Why did you decide not to go?
There are two different versions here because when I was at Malmo I had many clubs interested. I mean, you don't know how serious it is before they come and they want to buy you, but there were some scouts that were watching me. Arsenal came and said they were interested so we went there, and when I arrived I got the impression from Wenger that it was more kind of "I want to see how good you are, or what kind of player you are." It was like it was a trial. And I was like "Man, I didn't come here for a trial. Like, are you interested or are you not interested?" I wanted them to convince me to come, that's what I had in my mind before we went. So it was totally like "No, I didn't come for a trial" because you either want a player or you don't want a player …
Do you think he wasn't sure whether he wanted you?
I don't know. But it's like you don't even know the player. You either want him or you don't. Because in that situation as a player when you go on a trial you've lost your advantage. You have the advantage when a club really wants you, but to go for a trial means you have only those two or three days. Then you are in … not a bad situation, but in negotiations you are not so strong. You should be happy to come, but they should be more happy that you come. And then afterwards, I heard a story – I don't know if it is true – that Wenger said it was a chance to go there and see how it was, for me to see if I liked it or not. But I don't know. For me it sounded more like a trial, in my ears. But whatever, I made the right choice and I am very happy because it's still the right choice.
Now instead of you up front they have Robin van Persie and everyone expected him to have a big game on Wednesday but Milan were excellent in defence.
I think they did a great job. But remember, in my defence I have the best defender in the world, and his name is Thiago Silva. Maybe he is not so well-known yet, but trust me … I have played with many defenders, like Thuram, Cannavaro, Pique, Puyol, I have played with many fantastic central defenders, but this player is like all of them put together. He's compact, he has everything a defender should have, and he's mentally strong, and now he's becoming a leader for the team. Players look up to him and he has to take a lot of responsibility, and I think that has made him even better. But not many look at him because, I don't know, because he's Brazilian and they're not known for having good defenders or whatever, but he's the best defender in the world.
So it doesn't mean that Van Persie is not a good player, because he's a fantastic player, and he has done a great job in England and he is the top scorer there. But it was just one of those days. It goes good for one team and the other team is struggling. The most important thing is that when you fall down you then rise up, because you will fall down many times in your life, but you have to come back as soon as possible.
There are reports in the papers today that Van Persie will leave Arsenal in the summer and that he could come to Italy. Would he be the kind of player you would encourage Milan to sign?
I am very happy with my strikers. I have to talk for my team. Whatever happens in the future, it's like in the case of [Carlos] Tevez. Tevez is not our player and I'm not allowed to speak about what he would do, for sure he would do a fantastic job. But the ones I have today I am very happy to be playing with, and I try to help them. But, for sure, Van Persie will do a fantastic job wherever he goes, and he will be a big player for whichever team he joins. It depends what he wants. I don't know him personally, so I cannot judge and I'm not about to say what he should do because he knows better himself what he wants to do. But of course, if your team doesn't win for a couple of years, inside yourself you still want to win. And if you don't want that then I will never have you on my team, trust me!
What was it you were talking about with Thierry Henry at the end of the game? Because you were laughing and joking for a long time.
He's a big friend of mine, because we had a year together at Barcelona and it was a fantastic time. It was where I got to know him better and we spent a lot of time together. People always see you as the football player, they never see you as the person, so they can judge you without knowing you. But I know Thierry Henry and what he did for football – and he made history in football – and as a person I think he's even better because he's a fantastic person, and he has a big heart. We were talking about the time in Barcelona and that's what made him laugh. It was a good moment for me because I hadn't seen him in a long time and he was there also when I had a little bit of a struggle at the end in Barcelona and he was always trying to be positive with me. We had a good joke too, so it was nice seeing him.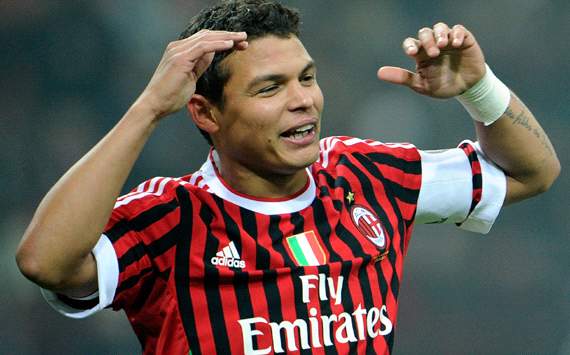 Thiago Silva | 'Thuram, Cannavaro, Pique, Puyol all put together'
He has gone to MLS now, obviously. Is MLS something you'd think about in the future, or maybe England, with Manchester City wanting you before?
People say one thing today and then in two years they do differently. I remember, for example, Henrik Larsson. He said when he was active that he would never be a coach in his life, and now he is a coach. And I say the same, that I will never coach, but I don't know what will happen in the future because I don't normally plan my future so many years in front as I like to take it day by day. I don't even know if I'll be living in one or two years – let's hope! – but I don't know. Whatever happens, happens. It's not like I'm against Major League Soccer.
Right now you're an eight-time back-to-back league winner. Is that something you're really proud of, the fact that you keep being a big part of championship-winning teams?
I think it keeps triggering me because I want to win every year and aim for all the trophies I can win, so I'm very happy with whatever I win. I have always said that I don't win because I am the best player in the world, I win because I play with the best players. Without them you don't win anything because they are the ones that make you win, and you alone will win nothing. So I'm very thankful and very lucky that I play with these guys because without them I wouldn't have won the 18 trophies I have.
You said earlier that the last month or so hasn't been altogether easy for Milan, and Juventus are doing a lot better this season. What is it that's so different this season that wasn't the case last year because then you had the lead at Christmas and went on from there?
I think when we had been playing badly last year, we still got the points we needed. This year, when we have played badly we have been losing those games, and I think that is also a quality, that when you play bad you still get a point or even win. But this year has been less like that. We have lost many important points when we have played badly. We have had to go through some very strange injuries, like with [Antonio] Cassano, and then against Arsenal we recovered many of them players. So it's a combination, but it's in the moment also. One moment you're here, one moment you're there, but the most important thing is to keep the level very high all season and I think that is what will make a team win. I think Juventus are doing very well, but we shouldn't forget that they play one game a week, and we play three. It's a big difference.
On Cassano, Gennaro Gattuso, too, has been out with a very strange injury, and they are two very big characters. What have they been like around Milanello, have their spirits sometimes been low?
I think Cassano changed his way of thinking after what happened, because you don't know how people are with you until something important happens like this. When it happened, the whole team stood behind him, and maybe he didn't expect that. I don't know what he was thinking, but after that he understood that the team wants him to be well and they like him for the person he is. So I think that changed his way of thinking about the team, and also about the way the team were thinking about him.
With Gattuso, he is like a leader also. He is captain even if he is not our captain. We feel sorry for him because he has a very strange injury which doesn't happen normally in football, so I'm sorry that he's out. But now thanks to somebody they have found the right treatment for him after they had been treating him with the wrong method, so we hope that he is back as soon as possible. But both of them have been there for the team. There was a time when I didn't see Cassano for a long time because he couldn't see anybody as he was told he had to be relaxed because of his blood pressure, but Gattuso has always been there for the team and has tried to bring the spirit in because every player is important for the team.
With these injuries and the results that have come on the back of the injuries, some people have asked questions about Massimiliano Allegri. How would you rate him in the list of coaches you've played for?
If you think of him like a book, he is at the beginning because he has a lot of pages in front of him to fill up. He has won the league, he has won the Supercoppa, but I think he's at the beginning of his career as a coach with a big team. You have coaches that have been with many big teams and have been there many years, but this is just the second year for him with a big team. So he is still in a learning phase and is still to develop, but still I rank him very high because you have to be a very good coach to win the league. It is not easy to be at a top club, especially in Italy. I heard Jose Mourinho say it's better to be a coach in England than in Italy because in England you can be a coach for 20 years without winning anything, but in Italy you can be a coach for three months without winning and you are out. So, I think he is questioned every day depending on the result on a Sunday or Wednesday.
Do you get annoyed by the criticism sometimes, particularly the criticism of you?
I think it's part of the game. Not everything should be like paradise. People expect a lot from you, you put the level high yourself by earning great results, then people expect more of you after that. I think the criticism personally is something that motivates me, because when I read something positive about myself it's not giving me any emotion, it's easy to read it. You should read it when somebody is criticising you, then that is when you change and become motivated to want to go out tomorrow on the field and do the opposite. That is something that is still following me.
Obviously you had a poor relationship with Pep Guardiola, but if there was an opportunity to work with him again in the future would you take it, or would you think twice about it?
As it is now, no. Because I don't have answers about what happened. But what I think about him is nothing personal and it doesn't mean that I think he's a bad coach, because when I got to vote I said he was the best coach in the world. I don't know if that's why they gave him that title, I guess not! But I was one of them that voted for him, because the person and the coach are two different things, and as a coach he is fantastic or else he wouldn't win all the trophies he wins and make a team like Barcelona. But my thing with him was as a person, so you should never say no because people say no today and maybe yes in the future. The question is: would he work with me?
You once said that you don't want your two young sons, Maxi and Vincent, to be footballers because you want to be the best in your family. How are their skills coming along? Are you worried yet?
No, not yet! Yesterday Maxi said he wanted to train with me, so I was passing him the ball but I didn't really want to give him the ball because I don't want him to play! No, really I am open-minded. They can do whatever they want to do - whatever happens, happens. I can guide them in different directions but in the end they have to do what they want to do. For me it is important to teach them discipline and respect until they are 18, then they do whatever they want.
Zlatan was talking at the launch of his new interactive biography app, available in the Itunes App Store from Feb 17th: http://itunes.apple.com/us/app/i-am-zlatan/id499373930?ls=1&mt=8