EXCLUSIVE
By Stefan Coerts | Dutch Football Editor
With high profile attackers such as Sergio Aguero, Mario Balotelli, Edin Dzeko and Carlos Tevez under contract with
Manchester City
, many forget that the Premier League leaders also have one of Europe's biggest attacking talents on their books in
John Guidetti
.
The Swedish forward joined City from Brommapojkarna at the tender age of 16, and has since enjoyed loan spells with his former side and Burnley.
Nevertheless, only in the 2011-12 campaign has Guidetti really risen to prominence at Eredivisie giants Feyenoord. The striker moved to Rotterdam on a temporary basis in the summer of 2011, and has since developed into a key player at De Kuip with 14 goals in 13 league appearances, with a hat-trick in last Sunday's 4-2 win over arch-rivals Ajax as the clear highlight of his Dutch career so far.
However, although the youngster is loving life at Feyenoord, it seems unlikely that he will stay with the 2002 Uefa Cup winners beyond the current season as he is determined to succeed at the Etihad Stadium
"If I return to City, then of course I hope I get a chance. I don't think Manchester City would bring me back if they don't think I have a shot at first team football. I just want to play football. I don't want to sit on the bench or end up in the stands. I want to play in the first XI at City," Guidetti said to
Goal.com
.
The Sweden Under-21 star has impressed in the position of lone striker at Feyenoord, and feels that he is at his best in the centre of the pitch. Nevertheless, he's ready to operate from the wing if that is what it takes to make the starting XI at the Citizens.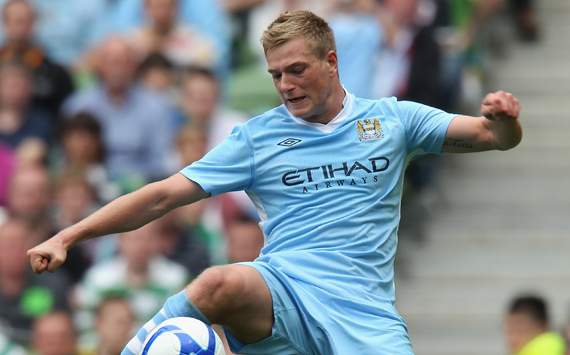 "I am more of a central striker and that's where I want to play. However, I'd obviously rather play from the left than sit on the bench. But I think [manager] Roberto Mancini knows I'm a forward, and that's where I'm at my best."
Manchester City have impressed in the Premier League in the first half of the season, and although they had to settle for third spot in their Champions League group, Guidetti is impressed with his parent club's results so far.
"They are doing great in the league. I keep a look out for what they do and try to watch as many games as I can. They were unlucky with the red card in the last derby against United, but still managed to make it a really close game. They are doing very good and I'm impressed with the team. They can definitely win the title. They're first now and are looking good.
"They were very unlucky in the Champions League. It surprised me to see them crash out in the group stages as they are a very strong team. But it has been the year of the surprises, with United going out as well. This was only City's first year in the Champions League though, and there's another chance next year."
Guidetti has yet to be capped at senior level for Sweden, but has impressed at Under-21 level for the Scandinavian side. The striker netted a brace against Holland U-21 last year, and is undoubtedly one of the coming stars of Swedish football.
His impressive development has not gone unnoticed by Sweden boss Erik Hamren, and the national team coach is keeping a close eye on the striker's progress.
Meanwhile, Gudietti is brimming with confidence and is hopeful of making the 23-man squad for this summer's European championship in Poland and Ukraine.
"He [Hamren] has said in an interview that he's keeping an eye on me. He knows about my performances here and is happy with it. I just trust him and hopefully it will work out for the best.
"Of course I think I have a chance of breaking into the national team and I'm really hoping for it. It would be a dream come true to have the chance to play for my country at a big tournament."
A call-up for the national side would give the 19-year-old the chance to play alongside AC Milan star Zlatan Ibrahimovic, something Guidetti is already looking forward to.
| | |
| --- | --- |
| | It would be a dream to play alongside Ibrahimovic one day. He's a real character and I like that about him |
"It would be a dream to play alongside him one day, and hopefully it will happen in the future. He's done everything as a striker that I want to achieve in my career. He's a fantastic football player and from what I've heard a great person as well. He's a real character and I like that about him."
Sweden face a tough task to qualify for the knockout stages at Euro 2012 after being paired with England, France and Ukraine in the group stages, but Guidetti is confident that the Blagult could spring a surprise.
"It's obviously going to be very difficult. But if you look at the Netherlands' group that's not an easy group either. Sweden have as good a chance as any one. France have been underperforming recently. England have had it quite hard against Sweden in the past, and we fancy our chances against Ukraine. Hopefully this will be our time.
"I definitely think it's possible for us to follow in the footsteps of Denmark and Greece, and become surprise winners. We might not have as many stars as other teams, but we have some great fighting spirit. We've already shown that we can beat big teams when we beat Holland to qualify. Our Swedish winner mentality could help us go all the way."
Guidetti was close to joining Twente in the summer of 2011, but eventually snubbed the Enschede side for a contract extension with Manchester City.
Nevertheless, he eventually ended up in the Dutch top tier after all when he joined Feyenoord on a one-year loan deal, and the striker has made it clear that playing at De Kuip is a dream come true for him.
"I remember when I came here for a game with Sweden against Netherlands at the age of 15 or 16. They took us to this lovely stadium and we got a tour. I looked at my friend and told him that I wanted to play at De Kuip one day. A few years later I'm playing here, and I'm loving every moment of it. It is like a dream to play in front of such passionate fans, with fantastic trainers, and great players.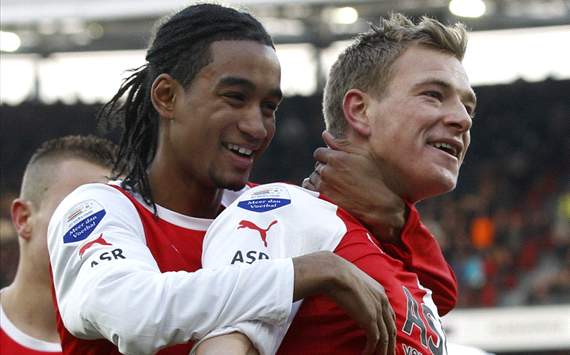 Loan Star| Guidetti has been scoring frequently for Feyenoord
"And Feyenoord are a really big club. I didn't realise at the time exactly how big the club is though. It deserves to be a top, top club in Europe. It's had its difficulties and ups and downs, but this club is heading somewhere and it's heading in the right direction. If you come here on a matchday, it will be absolutely packed and everybody will love Feyenoord.
"Of course it was a deliberate decision to come here. The Eredivisie's a fantastic place to develop. All the teams are trying to play football. Even if you go to maybe a smaller team in the Eredivisie like NAC there'll be 22000 seats and all of them will be sold out. I really enjoy playing in all the games, and then you have the big ones like Ajax, PSV, Twente and teams like that."
Although there were plenty of doubts whether Feyenoord would be able to compete with the top teams after the loss of star players Luc Castaignos, Leroy Fer and Georginio Wijnaldum, the Stadionclub have impressed in the first half of the season.
Feyenoord climbed to joint fourth spot in the Eredivisie table following Sunday's win over Ajax, trailing table toppers PSV by seven points with 15 more games to go, and Guidetti feels that the Rotterdam giants are still in the race for the league title.
"Is the title a realistic option? I don't know, but rules are meant to be broken. We have to be allowed to dream, and everything is possible with this team. Every win is worth three points, so
PSV's lead is not insurmountable.
| | |
| --- | --- |
| | I don't know whether winning the title is a realistic option, but we're allowed to dream. Everything's possible with this team |
"We know that it's going to be difficult, but we believe in ourselves. The lack of experience doesn't hurt us because I think we have trainers like [Ronald] Koeman, [Giovanni] van Bronckhorst and so on as mentors. I like our young team, because we have a great time together: we laugh, we enjoy and that's the purpose of football in my opinion."
The Manchester City loanee has become a real crowd favourite in Rotterdam and surroundings since his summer arrival and has already netted 14 goals for Feyenoord.
Nevertheless, despite his outstanding form so far, Guidetti is not completely satisfied just yet as he is keen to keep on developing, with becoming the best player in the world the ultimate dream.
"I'm quite happy with my performances so far, but there are still some things that I want to improve. That's why Koeman has given me a few tips and pointers to pay attention to. I can still develop in certain areas and I'm working hard to achieve that. If you want to become the best, you have to keep fighting and work hard. It's my dream to become the best player in the world."
Follow Stefan Coerts on