EXCLUSIVE

By Rob Stewart
Chelsea
skipper
John Terry
will be at the centre of attention when he leads his side into Premier League action against
Tottenham Hotspur
at White Hart Lane and former Spurs captain Gary Mabbutt believes his ability to handle the pressure could be crucial.
It will be the first time that Terry has appeared in public since learning that he will face charges over alleged racist abuse of QPR defender Anton Ferdinand and for Mabbutt the way he copes could prove decisive to his side's fortunes.
While most eyes will be on Terry as he prepares to face the formidable Emmanuel Adebayor, Spurs legend Mabbutt is also relishing the prospect of seeing Ledley King take on Chelsea striker Didier Drogba.
Spurs will be desperate for Gareth Bale to be passed fit despite Harry Redknapp admitting that the Welshman is a doubt for the clash with a sprained ankle, yet
Goal.com
revealed on Wednesday that
the winger may be encouraged take painkilling injections in order to make an appearance
.
Here, Mabbutt gives Goal.com his verdict on where the game will be won and lost...
Emmanuel Adebayor vs John Terry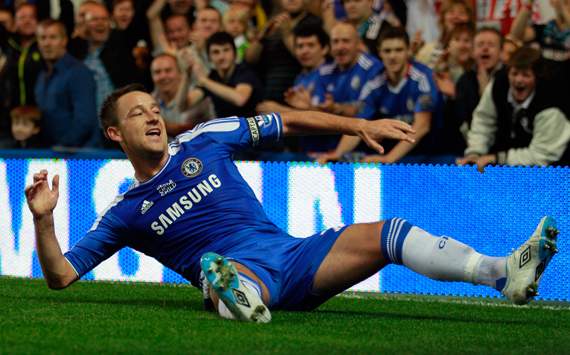 "When you look at John Terry, he is still one of the best defenders around but his only real weakness is when he gets caught up in the game too much or caught up in the moment and occasionally can make a rash challenge.
"He got himself sent off against Tottenham a couple of seasons ago and he will be the type of player that the fans like to rib a little bit. If John can keep his head and remain calm it will be a very intense battle between him and Emmanuel Adebayor.
"Adebayor is difficult to play against and it will be a matter of whether Harry Redknapp decides to play him up front with Jermain Defoe or with Rafael van der Vaart just behind him.
"Personally, I think he is better when he is with Defoe up front because they two of them seem to be working very well together as a partnership. Whatever happens, Adebayor will cause trouble for any defenders.
"If he is up front on his own, Adebayor's positioning is great and he will make space for the likes of Van der Vaart and Luka Modric and others to come through."
Gareth Bale vs Branislav Ivanovic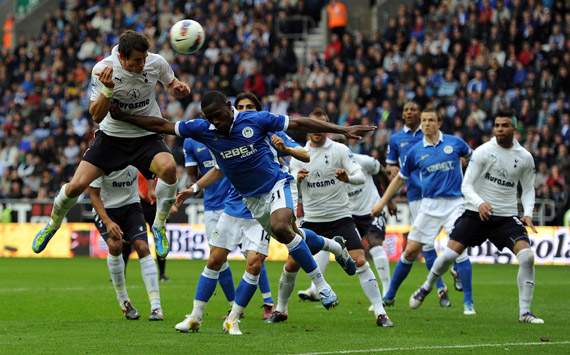 "Gareth Bale is a really important player for us and I don't think I can praise him highly enough. What he has brought to the team is consistency, quality, pace, power and strength. He has got every attribute that you could want. Then there are the crosses into the box and the quality of those crosses has been outstanding.
"Plus he is a great lad, he is down to earth and he gets on with it. Obviously players try to rough him up a bit but he doesn't get involved. He just gets up and gets on with it and he is one of or key assets if he is fit.
"He will be up against Jose Bosingwa or Branislav Ivanovic but whoever plays they will be in for a tough match. I have never seen a defender get the better of Gareth over 90 minutes so they will know that they will have their work cut out.
"Ivanovic is probably a better defender but Bosingwa is a very good attacking full-back that brings a different dimension to the side but having said that when you are up against Bale they will be looking to go with the best defensive player because when you are up against Gareth you spend more time being taken back towards your own goal.
"The key will be to stop Gareth getting the ball and denying him the space which everyone has been trying to do. But when that does happen Gareth just wanders and causes problems that way in that it makes defenders wonder whether or not they should go with him inside or stay with him. And when he does move that leaves space for Assou Ekotto to exploit. That shows that Gareth is also a very clever player. He thinks about the game and is very knowledgeable."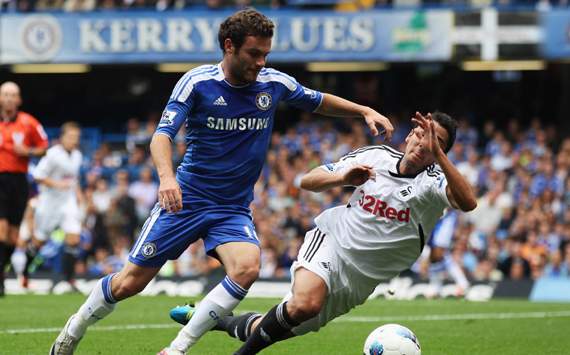 "Tottenham will not be the only side who rely on wide players because, for me, Juan Mata has been outstanding for Chelsea with his creativity and you just have to look at the number of goals he has scored this season as well as the number of assists, such as when they beat his old club, Valencia, 3-0.

"He is the sort of player that Chelsea have been needing with his approach and his quality of delivery which has been excellent. He is superb going forward but on the other side of the coin I think that defensive work is his weakness. He is quite lightweight in that respect and so he is not the best player to have there from a defensive point of view and, of course, Kyle Walker likes to get forward.

"What I like about Kyle is that he is very strong but he likes to play the Tottenham way, always moving forward from that right-back position and always looking for the short pass into space.

"He is a great crosser of the ball and he is relaxed and comfortable in possession so from an attacking perspective he could get the better of Mata. On the other side, Mata's quality when going forward means this will be a very interesting confrontation.

"Kyle is a young player that is learning very quickly. He has quite an old head on young shoulders and he doesn't mind going forward as shown by the winning goal he scored against Arsenal which demonstrated that if he gets the opportunity he will have a blast and he can strike the ball.

"I have a lot of admiration for Mata but I think that Kyle will be more than a match for him. I would have thought that Kyle will have more joy going forward but Mata is always going to be dangerous when he is on the ball."
Ledley King vs Didier Drogba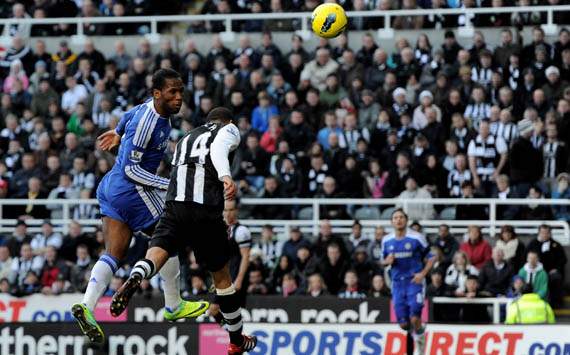 "This will probably be the biggest battle of the day. Didier Drogba still has to be one of the best forwards in the world at the moment and Ledley King is one of the best defenders the Premier League has seen.

"Even after all his injuries, Drogba is probably the strongest striker around and is excellent all-round when it comes to leading the line. When the ball is knocked up to him he holds defenders off very, very well and links play up really well for players who are joining him. Plus he has the ability to score goals.

"People all always talk about his temperament. The one thing that has frustrated me is that a player of his strength and build does sometimes go down far too easily when tackled but that is just something that means with players like Didier you just have to be very careful around the box but you just have to make sure that you keep his back to goal because he can hurt you.

"What people do forget which is probably because he has never really made a big issue of it is that when they had all the problems back in his homeland, Ivory Coast, they called upon him to try to help bring peace to the country. The role he took on there seems to have brought people together which speaks volumes.

"When you look for weaknesses, some say his temperament does let him down but for me when he is on top of his game, he is a handful.

"Ledley has to be one of the best defenders of this era. When he is in the side – and of course over the last few years that has been intermittent – he make a huge difference and we have won every game this season when he has been playing apart from the 2-2 draw at Newcastle when he went off injured. His mere presence makes a big difference because of his leadership qualities.

"Ledley reads the game well and doesn't get flustered. He is a calm head. He is very important for us and the only weakness you can identity with Ledley is his body and the fact he is unable to play every game every season.

"He hardly ever trains. For me if I missed a week of training you could really feel it but whenever Ledley comes out on the field it is as if he is in peak condition. He is generally sharp and even though people say he has lost pace because he is not training on a regular basis but for me that is not detectable.

"The way he reads the game more than compensates for that and I have rarely seen anyone get the better of Ledley."
Scott Parker vs Frank Lampard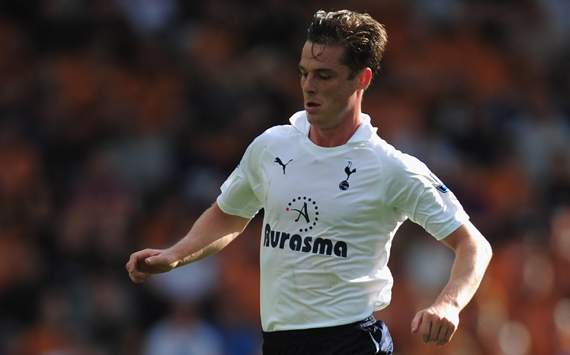 "These two are top-quality players and I can't really speak highly enough of either of them.

"Scott Parker has been magnificent for us this season because of the person he is and his character both on and off the field. He is a natural leader and I think players follow his example.

"He is generally deployed just in front of the back four so he will come up against Frank Lampard when he makes his forays into and around the Spurs box which is what makes Frank such a dangerous player but Scotty's strength is being able to identify the threat and dealing with it.

"I have always been an admirer of Frank's. He hasn't been in the Chelsea side every game this season but when he has been left out he has taken it in the right way and when he has come on he has performed at the highest level so he has a very significant role to play in his side.

"He is player that we will have to watch. We know the threat he poses but in Scott Parker we have got someone who can nullify that. Scott always makes himself available so he can be a link between the defence and the other midfield players and when he gets the ball he uses it quickly and keeps things moving."

Follow Rob Stewart on