EXCLUSIVE
By Carlo Garganese & Clark Whitney
Ahead of Bayern Munich's top-of-the-table Bundesliga clash with Borussia Dortmund on Saturday, former Germany international Thomas Berthold has claimed that the Bavarians' defence is still not complete, and that BVB were naive in their long-awaited return to Champions League football.
The 47-year-old, who plied his trade with die Roten from 1991-93 and won 62 caps for his country - lifting the World Cup in 1990 - was critical of his former club's transfers during the pre-season, and revealed he still has not altered his opinion despite Bayern's superb start to the campaign and the defensive signings of Manuel Neuer, Jerome Boateng, and Rafinha.
"I have not changed my mind," he exclusively told
Goal.com
. "There is a lack of balance between the midfield and attack, and the defence.
"Bayern do not have a top-class central defender. It is difficult to find one, but if Bayern are to get to the final of the Champions League in 2012 in Munich, then they need quality in defence, especially in the centre.
"Daniel Van Buyten and Holger Badstuber are too slow. If they play against a team on a top level, with fast forwards, then it could be tricky for them."
Bayern are currently five points clear at the top of the Bundesliga and on the verge of qualification for the Champions League knockouts as they lead Group A with 10 points from four games. When asked who would be a suitable signing in the interior of defence, Berthold suggested the Bavarians send their scouts across the Atlantic Ocean.
"I think they have to find someone from South America, someone like Thiago Silva," he opined. "If they want someone of the quality of Thiago Silva, then the biggest market is Brazil. The chance of them finding a great defender is more in Brazil than in Europe."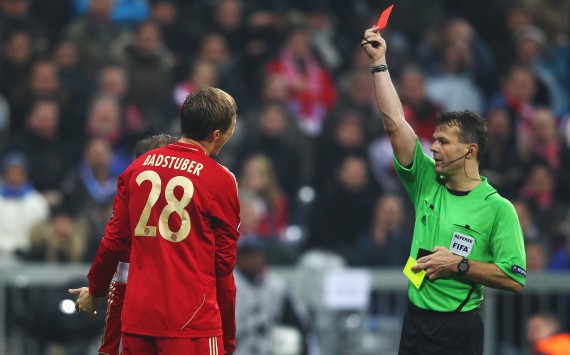 Red Card | Berthold believes Badstuber (above) and Van Buyten are not good enough
Berthold also weighed in on 2010-11 Bundesliga champions Dortmund, who had a false start to their league campaign and, despite recovering their form as of late, appear on their way to an early exit from the Champions League.
"It is always difficult after a great first season, like Dortmund had in the last, to maintain the same level in the second year," he explained. He added that the Champions' lack of depth is now being exposed.
"Dortmund also don't have the balance of quality and quantity like Bayern Munich have. They lost Lucas Barrios and Neven Subotic to injury, and they don't have the back-up on the bench."
Finally, Berthold remarked that Dortmund's struggles in Europe are due to naivety and their over-enthusiasm to attack.
"They are showing their lack of experience in the Champions League by playing too aggressively. In the Champions League the first lesson you have to learn is to not concede a goal."
Still, the ex-Stuttgart man believes BVB can learn from their experiences and improve in the coming years.
"But they have a young team, and it is a good experience for them. It will serve them well for next season," the ex-Roma and Verona star concluded.
Join Goal.com for full coverage of Bayern v Dortmund on Saturday at 18.30CET.
Betclic.com is one of the leading online gaming companies in Europe offering odds on all the top football action. Betclic.com works with football legends such as Marcel Desailly, Ruud Gullit and Arrigo Sacchi, who are all brand ambassadors for the online bookmaker. Visit Betclic.com for all the latest odds!