EXCLUSIVE
By Maximilian Bensinger
Following Germany's perfect finish in the Euro 2012 qualifiers and Bayern Munich's flying start to the 2011-12 campaign,
Goal.com
caught up with Thomas Strunz for a three-part interview.
In the first installment, the retired midfielder discussed the state of his former club, where he spent a combined eight seasons. The Euro 1996 winner offered his opinions on coach Jupp Heynckes, as well as predeccessors Louis van Gaal and Jurgen Klinsmann, and weighed in with his thoughts on key figures Bastian Schweinsteiger and Mario Gomez.
Strunz also analysed the chances die Roten would have in a head-to-head tie with Barcelona, and proposed a novel approach to combatting the Catalan giants' formidable attack.
Without further ado, Goal.com proudly present the first of our three-part interview. Be sure to check out the second and third installments on Monday and Tuesday.
Goal.com: Did Jurgen Klinsman underestimate the difference between being national team coach and Bundesliga coach?
Thomas Strunz:
"I think Jurgen Klinsmann underestimated [the Bundesliga] when he was Bayern coach. I do not think that he is a club coach. He works as a visionary and he was involved in many things that Bayern and the DFB do to this day. But I do not think he's a guy whose strengths are in creating a daily training schedule."
Do Bayern now have the right coach?
Thomas Strunz:
"Jupp Heynckes is the perfect coach for Bayern. He has a lot of experience and he knows how to deal with stars. A young coach probably would not have worked with such top stars. Heynckes, however, worked in the past with many great players at Bayern Munich and Real Madrid."
Would it have been at all possible to have continued with Louis van Gaal?
Thomas Strunz:
"To have continued with Louis van Gaal, they would have needed to replace the entire team. The situation was totally disjointed and Van Gaal was stubbornly clinging to his system. In particularly, he curtailed the freedom of the creative players. But that is necessary to reach the top level. On the other hand, he made the entire success of the team depend on these players. That was a spiral that led into the abyss. It is wonderful now to see the pleasure Franck Ribery takes in playing. His facial expression and body language is completely different now than, says, a year ago."
Was Van Gaal blinded by his success from his first season?
Thomas Strunz:
"It was a mistake from the whole club. They were dazzled by reaching the Champions League final in their first season together. In actual analysis, it is forgotten that they had the Arjen Roben factor. That made the difference."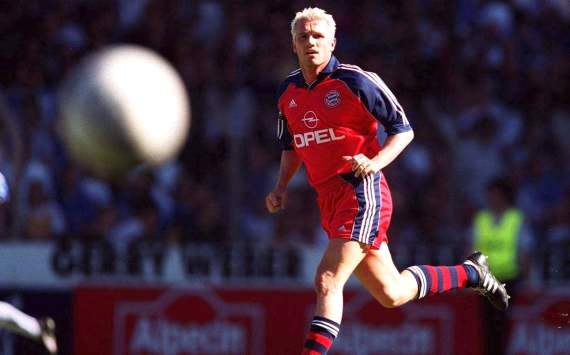 Full Circle |
Strunz began and ended his senior career in Munich
Can Bayern again become one of the best teams in Europe?
Thomas Strunz:
"The team is hungry for success. The combination of team, new coach - and the events of last season may provide a lot of momentum. The club will benefit at least from the fact that the team won nothing last year. In the end, luck must also play a role. They can face Barcelona in the quarter-finals and lose.
The Catalans are the epitome of a top team. Would Bayern have a chance against them?
Thomas Strunz:
"Of course they can beat Barcelona. In two games, anything is possible. So much can happen. But what is clear is that Barcelona are the favourites."
Do you have a recipe for success? How do you play against Barcelona?
Thomas Strunz:
If you look at their tactical formation, they are the only top team that play with no real centre forward. We saw this extremely well in the Champions League final against Manchester United. [Rio] Ferdinand and [Nemanja] Vidic had no real opponents and were completely overwhelmed. They could not be focused on anyone. Maybe a team could try to play with a sweeper. They could operate with three men in front of a central defender. With a back four, the two central defenders are facing a free space. And always, Villa, Iniesta, Messi and Pedro try to get inside. Why should this space be given up?"
Further to the subject: So Bayern use a sweeper vs Barca. Do they need Robben?
Thomas Strunz:
"Currently, Bayern do not necessarily need him. At the moment, Arjen Robben is the problem! The team have shown that they can play successfully without him. He's just a great individualist. He must adapt his game. Ribery has done it too and still has complete freedom. But Ribery also helps out on the defensive and has adapted his game to the team. Robben will have to do that too. The question is whether or not he will do so.
Is Robben's standing within the team so great that he can continue to do as he wants? Some even speculate that he is the secret Bayern captain.
Thomas Strunz:
"For me, Bastian Schweinsteiger stands at the top of the team hierarchy. Then come a few of the national team players."
Now that we have already talked about Robben, who is the most important player at Bayern?
Thomas Strunz:
"Currently, the dependence on Mario Gomez is the greatest. If he is unavailable, then there's [Nils] Petersen and [Ivica] Olic. Mario Gomez is for me an absolute goal machine. He is physically strong, robust, can shoot well with left and right foot and is also fast. He has everything you need to be a top striker. In his position you don't need to be a dribbler. Gomez is one of the top strikers in Europe."