EXCLUSIVE
By Rob Stewart
Mancunian football icon Denis Law is savouring the intense rivalry that is engulfing the city as arch-rivals
Manchester United
and
Manchester City
set their sights on local bragging rights and the Premier League title.
As the Premier League's pacesetters prepare to go head-to-head at Old Trafford this Sunday, Law admitted that he is relishing the competition between the two clubs that is reminiscent of the 1960s when Manchester's two sides were the leading lights in English football.
While Law, who played for both clubs, was helping United reach the pinnacle of European football in 1968, City went to the summit of the English game by winning the title and now his two former sides seem destined to slug it out with Chelsea for the Premier League title.
"You really have to go back to the 1960s to the time when both clubs were doing so well under Joe Mercer and Malcolm Allison at City and Sir Matt Busby at Old Trafford," Law told
Goal.com
. "The competition between the two clubs was really hot then and it is getting more intense than ever now.
"Both clubs were extremely successful back in the 60s and since then City have not done as well as they should have done or could have done but now they are back into it and probably for the first time since the 60s they are, on the back of their FA Cup success, really challenging for the title and still going strong in the Champions League.
"It is great for the city of Manchester to have two successful teams and there is that rivalry that is nice. It makes the whole place exciting. The north west has been like this for many years now. Liverpool and Everton had some great times as well.
"There is a real buzz about the place because both clubs will be going for the title just like they did in the swinging sixties. That sort of rivalry gets the fans going and really gets the players on their toes as well so it's good for both clubs."
City are currently two points above United in the Premier League table and Law has been impressed with Roberto Mancini's charges.
"Manchester United have always tried to entertain people, play attacking football and be successful and they've always scored a lot of goals and now City are doing the same," added Law following the launch of his memoirs Denis Law: My Life In Football.
"There are a lot of City fans who are now really happy that it looks as though they are going to be challenging for bigger honours after winning the FA Cup last season.
"There isn't much bigger than the FA Cup but they will fancy their chances of winning the Premier League and will want to make sure they are regulars in Champions League because that has become dominant and you are playing the cream if Europe. It is lovely and I am sure they will be right up there at the end of the season."
The 71-year-old Law, who famously condemned United to relegation when he back-heeled the ball past Alex Stepney for City in 1974, is hoping that the honours will be even this weekend.
"I don't have a clue how the derby will go but it should be a good game," the Scot added. "I hope it is a draw. That would suit me down to the ground because everyone will be happy then.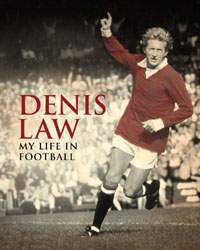 "There are City and United supporters in our family so it would be nice as far as I am concerned if the honours were even. When I played in derbies I always hoped it would be a draw because then everyone is happy and no one is too disappointed.
"Above all, I'm really looking forward to seeing the attackers in action. There are a few that have really caught my eye already this season. [Wayne] Rooney has had a good start to the season as have (David) Silva and (Sergio) Aguero at City. I like the attacking players. We know we need everyone else to make up a team but I like to see guys that score goals and create goals."
Denis Law will be signing copies of his new book - Denis Law: My Life In Football - (Simon and Schuster, £25) - at Manchester United's Megastore at Old Trafford on Saturday, October 22, from 2pm.