EXCLUSIVE
By Wayne Veysey
Wales
' top players have fallen back in love with playing for their country after the culture of the national set-up was overhauled, according to assistant manager Raymond Verheijen.
Gary Speed's back room staff, including his main dugout ally Verheijen, have spent the last seven months overseeing a steady transformation of the team environment to provide a platform for the players to thrive.
Wales, who slot in at 117th in the Fifa world rankings, take on England, ranked 113 places higher, at Wembley on Tuesday night after ending a run of four successive defeats in Euro 2012 qualifying with a win against Montenegro last Friday.
In an exclusive interview with
Goal.com
, Verheijen said: "When we arrived in this job in February, the first thing we had to analyse was why this team is on a low Fifa ranking. We discovered the reason was that Wales hardly ever play with their strongest team.
"When you are a small country with only 20 or 30 good players and 50 per cent don't show up, it is impossible to perform. Our biggest challenge in the fist six months was to change the environment so that players were hungry to play for Wales. The first signal that we were on the right track was in May at the end of the season in the Carling Cup, when even some of the injured players turned up in Dublin."
Further evidence of greater commitment from the players came at the camp ahead of the friendly against Australia in Cardiff last month, a game Wales lost 2-1.
"This was the first camp that all players were available," explained Verheijen. "The training was of a higher quality compared to when we started in February. Although the result of the game was disappointing, in training it was good.
"What happened last Friday, we expected to happen against Australia. The level has gone higher and higher in this camp and the Montenegro game last Friday has been the first time it has been transferred from the training pitch to the game.
"We have changed the culture. All the players show up and are hungry to play for Wales. They see things have changed in terms of professionalism and training. It's contagious. Even the injured and suspended players show up in the hotel because they want to be part of the process. They don't want to miss out on us.
"All of a sudden there is a lot of competition for places, and, as a result, the level of training has increased dramatically. Even though we have two players suspended for the England game, the players are making selection difficult for us simply because of the way they play in training.
"When we go to a restaurant, there are no cliques with different players on different tables. Everyone is sitting together talking and laughing. It feels like a group of friends. Look at how they celebrated [Aaron] Ramsey's goal [against Montenegro]. All the players went to congratulate him and all the substitutes were standing up and cheering. These signals show that this group is willing to do it together, which is significant."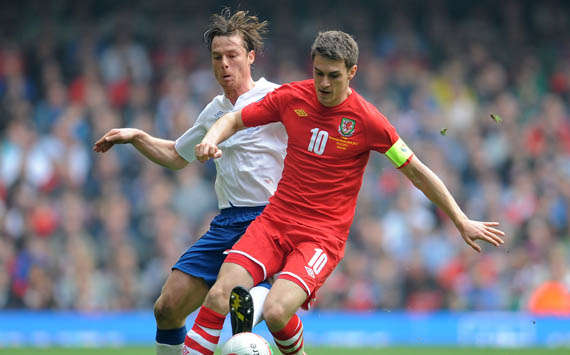 Gunning for glory | Wales have a style aimed at getting the best out of weapons like Ramsey
Verheijen has worked as a coach at the last six World Cups and European Championships and is also in demand as one of football's foremost conditioning experts, travelling the world to lend his expertise and knowledge to various national teams and clubs. Verheijen's role as assistant manager of Wales is only part-time as the FAW never works with a full-time assistant.
Speaking at Wales' luxury Bedfordshire hotel base on Monday afternoon, the Dutchman explained: "I said to the players, I didn't take this job because I was looking for a job. I'm a very busy guy, travelling all over the world.
"The only reason I took the Wales job is this squad of players together with this coaching staff. The staff that Gary has brought together is the most professional I have ever worked with at international level in terms of player monitoring and recovery, video analysis and preparation for training. All the bases are solid. We have a staff capable of helping players to a peak performance."
Integral to the ethos has been establishing a style of play able to make the most of blue-chip players including Ramsey, Gareth Bale, and Craig Bellamy.
Verheijen said: "When we analysed this team based on the quality of the players we quickly found out we had to develop a passing game because we don't have big players. We put a lot of emphasis in the first six months on passing and becoming comfortable on the ball. We knew that by doing that it would take a lot of games.
"For example, in the first England game we kept passing and being brave. We took a hit and also took a hit against Australia. By going through that process, our players became more comfortable on the ball and were not scared if the opponent pressured us.
"All the players could see in training what was going on. They felt and experienced that it made total sense what we were doing. Once you have your playing style, that is your reference point."
Asked about the importance of Bale, Ramsey and Bellamy, who is suspended for the England match along with David Vaughan, Verheijen said: "Every team has weapons. We also have weapons. Our playing style is based on these weapons. The good thing about them showing up and playing well is the weapons believe in the playing style. That is the best signal your coaching staff can get.
"When you are in the early phase of developing a team, the worst thing you can do is talk about the opposition. For the first six months, that is why we kept talking about our own team. Now, in passing and defence, we look really solid. Montenegro played with five strikers against us in the last 20 minutes but we kept our defensive shape. That is an even stronger signal than our passing game."
Verheijen accepts that Wales' principal aim is to qualify for the 2014 World Cup but it is not only the long term that matters.
"From now on, our ambition is to win every game," he explained. "On Friday, we showed our potential. The next focus is to learn to be consistent. Winning one game is something. Any team can do that. Winning as a habit is something different.
"Unfortunately, in football you never have guarantees about results but I'm confident that we will have a better performance than in the first England game. Tomorrow you will see we have improved.
"It is going to be a big test. They are number four in the world playing on their home ground. I have learned from Guus Hiddink you have to play the best teams away. If there are still flaws in the Wales firmament then that will be exposed by playing a tough team away. The sooner you know that, the better. In friendlies, it would be great for us to play teams like Portugal, France and Argentina so we can test ourselves at the highest level."
Follow Wayne Veysey on