EXCLUSIVE

By Clark Whitney
The success of Barcelona, their cantera system in particular, and the recently resurgent and replenished Bundesliga, stocked with homegrown talents, has led to teams and associations to increasingly place academies and talent cultivation to the top of their list of priorities. As such, the football landscape in Europe is changing.
Producing homegrown players offers a number of benefits: youngsters can be groomed to play in a certain style, and critically, are often nurtured for pennies compared to future market value. Thanks to strict guidelines, youths are equipped with the tools to play the game professionally and are quickly promoted to first-team training, particularly in Germany. Indeed, 31 per cent of all Bundesliga players were 21 years of age or younger before the start of last season.
However, for all the positives of youth development there is one unavoidable problem; invariably, emerging players lack physical maturity. As adolescents their bodies are often unprepared for competition with those of fully mature men. In an exclusive interview with
Goal.com
, Massachusetts General Hospital Chief of Sports Medicine Service, Dr. Thomas Gill, shed light on the oft-overlooked downsides of promoting young players.
In particular, Dr. Gill pointed out that workload can be a problem for those who are new to competition at the highest level.
"A lot of the time, especially for those 21 or under, the instance of over-use injuries is quite large," he told
Goal.com
.
"A lot of these guys don't have a down season. They play for multiple teams or they play in multiple leagues, and their bodies never have a chance to recover. And I think a lot of them over-train.
ACL TEARS: THE FACTS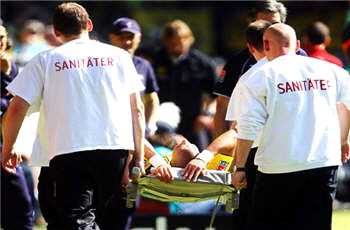 It usually takes just six months to repair the structural damage
Full recovery usually depends on rehabilitation effort, and often takes six more months
Players can return from ACL surgery with no loss of pace. Only articular cartilage damage (example: Ledley King) is irreparable
"They need at least three months down time, when they are not competing," he added, speaking of footballers of all ages.
During major tournament years, a brief break is all players can legitimately take before resuming club competition. Last November, Wesley Sneijder collapsed at half-time during a match with Brescia. The Dutchman, who resumed competitive play just over a month after the World Cup final, was diagnosed with anemia. He later explained that even though he had not sustained any structural damage, his body was at the breaking point. One poor challenge, and a fatigued knee or ankle could have been badly injured. Sneijder was 26 and physiologically in his prime at the time of his collapse; had he been younger and still growing, his risk of injury would have been significantly amplified.
"[During growth], the bone lengthens, and the tendons and muscles get stretched; they aren't necessarily growing at the same rate," explained Dr Gill. "So all of a sudden, one will have long lever-arms and legs they are playing with, and the muscle strength hasn't caught up with the growth of the bone. That's when you'll see a lot of over-use injuries, a lot of ligament injuries like ACL [anterior cruciate ligament] tears."
Many young starlets who made the professional leap last year grew over the course of the season. Dortmund's Mario Gotze, for example, was five centimetres taller at season's end than he was in August.
"As a general rule, the long bones, the legs and the hips, mature at around 18 years of age," Dr Gill said, although he admitted that this varies from person to person.
Of course, one's full physical development does not end at the time that growth plates are mature. Young players often are still short of muscle mass they will develop in later years. Some of this mass can be added during rehabilitation from major injuries, a silver lining, perhaps, for injured stars.
"Especially with younger athletes, if they tear an ACL, when they get their rehabilitation programme, it may be the first structured strengthening and conditioning programme that they've had before," Dr Gill explained. "And so, you suddenly take a kid who was going on raw talent before, and now you're able to have him train consistently."
The issue of mass and strength is one that cannot be under-estimated, according to Dr Gill.
"If you're playing against a man who's 28, 30, or 32-years-old, who's 30 pounds heavier than you are as a 16, 17, or 18-year-old, when you get tackled, that's a lot of force," he said. "I think you are much more likely to sustain a ligament tear just because of the sheer impact of the other player."
The question naturally follows: when is it permissible for a youngster to compete with men?
"You don't really enter your prime physically until you're 22 or 23 years of age," Dr Gill explained. "With football, 21 or 22 years is the point where I think one is [physically] ready to compete."
There are other, non-physical factors that can affect a young player's readiness for competition at the highest level.
"Many young athletes are ready physically, but some may not be ready mentally. They can't deal with the responsibility, the lifestyle, the media, all of the money that's thrown at them."
KEY POINTS

Athletes need three months without competition to recover from the previous season's exertion.
Young players are at increased risk of serious injury because their bones are still growing and muscle mass is still limited.
Bone growth typically ends around age 18.
Mental factors can also be difficut hurdles for young players to overcome.
Veterans have withstood the test of natural selection.
A classic example is former German prodigy Sebastian Deisler, who had the weight of a nation on his shoulders in a time when the Mannschaft had few rising talents. The winger suffered three serious knee injuries by the age of 22, but it was depression, brought on by expectations and his physical inability to live up to them, that forced his early retirement at age 27.
Perhaps the cruellest fact regarding player fitness is Darwinian. Genetically, some players are naturally more robust than others: with equal training, they can run faster and further, recover more rapidly, and take hits that others cannot. Others are just fortunate to avoid bone-crunching challenges.
"If you look at the players who make it, if one is still playing at 28, 30, or 32, you have to ask: 'why is that player still playing?' Well, one reason is that he's got to be a good player; 2) he's got to have a lot of skill; 3) he's had to avoid injury during his career," Dr Gill explained.
"So the people who were stars when they were 16, 18, or 20, but who ended up having cartilage damage in their knees, who end up tearing ligaments - they either get cut or drop out and retire."
Many young players have not been able to handle the rigour of competition at the highest level, and the damage sustained in their teens stayed with them for years to come. In addition to Deisler, others like Ronaldo and Michael Owen have had careers blighted by chronic injuries initially sustained in their early years.
The latent fixation with youth development among European clubs has given rise to a talent pool with unprecedented depth. But as the standard of quality among young players increases, coaches must be wary their responsibility to players and fans alike not to put their starlets needlessly in harm's way. The future of football is a bright one: it is up to club management to secure it.
Follow Clark Whitney on

.