EXCLUSIVE
By Laetitia Jacquesson
Lille have enjoyed a memorable season, winning the domestic double. When the 2010-2011 campaign ended on Sunday, talented defender Aurelien Chedjou spoke exclusively to
Goal.com
on the season, the trophies won by LOSC, his future and much more.


Goal.com
met him at the launch of his website,
aurelienchedjou.com
.
What is your assessment of the season on a personal level?

Aurelien Chedjou:
It's positive. It's one of my most successful seasons. Thank God, I have not had any major injuries this year. From there, I worked physically and I gave everything I could, even if there are still things to improve. In statistical terms, I think it's my best season since I started to play at the professional level. It is pure happiness! I hope there will be others as good in the future, even though I know that the hardest part is only starting.
Can we talk of a perfect season for LOSC?

Chedjou:
No, because there are always two or three things to improve, either personally or collectively. Football is eternal. Other teams will want to refine and improve their standard of play next season. We won the Cup and the Championship, so in that sense yes, it's a perfect season. But there are always things to improve in a game during a season.
Did you imagine, at the start of the season, reaching the summit of French football?

Chedjou:
Frankly, no. Even if there was confidence in the group - I trusted my team-mates and the staff had confidence in us - we never imagined we'd win both titles. We knew the strength of Lyon, Marseille, Paris Saint-Germain, Bordeaux, so it was not imaginable. We thought we could play a spoiling role and we wanted to try to qualify for the Champions League. But we did not know we could get there; it was not the objective early in the season. We were keen to go as far as possible, to do better than last year.
When did you start talking about the title?

Chedjou:
I think we started talking after the match against OM [won 2-1 on March 6]. Unconsciously, we had this inferiority complex because we had not won against a 'big team' and everyone could see us losing. But we made a successful match in Marseille and the media started talking about us.
We looked and we said that there really was something we could do. Parallel to this, when we returned from Portugal after our match against Sporting Lisbon [in December], [Yohan] Cabaye said he felt fine and that the group thought we could win the championship. Once we won the title at the Parc des Princes, I went directly to him and told him he was right!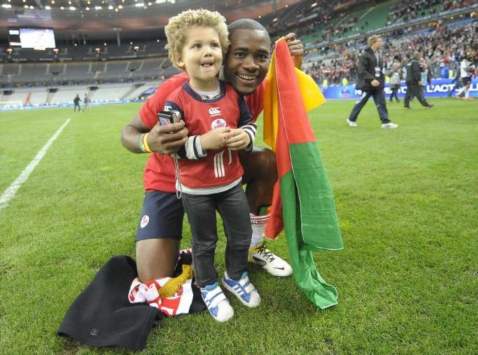 Glory Days | Chedjou celebrates after Coupe de France victory
Has there been moments of doubt during this period?

Chedjou:
Yes, there were moments of doubt. For example, when we lost against Monaco we did not effectively manage the game, and then there was the tie at home against Bordeaux. At that point, everything could have collapsed. But we continued to work and we did not hear too much of what was said in the media.

We have talked about the good understanding that exists within the club, is that also a key to your success?

Chedjou:
Yes, absolutely. We are a band, dude! When 'Mika' [Mickael Landreau] celebrated his 500th match in Ligue 1, he invited everyone to a restaurant. That kind of little thing brought us together. During the season, even those who did not play always encouraged those on the field. It's good to have this kind of reaction.



'To win something, we had to attack'



About your coach Rudi Garcia - what do you think of how you played?

Chedjou:
The coach quickly realised that to win something, we had to attack. I think he also made the difference this season. We do not just defend, we play too. Some teams say they will win by defending, but on the other hand, the coach prefers to win 4-3 rather that 1-0. It's much more pleasant, like in our matches against Caen (5-2), Arles-Avigon (5-0) and Lorient (6-3).

We hear a lot of Lille's attack but the defence also played well...

Chedjou:
Yes, of course. We had the second best defence in the league. It's true we had a big defensive effort this season, but it was not just the defenders. When I see young [Eden] Hazard, with the work he has done, or Moussa Sow... We do not talk too much about the defensive work of our forwards, and yet they did us much good. It was not only the defenders who defended, but the whole group.
You have said that it's 50-50 for Eden Hazard to stay or leave LOSC this summer. If he leaves, where do you think he will go?

Chedjou:
I have no idea. I do not talk about him, but virtually all of Europe is chasing him! I do not know if he will go to a particular club, but as I said, it's 50-50.



Barcelona? No thanks!

How do you feel about the idea of playing in the Champions League next season?

Chedjou:
We will certainly meet big teams, at least I hope so. Now we can really judge our level. Even if we know we will lose players, we trust the club to recruit others with equal qualifications. I've played in the Europa League for the last two years and every time, on Tuesday and Wednesday, I watched the Champions League on TV. But next season I hope I'll be there.

What big European teams do you want to play? Barca, for example?

Chedjou:
Oh no, that is a team I would not want to meet (laughs). I'd play against Real Madrid or Manchester United, for example. I think you have to mess with these teams to really know the level. I'm sorry, but the team against which I would hate to play, is Barcelona (laughs).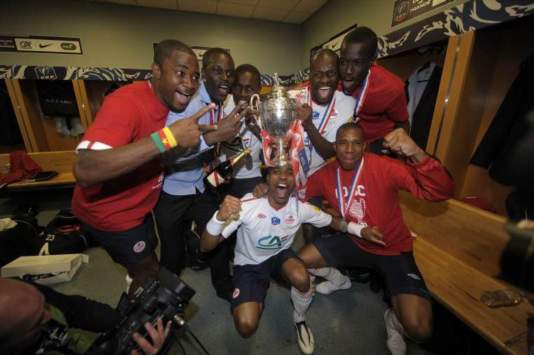 Say cheese!| Lille celebrate completing the first stage of their double
I read that your goal was to play with a big European club. Do you have a club of your dreams?

Chedjou:
I grew up with Juventus in my head. Even if the Italian league today is not what it was, it's still a great club. But there are many teams that make me dream; Arsenal, Liverpool, Barcelona, Bayern or even Schalke.
'Cameroon is not dead'

We will leave France for Africa. Cameroon has had a difficult time in the qualifiers for the African Nations Cup 2012...

Chedjou:
This is worrying because we are a great football country. There were some internal problems but we will try to sort it all and go in the right direction. Cameroon is not dead and we will show our fans.
You have a big game coming against Senegal on June 4... If Cameroon were not to qualify, how you would feel?

Chedjou:
Yes, this is a big game. Any other result than victory and we will be cooked. It would be a failure if we did not qualify. It would be a disaster to see the African championship without Cameroon, a real disaster...

You launched your website on Friday (www.aurelienchedjou.com). What were your motivations for embarking on this project?

Chedjou:
To be closer to my fans. I want to share much more with them. Right now, there are many stresses and those who want to follow me are a little left out because the media take precedence over everything. So through this site, I also wanted to show them how I am and tell them we are always together.
What can we find on the site of Aurelian Chedjou?

Chedjou:
Photos, a bit of my biography, what I like, what I dislike. What I'm like outside of football, things like that.

Do you plan to deepen the interactivity with the fans on your website?

Chedjou:
Yes, of course! For now, there is no space on the page but I'll do it slowly and I can assure you that it is really me who will talk to them. This site is close to my heart because it's important to be close to those who support us and share with them all these moments. When they see us on TV, they are confused too, so that when you talk to people online it much better; it gives them pleasure.
Find Aurelien Chedjou on his website here and on his Facebook page here.