EXCLUSIVE
By John Rojas
Former Barcelona defender Rafael Marquez is delighted with the Spanish giants' performance this season as Pep Guardiola's side take a 2-0 first-leg lead in their Champions League semi-final tie against Real Madrid.
Goal.com
caught up with the New York Red Bulls' star to discuss the Clasicos as well as get his opinion on Manchester United starlet Javier Hernandez among other things.


Goal.com:
Would you return to Mexico and play there again?
Rafael Marquez: I would. I'm thinking about maybe playing six months in Mexico before I retire. But it's not something that's certain or that I can assure you will happen. If it happens, that's great - if it doesn't, too bad.
Goal.com: Would you go straight to Atlas [your first club] or to whichever team offers?
Rafael Marquez: No, I think I'd like to go back to Atlas, retire there. I don't think I'd want to go anywhere else that isn't Atlas.
Goal.com: The Gold Cup is coming - How do you manage the rivalry with the United States now that you're around US Men's National Team players more often and play in front of their fans?
Rafael Marquez: That rivalry will always exist, and being here I've found a lot of Mexican fans cheering me on. Some Americans have made me feel - especially those who aren't Red Bull fans - that I'm their rival. That's normal to me, that people would get into it. It happens all over the world.
Goal.com: Do you feel when you're out on the street that Mexicans or other Latinos recognize you and cheer you on?
Rafael Marquez: Absolutely. I notice that way more than I ever did in Europe. Since I arrived in New York I've noticed it and it's one of the good things about coming to the US.
Goal.com: Do Mexican and Latino players who come to the MLS fall off the radar for their national team coaches?
Rafael Marquez: I think that depends on the quality of each individual player. In this league, there's enough talent around you so you can play at a high level and be on a National Team. A National Team has to consist of the best players who are playing at the highest level. It doesn't matter where you're playing, if you're doing it well you can be called up.
Goal.com: How did it feel coming to the MLS and losing a lot of the pressure on the street from fans and from the media like it was in Europe?
Rafael Marquez: It's completely different, especially at a big club like Barcelona. You live more comfortably, more relaxed - and that allows you to enjoy everything a little bit more... your professional live and your personal life alike. It helps me be in a lot better mood and that shows during games.
Goal.com: After Real Salt Lake's good run in the Concacaf Champions League, don't you think it's time that RBNY qualify to that competition and show their stuff on the international stage?
Rafael Marquez: We have to take it step by step. Our first goal is to win the championship and then get into that kind of tournament to try and make a splash. But the most important thing on our minds right now is to focus on each and every league game.
Goal.com: What's your analysis as a team-mate for guys like Juan Agudelo and Chicharito... what are your projections for each of their careers?
Rafael Marquez: They're different careers, for sure. Juan's barely starting, in a league that is useful for him to hone his skills towards the future. Chicharito is a reality, we're not talking about future or potential with him. He's taking advantage of the opportunity he has and hopefully he can keep doing it for a very long time.
Goal.com: After you retire, do you plan on becoming a manager or pundit?
Rafael Marquez: Neither, that's not my plan at all. I'd love to work with youth players, help them become professionals or maybe work with a club in an administrative function.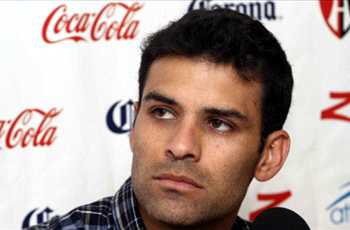 Goal.com: What was the best moment in your career so far?
Rafael Marquez: To play for a team like Barcelona, stay there and win so many titles - it's not easy.
Goal.com: What about the worst?
Rafael Marquez: Injuries. No athlete wants to endure them and those have been the most difficult moments for me.
Goal.com: What's your take on the four Clasicos going on in Spain?
Rafael Marquez: They [Barcelona] lost a title, but maybe it was the less important one [Copa del Rey], you have another one [League] that's almost in the bag and the most important one of all [Champions League] that's well on its way, because you took an important step as an away team and being a Barcelona fan, I'm happy things are panning out that way. They just have to close it out in the second leg and move forward.
Goal.com: If Barcelona face Manchester United in the UCL final, will you root for Barcelona, or Chicharito?
Rafael Marquez: I'm a Barcelona fan!!!