There are plenty of actors out there in a football stadium these days. However, the acting performances of these guys are still a rarity on the pitch. The players of Icelandic minnows Stjarnan became worldwide celebrities thanks to Youtube. It all started with an extraordinary goal celebration better known as 'The fish celebration'.

From Rambo to the human toilet, nothing's impossible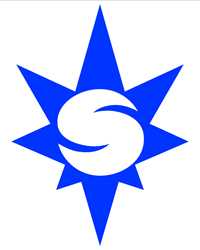 The fish celebration turned the Stjarnan players into instant celebrities and they got even more inspired after that. What followed was a Rambo celebration, a human toilet celebration, a bike celebration and many more creative celebrations. Week in, week out, the Stjarnan players came up with a new celebration and the footballing world couldn't wait for the Icelandic side to find the net again.
A posivite note after the crisis and volcano misery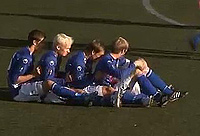 The club from a town with 10,000 residents has since become one of the most famous clubs in the world. Reporters from nations all over the world came to visit Stjarnan and football has never been this popular in Iceland.
"The economical crisis and the volcano related problems were the main discussion points when people talked about Iceland," said assistant coach Kristinn Ingi Larusson to
Goal.com
. "I'm glad that we can do something more positive for the nation now."
Stjarnan has become a famous club all over the world because of the footage on Youtube. Did you expect this hype?
Kristinn Ingi Larusson:
We could never have imagined that something like this would happen. The celebration was just a metaphor for how much the boys enjoyed playing football. The hype came as a huge surprise for every single one of us.
Did all this attention cause any changes at the club or in the Icelandic league?
Kristinn Ingi Larusson:
It has clearly resulted in a lot of attention for the club, not just within Iceland, but also abroad. We've had visits from newspapers and television channels from all over the world. I think that the club and the players have fans all over the world because of our goal celebrations.
What is it like to be a professional football player in the Icelandic league? Can the players live off their football activities?
Kristinn Ingi Larusson:
The Icelandic league isn't a professional competition, even though some players do get paid. They don't get paid enough to live off it, though. Most of the players at Stjarnan are students and have another job next to playing football. We have a teacher, an electrician and people working in IT at the club.
How do your opponents react when you celebrate this enthusiastically? Are they just playing along with you guys and enjoying it as well or do they get frustrated on the pitch?
Kristinn Ingi Larusson:
Obviously not every opponent appreciates our celebrations. We get a lot of different reactions. However, the majority of our opponents do not enjoy it when we score and show off one of our celebrations.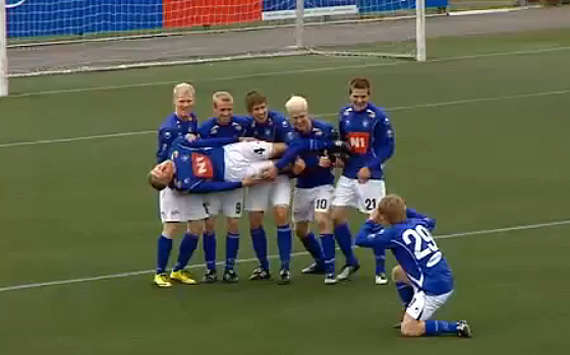 How does the technical staff feel about all the different goal celebrations?
Kristinn Ingi Larusson:
Of course, we enjoy seeing the boys doing it. Celebrating after scoring a goal is the reward for something we've achieved as a team. This keeps morale high in the team.
How often do you practice the goal celebrations?
Kristinn Ingi Larusson:
We don't really practice them. Most of the time, someone comes up with an idea and shortly discusses it with the team. We might try it once to see how it looks, but that's about it.
What kind of celebration do you have in store for us?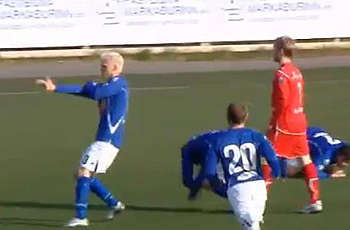 Kristinn Ingi Larusson:
I really don't know. The boys wake up with some crazy idea and just try it out in the upcoming match.
Did you already come up with a celebration that was too difficult to execute on the pitch or do you think that something like that could happen?
Kristinn Ingi Larusson:
No, I don't think so. These guys are extremely creative and have already shown that they're also great actors.