The midfielder touched on domestic and international action in an exclusive interview...
He stunned Madridistas last season at the Santiago Bernabeu when he headed home a goal past Iker Casillas, who is regarded as one of the best goalkeepers of all time; but Javad Nekounam has no time to dwell on his memorable past moments since he is going to have a tricky test against Real Madrid on Sunday's crucial meeting.
In his exclusive interview with
Goal.com
, Nekounam talks about his injury news update, his interest to see Barcelona as La Liga champions this season and how he was disappointed to see North Korea as one of Iran's rivals in Asian Cup's group D.
Goal.com: Do you think Real Madrid clash is worthy of playing even with your injured foot?
I don't have any problems to play, but I still feel some pain in my foot. We will have a tough match and it is a must-win for Real Madrid in order to remain as La Liga's potential winners. I think we can make a difference in this match and I'm sure we will put a decent performance.
Goal.com: Osasuna have proven to achieve favourable results on big occasions. Do you think this time it will be the same?
We play really well against teams like Real Madrid and Barcelona and they have never been in complete cruise control against us. We have got favourable results against them every now and again as well. We defeated both Real Madrid and Barcelona during last season's final fixtures.
Goal.com: Last season you found the back of the net at Santiago Bernabéu and tomorrow (Sunday) you are going to be on that pitch again. What is your goal this time?
I want my team to play well and for everyone to enjoy our football. My aim is to win against Real Madrid and if I can score a goal, it will be even better. I really enjoy scoring goals.
Goal.com: What is the main difference about Real Madrid this season?
They have bigger names and have become more like a team. They also have a resourceful coach. I like Pellegrini's work and the way his team plays.
Goal.com: If Osasuna can hold Real Madrid, then Barcelona will take a step closer towards the league title. What are your thoughts on that subject?
I hope it happens, because personally I love to see Barcelona as champions this season; however, it is going to be very hard to get a point against Real Madrid.
Goal.com: What is Real Madrid's biggest forte?
They are very sharp when they are attacking. They have various players up front who can give them the edge. Cristiano Ronaldo is in good form and Higuain proves to be a prolific striker at the moment.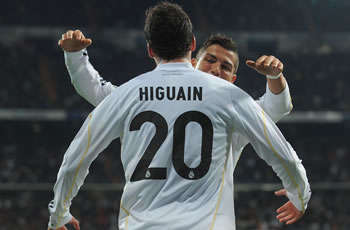 Goal.com: What are your tactics to stop them?
We don't have any tactics to stop their stars. Instead we will try to stop them as a team. We know too much about Real Madrid's tactics and we have trained based on those tactics.
Goal.com: Osasuna were desperate to qualify for Europa League this season. You were so close to book your place, but it didn't come true.
We have no one to blame but ourselves for that. We were rampant in most of our matches, but unfortunately didn't take our chances. We gave away silly points in some matches as well. We could qualify for Europa League, but we spurned our opportunity to do that.
Goal.com: Are Osasuna players feeling a sense of danger about relegation?
We are still mathematically under threat of relegation, but in practice it is not going to happen. There is no danger of relegation.
Goal.com: Why were you upset to see North Korea as one of Iran's opponents in Asian Cup's group D?
We have always been a winner against North Korea, but I don't appreciate their style of play. We will beat them again this time. However, I don't enjoy the way they play. I don't admire anti-football tactics as we witnessed that during Barcelona's match against Inter in the Champions League. No one enjoyed the way Inter played. I don't appreciate the way Bahrain play either. I wish Saudi Arabia were in our group.
Goal.com: Is Iran one of the favourites to win Asian Cup this time?
It is a difficult tournament and you can't predict who is going to be the champions.
Become a fan of Goal.com International on Facebook! Just click onto Facebook.com/Goal to join the beautiful game's leading fan community...