Junji Ogura is the vice-president of the Japan Football Association, a member of FIFA's Executive Committee and one of the most powerful men in Asian football.
Asia Editor John Duerden sat down with him recently in Japan to talk about World Cups just around the corner and those long into the future...

What are your thoughts on the Serbia game (on April 7, Japan lost 3-0 at home to a reserve Serbia team)?
I was totally disappointed. Some of our players were injured though it was the same situation for the Serbians. They couldn't use their overseas players who were based in Europe, just like us in Japan.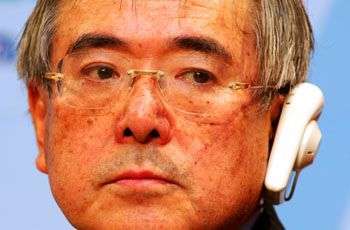 Junji Ogura
Our coach is looking for good results in South Africa so this kind of game is good preparation for teams in South Africa that we will face such as Denmark, Cameroon and the Netherlands. They are similar to the two European teams and are powerful like them.
It was a good test for us but unfortunately for our defence, it was not so good.
That's right and usually, Japan's weakness is perceived as being an inability to turn possession into goals but against Serbia, the defence was a big problem.
We were missing one key player in Tanaka but the two central defenders play for the same club. Kurihana and Nakazawa play for Yokohama Marinos so it should be OK but it didn't work.
We talked to Dragan Stojkovic who is the coach of Nagoya Grampus and before the game he told us about the team and he told us that were good.
In 2010, there have been five home games for Japan but four of them have been pretty disappointing. Does that concern you?
Unfortunately coach Okada couldn't have games with a full squad. Many players are injured or unavailable. It was the same during the East Asian Championships and of course we didn't have good results.
Does that damage confidence before the World Cup?
I don't know but I guess it must. We have three or four players or are playing in Europe who will join at the World Cup.
The fans filled the stadium but at half-time and full-time they showed that they weren't happy. Again, this is becoming quite a regular thing this year. Does that concern you?
Yes, it is very serious for us. Even at our headquarters in Tokyo some demonstrators are going there to ask for a change of coach. This always happens so we must be patient. Last time, the coach was Zico and then we had Troussier and now we are back to a Japanese coach and we must protect him.
So there's no chance to change the coach?
Sure. Now is April and it is difficult to change the coach.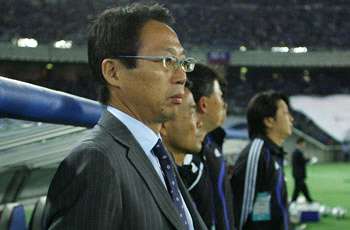 Okada's Job Is Safe
One big issue is the fact that coach Okada has said that he wants to reach the semi-finals in South Africa.
If you look at the FIFA rankings we are in the forties. In 2002, Korea were at home but became the fourth team, Japan, if you take goal difference into account finished as number nine. So if Korea can become number four then Japan also have the chance to become number four.
But if Japan doesn't score against Venezuela and China and loses to South Korea and Serbia, it doesn't look good when the coach keeps talking of the last four.

The coach's point of view is that he has given a target for the players.
For you, what would be success at the World Cup?
If we pass the first round and then I am very happy. To go to the last 16 will be great. In 2006, we were eliminated at the first round.
Is this team better than 2006?
I think so, we have better players. We have players in Europe like Honda and Hasebe in Germany and he can control the game well. We have a chance against Cameroon and Denmark though Holland is very strong.
You said in the past that if Tokyo doesn't get the 2016 Olympics then Japan probably won't bid for the 2018 or 2022 World Cup? SO what changed?
We only hosted half of the World Cup back in 2002. Japan remembers the enjoyment of that. You know that we have no stadium in Tokyo that holds 80,000 so this is important for the future development of football in Japan to have a stadium like that in Tokyo.
Do you think 2018 will go to Europe?
Yes. I met Michel Platini in Zurich recently and talked to him. For FIFA 2010 and 2014 are in the southern hemisphere so 2018 must come back to the north. This is reasonable and then back to Asia in 2022.
Can Japan get the World Cup?

We have a chance. If 2018 goes to Europe then we are in a competition with the USA and the other three Asian nations. So we must have a chance.
Would you prefer that Asia has one candidate?
It is difficult. Qatar has an EXCO member, there is Doctor Chung (Mong-joon) in Korea and there is myself in Japan. It is very difficult to eliminate a candidate.
What is the secret behind the J-League's success?
We were the first professional league in Asia –well, actually Korea was the first – but it was good timing for us. We started the professional league at the same time as we were looking to start our bid for the World Cup. We didn't qualify for the World Cup or the Olympics in the past. So we decided to start a professional league to encourage players to start playing football.
At the time, we had no stadiums but we thought that if we can host the World Cup then it will help our players and all aspects so we jointly started the professional league and bidding to host
Your favourite Japanese football memory?
It is the 1997 play-off between Japan and Iran in Malaysia for the World Cup. I was the head of the team's delegation. We had a serious fight against West Asia. West Asia insisted that the game be held in Bahrain but of course, Bahrain is close to Iran. I argued then finally FIFA decided to hold it in Malaysia. We started trying to qualify in 1954 and had to wait for 44 years.
John Duerden
Asia Editor
john.duerden@goal.com