Labelled the 'new Lionel Messi' in Argentina, Juan Iturbe's goal-scoring cameo for Cerro Porteno showed that he shares 'La Pulga's' flair for shining in clasicos
Juan Manuel Iturbe came off the bench for Cerro Porteno in the Paraguayan Superclasico against Olimpia to win the game for the Azulgrana. With 20 minutes to go 'La Pulguita' emerged from the bench to score and win a penalty as Cerro ran out 2-0 winners.
The result dented Olimpia's title push and gave Cerro Porteno a huge boost before their Copa Libertadores second-leg game on Thursday against Estudiantes.
In Argentina however the focus was all on the 17-year-old prodigy, playing in his last clasico for Cerro before a move to Porto in June. Just as Lionel Messi proved decisive in Barcelona's clash with Real Madrid, the youngster showed his appetite for the big stage on the other side of the Atlantic in Asuncion.
As in the last clasico, Iturbe started as a substitute. "I didn't know if I was going to get on or stay on the bench," he conceded in his post-match interview with Paraguayan TV.
The reason was that his compatriot playing in his habitual position on the left wing, Juan Manuel Lucero was Cerro's best player in a tight first period. Moreover when Cerro's centre-back Pedro 'Ganso' Benitez was sent off on 42 minutes and full-back Ivan Piris didn't appear for the second half with a suspected hamstring injury it looked like Iturbe wouldn't get a chance.
But despite the numerical disadvantage Cerro Porteno were making a game of it in the second half until the introduction of Maximiliano Biancuchi (Lionel Messi's cousin) for Olimpia sparked life into El Decano. Leo Astrada decided to fight fire with fire and made a huge gamble on 70 minutes, taking off Lucero and throwing on Iturbe with the game still deadlocked at 0-0. Some trademark dribbling brought nothing more than a couple of throw-ins but the threat of Iturbe's pace had made Olimpia more cautious.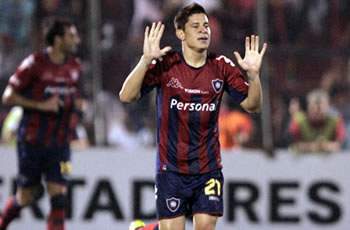 It was with good reason as on 80 minutes the Argentine livewire used his blistering acceleration to burst onto a poor backpass and nicked the ball ahead of Paraguayan international Julio Cesar Caceres to find himself one-on-one with Aldo Bobadilla. The slow motion replays showed his eyes lighting up as he bore down on the goalkeeper and he knew then it was the most important opportunity of his fledgling footballing career.
His left-footed finish nestled sweetly in the far corner and on a cold evening in Asuncion a star that had promised so much had won a place in the hearts of his fellow Cerro Porteno fans forever. It was Iturbe's third goal in Paraguayan football and it meant much more than the winning strikes against Independiente and Sol de America.
With little left in the game Olimpia threw caution to the wind and with two minutes to go Enrique Meza struck a fierce shot against the crossbar. But when the ball rebounded to a blue and red shirt, Olimpia were exposed to the counterattack which has been their Achilles heel all season. Suddenly Iturbe was bursting down the right flank and as he entered the box he lined up J.C. Caceres and went down under a mistimed challenge.
After the game Iturbe confirmed he felt the touch on his ankle, saying: "I tried to turn and he touched [my ankle]." Luis Caceres slammed home the resulting penalty and the game was over, Cerro Porteno won their first clasico since 2009 and their first under the presidency of Juan Jose Zapag.
LA PULGUITA SHINES


REACTION FROM PARAGUAY



"Astrada put in Iturbe on 70 mins and 10 minutes later the Cerro forward won position, set up and shot past Aldo Bobadilla for 1-0"
REACTION FROM ARGENTINA



"Astrada has a unique talent in his team, one with whom it is impossible to not compare with Lionel Messi. The change of rhythm and vertigo he imposes on his play makes the comparison inevitable."
The Paraguayan broadcasters named Iturbe their man of the match and with good reason, as he needed just 20 minutes to turn the game on its head. One Paraguayan journalist suggested that this game saw both Iturbe and coach Leo Astrada repair their relationships with the Cerro faithful. There is no doubt that in Iturbe's case there was recent disappointment at his lack of impact, especially after his incredible display on his debut against Colo-Colo where he scored twice and was unplayable for much of the game.
Iturbe himself recognized the importance of the club he has supported all his life. "Cerro made me the player I am," he said after the game after confirming he wanted to repay that debt in his last games for the club. Iturbe didn't finished there though, saying he was happy with the "very, very good goal" and was glad that Cerro "got a good victory" but he reminded the journalists in the TV studio that "Estudiantes [on Thursday] is a very important match."
While the question marks remain over his consistency, there is no doubt that Iturbe possesses a huge talent and yesterday he proved that he can perform in the big games. The superclasico is the biggest game in Paraguay, it dominates the local papers for a week before and a week after the date of the match, and those who do what Iturbe did yesterday are remembered forever.
To achieve international recognition his immediate challenge is the knockout stages of the Copa Libertadores and after that we may be talking about him in the Champions League with Porto. He's that good already.