It has been a good while since two youngsters have made so many headlines in South America as Cerro Porteño's Juan Iturbe and Santos prodigy Neymar. One must possibly go back as far as 2006, when an 18-year-old Sergio 'Kun' Aguero was tearing the Primera Division to pieces in an Independiente shirt and the even younger Alexandre Pato started to electrify the Brazilian public in the Internacional team, to find an era when two youngsters were on the lips of the football world and everyone wanted to know where they would arrive in Europe.
Wednesday evening therefore provides an unmissable opportunity to see two wonderkids on the same football pitch, as the pair repeat their Under-20 Championship clash in the club jerseys of the
Peixe
and the
Olla.
Santos need a win at home while Cerro would go back to Paraguay happy with a draw; but the match will almost be a sideshow to the press compared to the chance to see two kids expected to do great things in international football.
In comparing the two youngsters, it is important to point out that in their style of play as well as the role they play for their clubs, Neymar and Iturbe are chalk and cheese. Since bursting onto the stage in a magnificent 2010 Paulista campaign, 19-year-old Neymar has become an indisputable choice for his club, and a true inheritor of Robinho's position. Easy comparisons can be made between the two strikers. Small and slightly build, Neymar thrives on space and is astonishingly rapid with the ball at his feet, and when given his preferred position on either flank of a three-man attack can do serious damage running at the defence.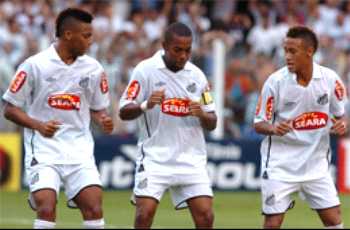 Neymar celebrates with now departed Robinho and Wesley
As Robinho found out however, this is a style of play that does not always translate well to European and international football. Whereas in his own country such players are given ample space to pick the ball up, turn and take off, such spaces are scarce elsewhere. Added to that, referees elsewhere in the world are much less sympathetic to creative players hitting the ground in search of contact.
This was a lesson Neymar learnt the hard way in his last clash with Iturbe, against the Argentine U-20 outfit; crowded by determined and physical Albiceleste marking, the playmaker of the team got frustrated and spent most of the game talking to the official, earning himself a booking. The Copa Libertadores will throw up many of the same challenges, and the 19 year old must prove he has the strength and attitude to take the hits when they come and not lose his head.
In comparison to his Brazilian the 17-year-old Iturbe is a novice when it comes to first-class football - not least because he lost almost all of 2010 on the sidelines thanks to a contract dispute with Cerro, who he rejoined just two weeks ago. So far 'La Pulguita' has been used as an impact substitute by his club, coming in at half time to expose tired legs and play his natural game.
The tactic has worked a treat so far, with the kid making an immediate impact in scoring two goals during Cerro's 5-2 thrashing of Colo Colo last time out in the Copa. Comparisons with Lionel Messi are lazy but not without a strand of truth, and watching the youngster on the pitch you cannot help but be reminded of the tiny magician who burst onto the scene more than five years ago.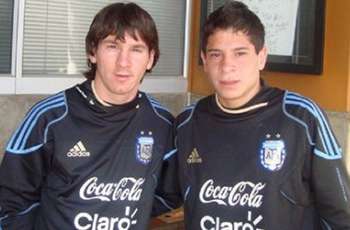 'La Pulga' & 'La Pulguita' pose at an Argentina training session
Immensely talented in his own right, Iturbe also shares enthusiasm for bringing other people into the game, and although he has the skill to leave defenders standing (as he demonstrated in the Under 20s) the youngster will also look for the pass before trying the magic. This is something that differentiates him from tomorrow's rival, who is occasionally guilty of seeking glory solo rather than locating better-positioned teammates.
All in all however it must be remembered that the young Argentine-Paraguayan is still largely an unknown quantity; Porto will have a much better idea of the kind of player they have gambled on when he completes a move after the Copa Libertadores final, in roughly four months. A short South American season is nevertheless an age to a teenage prospect, and he will need to prove he has the consistency to reproduce every week what he has already demonstrated to the world in flashes of brilliance.
Above everything we must keep a sense of perspective over the upcoming game. With fellow young talents such as Alex Sandro, Danilo and Alan Patrick in the team (Ganso still recovering from last year's injury), not to mention World Cup winner Elano and Barcelona's Keirrison as teammates, Santos on paper and at home should be far too strong for a Cerro team largely made up of Argentine journeymen and Paraguayans returning from mediocre spells in Europe.
This encounter though could prove to be the first first-class match between two players that go on to dominate the world of football; and like with 'El Kun' and Pato from the class of 2006, South American football is immensely richer for seeing these two prodigies up close and personally.
Santos host Cerro Porteño on Wednesday night at 19:50pm EST (00:50am GMT)
Follow Daniel Edwards on twitter:http://twitter.com/DanEdwardsGoal
Follow Goal.com International on twitter: twitter.com/goal_intl