"The thing with the sweater is I am not driven by superstition," muttered Joachim Low unconvincingly mid-World Cup 2010. "But the other coaching staff said I should be wearing it now, because every time I do, we score four goals." Jogi's natty, tight- fitting lucky blue cashmere pullover became an iconic German good luck charm during his side's charge to the semi finals in South Africa.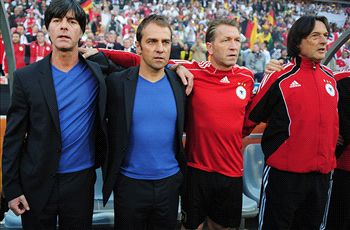 "Maybe I will still need it to bring me luck in other tournaments"
His assistant, Hans Flick, even took to wearing a matching garment in a ridiculous attempt to double the fortune. It worked during the 4-1 dismantling of England and 4-0 overpowering of Argentina, and the gaffer even confessed that he had stopped laundering the jumper to preserve its powers. "I am not even allowed to wash it now and I think I will wear it again against Spain," he confessed.
But the v-neck and cardigan combo failed him against Vicente del Bosque's side: they lost 1-0. Instead of tearing it to shreds, however, the item was later sold to retail company Galeria Kaufhof for €1,000,000 on behalf of a children's charity, and then donated straight back to the German Football Federation's museum in Dortmund.
"This sweater is an unforgettable reminder of the World Cup in South Africa and the amazing time millions of fans, our players and coaches had," said Joachim. But he hasn't ruled out breaking into the display case and yanking on the top at some point in the future. "Maybe I will still need it to bring me luck in other tournaments," he added. "Make sure it gets no moth holes. We can still use it at the World Cup 2018 in the cold of Russia!"
Join the conversation about unbelievable stories of believing at #startbelieving or for more information about PUMA visit: http://www.puma.com/footballclub