COMMENT
By Andrew Wychrij
At first glance, there is little about Donetsk that would lead you to believe it is home to one of Europe's top clubs. Deep in Ukraine's industrial heart, it is a hardy city dotted with slagheaps that serve as a constant reminder of its mining heritage.
However, lying at its centre, the impressive Donbass Arena hosts a glittering array of Brazilian talent, which has helped establish Shakhtar Donetsk as a team to be feared in European competition.
With the financial backing of Rinat Akhmetov, and under the stewardship of Mircea Lucescu, the Ukrainian outfit have recruited a steady stream of imports from Brazil, earning themselves the nickname 'the Brazilian colony.'
Numerous recognisable names have come and gone - Matuzalem, Jadson, Brandao and, more recently, Willian - only to be replaced by more of their compatriots. Indeed, from the Argentines of Metalist Kharkiv, to the growing contingent at Russian clubs, there seems no end to the oligarch-driven exodus from South America to the depths of Eastern Europe.
Considering the wealth attracting top-quality Brazilians to Russia and Ukraine, it is remarkable that Luiz Felipe Scolari's latest
Selecao
squad contains only one player based in the region - Zenit St. Petersburg's Hulk. It is a glaring oversight that is only driving talent into the grateful arms of Western European sides.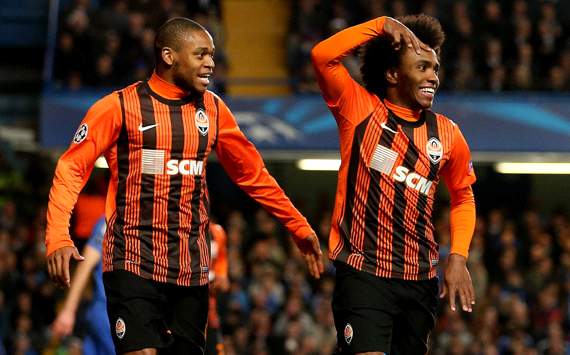 The Brazilian colony |
Willian's exit has not halted the influx of stellar
Selecao
signings at Shakhtar
Fernandinho's €40 million move to Manchester City is a perfect example.
"The national team was certainly something that I took into account," the 28-year-old told
O Globo
after finalising the deal.
"I had a stable life in Ukraine. But I was left out of the national team in early 2012 and didn't get called up again. That really affected me.
"Then this chance to move to England came. I wanted to go as it will give me more visibility, both in Brazil and Europe. Now my chances of returning to the national team will certainly be a lot bigger."
It is hard to criticise his logic. Despite his undoubted talent and the evident room for a dynamic box-to-box midfielder in the Brazil ranks, Fernandinho has just five caps. For anyone who marvelled at his contribution to Shakhtar's Champions League performances last season, that hardly seems a fair return.
The Ukrainian champions have proved themselves capable of competing with, and indeed outplaying, some of Europe's elite. Both Juventus and Chelsea struggled to cope with Shakhtar's free-flowing attacking play last season and, particularly against Chelsea in Donetsk, the Miners played some exceptional football.
The impressive quartet of Alex Texeira, Luiz Adriano, Willian and Fernandinho showed they could flourish at international level - and that is without mentioning the likes of Douglas Costa and Taison.
There is no shortage of ability at Shakhtar and they have been irresistible domestically, sealing a third straight Ukrainian league and cup double. Plus, if nothing else, the princely sums Manchester City and Anzhi Makhachkala paid for Fernandinho and Willian respectively indicate that the club is nurturing real talent.
So, why was Scolari not clamouring at the Donbass Arena gates to complete his Confederations Cup squad?
Visibility is certainly a key issue. Brazilians avidly watch the Champions League but Ukraine's top flight, unsurprisingly, is not held in such high regard. Shakhtar can justifiably be considered among Europe's best (Uefa's coefficient ranking system places them 13th) but, especially with Dynamo Kyiv's recent decline, there is no domestic challenge.
The perceived low standard of Ukrainian football is damaging to international aspirations; in Brazil at least, it would be hard to claim that the Brasileirao is a poorer environment for developing talent.
Simply, there is no one back home petitioning on behalf of Shakhtar's Brazilians - something also not helped by none of them ever establishing themselves at one of Brazil's top clubs. Willian played just one senior season at Corinthians before moving to Donbass, Luiz Adriano spent a similarly short time at Internacional, as did Fernandinho at Atletico Paranaense and Texeira at Vasco da Gama. They left early and quite possibly to their own detriment.
"I was left out of the national team in early 2012 and didn't get called up again. That really affected me. Now my chances of returning will certainly be a lot bigger."



- Fernandinho

Compared to someone like Lazio's Hernanes, who left Sao Paulo at 25, they do not have the exposure, recognition or vocal support campaigning to see them represent the VerdeAmarela. In a country blessed with a plethora of gifted players, some helpful lobbying would not go amiss but the current Shakhtar crop cannot rely on that luxury. In the unforgiving world of football management, you cannot blame Scolari for sticking to what he knows - and the comfortable 3-0 win over France on Sunday suggests that might not be the worst approach.
Unfortunately, it seems that Shakhtar's stars may have to follow Fernandinho's example and head to the bigger leagues to secure that elusive call-up. It will be interesting to see whether the latest Brazilians taking the well-trodden path to Donetsk, youngsters Wellington Nem and Fernando, can now maintain their presence in the national setup.
What is certain, though, is that Ukraine's 'Brazilian colony' continues to grow - 21 in total have graced the club since Brandao arrived in 2002 - as Lucescu continues to mine his South American diamonds.