TACTICAL ANALYSIS
By Jonathan Wilson
The longer this season goes on, the more unbalanced this Manchester United squad appears.
Like the 1998-99 team, this side has a habit of fighting back having gone behind (six times in eight league games so far and against CFR Cluj and Braga in the Champions League).
Like the 1998-99 team, this side has four high-quality centre-forwards. Unlike the 98-99 team, though, there seems little clear plan as to how to use them.
After Javier Hernandez, seemingly quicker and more muscular than last season, had scored twice to help rescue the game against Braga on Tuesday, Sir Alex Ferguson admitted his predicament. "He's got me thinking," he said. "He, Van Persie, Rooney and Welbeck; I don't know what to do with them to be honest." And that's without mentioning Shinji Kagawa and Tom Cleverley, the two other candidates for an attacking midfield berth.
Although Wayne Rooney and Danny Welbeck can play wide and Cleverley and Kagawa, who is unavailable for the Chelsea trip after it was confirmed he will miss three to four weeks with a knee injury, can play deeper.
United essentially have six players for two positions. Which hammers home the question asked earlier in the season: why spend £43 million on Van Persie and Kagawa, no matter how good the value that represents, when there are such obvious deficiencies elsewhere in the team?
Against Braga on Tuesday, United played a midfield diamond with Darren Fletcher at the base, Kagawa and Cleverley to the sides and Rooney at the tip. With Hernandez and Van Persie up front, that created three slots for those attacking players and incorporated the two who naturally play a little deeper – at the expense of United's natural wide men, Antonio Valencia, Nani and Ashley Young.
MEN IN THE MIDDLE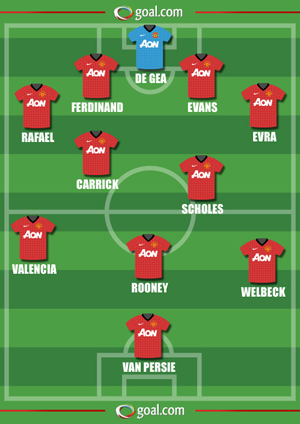 A 4-2-3-1 would bolster United's options in the middle, restricting Chelsea's creative trident

The decision to rest Rio Ferdinand meant Michael Carrick playing at centre-back. That left United defensively vulnerable, particularly in wide areas, but they had enough going forward to get away with it.
United have employed a diamond four times now this season: against Newcastle in the League Cup and the Premier League, and against CFR and Braga in the Champions League. United have won all four games.
"Teams will have to think if we are going to play two wide players or the diamond because we have players capable of doing both things," he said before the Braga game. "Players like Shinji Kagawa and Tom Cleverley can play very well in the type of matches the diamond offers. And of course in Nani, Ashley Young, Antonio Valencia, I've got really good wide players also.
"It is difficult – we have had some success playing with the diamond. The history of the club is always to play with wide players, particularly at Old Trafford, so I have a decision to make."
Against Newcastle, who have played more long balls than any other side in the Premier League this season, the ploy was clearly tactical: pack the middle, ensure Manchester United were not overrun and rely on their passing in tight areas to be better than Newcastle, while letting Rooney operate between the midfield and defensive banks in Newcastle's 4-4-2.
For Sunday's game against Chelsea, the decision is more difficult. Chelsea's great strength this season has been the trident of Eden Hazard, Oscar and Juan Mata in their 4-2-3-1.
Sir Alex may reason he needs two bodies in that area to bolster his back four and disrupt Chelsea's flow, in which case he will presumably go with a 4-2-3-1 of his own (he could even try a 4-3-3 and play Fletcher along with Carrick and Paul Scholes, although that seems unlikely).
Or he could reason the best way to stop them is by controlling possession, to get as many players in the centre as possible, in which case the diamond would be the preferred option.
That's one way of thinking about the game. The other way is to look at the vulnerability Chelsea have shown in wide areas. The fluent nature of the three in their 4-2-3-1 makes it very difficult for them to pick up opposing full-backs and that, at times, has left Chelsea's full-backs exposed.
The goals scored by Gervinho and Pavel Pogrebnyak against Chelsea this season both came from Ashley Cole being left isolated, while for a brief time last Saturday, Gylfi Sigurdsson again and again found himself one-on-one against Branislav Ivanovic.
In previous seasons, United would surely have looked to exploit that, using their wide men on the counter, constantly looking to drive at exposed full-backs.
The problem this season is that United may not have the defensive or ball-winning capacity to play like that and, unless Rooney is used extremely deep, to field Nani and Valencia would mean only one of the four forwards getting a game.
Sir Alex is presented with the classic tactical choice: be reactive and defend the centre (which counterintuitively may mean controlling possession), or be proactive and attack the flanks (which may mean sitting deep and ceding possession). His problem is that his summer signings have given him options in only one part of the pitch.
Follow Jonathan Wilson on