The Soccerex African Forum is currently taking place in Durban, South Africa, and the company's CEO Duncan Revie is once again in the 2010 World Cup host nation.
The football business industry leader was created by Revie and his wife Rita 17 years ago, and in 1996 the very first Soccerex Convention was held.
In 2007 the company began to show a strong interest in South Africa, signing a deal with the Gauteng Provincial Government to host an event in Johannesburg in the four years leading up to the 2010 World Cup.
Revie and Soccerex are back in South Africa, and
Goal.com
spoke to the him ahead of the event in Durban.
"Soccerex started back in 1995, when I saw a gap in the market; there was no football event out there, on a global scale, which brought together the business of football, in one place, at one time," said the CEO.
"Working with my wife Rita, the chief operating officer - and also the real boss! - we staged the first event in London in 1996. Since then we have hosted 29 events across 5 continents, including 3 fantastic years in Johannesburg - and we're not finished yet!
Duncan Revie is CEO and founder of Soccerex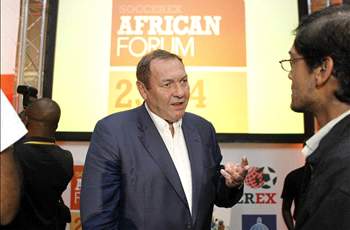 "
The 2010 World Cup proved many critics wrong with regards to South Africa's ability to host the world's biggest event.
Revie revealed his impression of the country's World Cup hosting in 2010.
"South Africa did prove a lot of critics wrong and there were some negative comments during the build up to the tournament, mostly by people who hadn't been to South Africa and witnessed what a wonderful country it is," he said.
"The Soccerex team and myself had no doubt that South Africa would stage a great tournament due to our experience with hosting our Global Convention in Johannesburg from 2007-2009. We were very proud to see our South African colleagues, who we had worked with for the last 3 years, put on such a spectacular World Cup and in my opinion one of the greatest World Cup's of the modern era."
The World Cup was a costly venture for South Africa, but Revie believes that the investment and impact on the country's future has been positive.
He added, "It is inevitable that there would have to be large scale investment in order to host a major event, just look at our London 2012 Olympics. But if you visit the major cities like Durban, Johannesburg, Cape Town and Pretoria then you can see the value of that investment in the sports facilities, infrastructure and tourism.
"The impact the investment will have on South Africa's future is very positive, I think that in the next 20 years the Olympic Games should come to Africa and there is no country better placed to host them than South Africa, he told Goal.com.
"You have the stadiums, infrastructure, and passion and most importantly you have proven to the world that Africa can host a successful major sporting event, so therefore I think that the future is very bright because of that investment."