A year and half into his tenure as chairman of the Lagos State Football Association, lawyer Seyi Akinwunmi has rejuvenated his organisation by taking important strides in the local Nigerian game.
The LSFA is growing youth football exponentially and has now secured the most impressive deal yet, that of bringing Soccerex to Nigeria. A hard-working visionary, Akinwunmi hopes that the face of football business in Nigeria will be transformed by this event as it will bring investors into the country.
Soccerex Seminar Lagos takes place from September 27-28, with the city set to develop as a hub of football business thanks to the event's ability to focus investor attention where potential for football growth and profit are drawn together in an ideal combination.
Speaking to Goal.com recently, Akinwunmi talked about the vision of his organisation and the impact that Soccerex will have on the football-mad nation.
What is the vision of the Lagos State Football Association in supporting and hosting the 2012 Soccerex Seminar?
"We came up with a new vision over the past year which is known as the Eko Football. One of the various things which Eko Football contains is the business of football. We want to improve football standards generally, encourage youth football, the standardisation of officiating and coaching. We believe there's no way we can develop football to the level where it should be until we have investments in that sphere.
"In order to get people to invest in football, we thought about going to the biggest brand, Soccerex, that has been organising these seminars and conferences around the world for the past 17 years. Their reputation will make people follow them, investors who would never have come to Lagos will come to see what potentials we have."
LSFA head Akinwunmi lauds Soccerex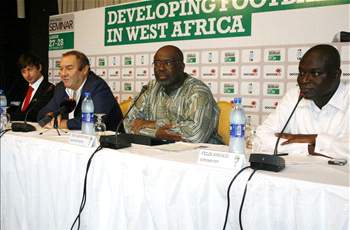 Are there particular investments that you're hoping to get for the state through this seminar?
"Frankly, any investment is good investment but already people are speaking to us about developing sport arenas and a super league. We're hoping that people will come in to manufacture boots. These investments may also be from Nigerians as we will try to awaken them to possibilities.
"If you travel from the airport down to Onikan and look left and right, I'm sure you'll find thousands of children playing football, mostly with bare feet. It is not because they don't want boots but because they cannot afford it.
"If you have a local manufacturer of boots then they will probably be able to save money and buy boots to improve their standard of play. This is one of the kinds of investments that we are looking at."
Seeing that there's no team from Lagos playing in the Nigeria Premier League, what is the vision of the LSFA for returning the metropolis back into the top flight?
"People must understand that our job is to create the infrastructure and the structure, we don't run any football club. What we have done in the past year and half is help the clubs to get their coaches exposed to international training, more than they have had in the past ten years.
"That question should go to the football club owners. What are they doing? It's not because we don't have good enough teams, it's because there's a lacuna in the running of the clubs and they haven't learnt top level organisation. What we can do as an FA is to support them."
What will the impact of Soccerex be after the seminar?
"Soccerex will bring investors, investments will create employment. Secondly it will put Nigeria, Lagos in particular on the map of football business in the world because 90 per cent of those coming are coming to Lagos for the first time.
"Those that are planning to build arenas are not coming to take the money from us, they will be bringing their money but we will get land for them. Who will they employ? That is the essence of Soccerex. It is a start but it will be a continuous event."