Overcoming superstition about injury and a phobia of pain by administering dangerous levels of agony sounds like the insanity of homeopathy taken to sadistic extremes, but Horst Hrubesch and Harald Schumacher decided to do it anyway.
Hrubesch, a granite-faced, six foot two centre forward known as "the Monster" and "the header beast", played for Hamburg, Standard Liege and Borussia Dortmund among others, as well as bagging 21 German caps in the early 1980s. His training regimen – based on a similar theory to running with a weighted backpack to make running without one later easier – included nutting a medicine ball to super-charge his aerial ability, and always contained an element of superstition.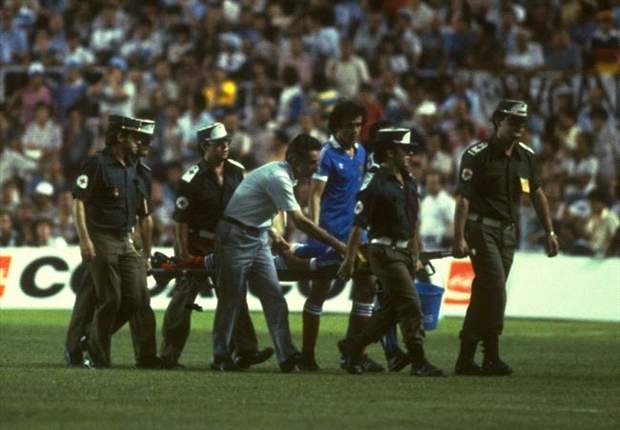 Out for the count | Battiston after a hefty 'collision' with the pain-free Schumacher
Harald 'Toni' Schumacher, meanwhile – who guarded the German net between 1979 and 1986 – also believed in some curious rituals. He is possibly the only man in living history to have actively encouraged fellow players to do their very worst and kick a football as hard as possible towards his testicles. His theory was that lying on the ground in total agony would increase his tolerance to pain and rid him of the worry of being hurt in actual matches.
It seemed to work; he had a long and distinguished career for Koln, Schalke, Fenerbahce, Bayern Munich and Borussia Dortmund, and certainly displayed no fear while near-crippling defender Patrick Battiston in the 1982 World Cup semi final. His foul, which put the Frenchman into a coma, damaged his vertebrae and removed three teeth, was so notorious that Schumacher was later voted the most hated man in France, beating Adolf Hitler into second place. Perhaps Battiston should have spent more time running into walls, Hrubesch-style.
Join the conversation about unbelievable stories of believing at #startbelieving or for more information about PUMA visit: http://www.puma.com/footballclub