COMMENT
By Peter Staunton
The hair is not spiky and nor is it dyed silver. It's no longer a colour of his own choosing. "I don't know where the grey hair has come from," he told
Bild
in December. "I'm not getting any younger, obviously. It's not that bad, is it?" Blink and you will have missed it: "Schweini" has grown up in front of our eyes.
It has been eight years since Bastian Schweinsteiger made his debut for Germany. Through his 99 caps, he has evolved from bratty adolescent to elder statesman. Sent off in the Euro 2008 group stages, against Croatia, he watched the final group game, against Austria, from the stands while sat next to Angela Merkel, like the bold kid told to sit beside the teacher.
There have been moments of exquisite brilliance too, like his virtuoso display in the dismantling of Argentina at the 2010 World Cup, but there have been even more disappointments.
Crouched on his hunkers, Jurgen Klinsmann gently cradled Schweinsteiger's head as Italy put the Germans out after extra-time in an epic World Cup semi-final on home soil in 2006. He must have been dying inside as the Spain team danced a conga line around him while he gave an interview after the Euro 2008 final. With his top off and his hands on his hips, he stood still as a statue as
la Roja
, again, ended the dream at World Cup 2010. Shell-shocked, after the most humbling season of his career, he applauded the fans after Joachim Low's side contrived to squander their semi-final opportunity against Italy at Euro 2012.
GERMANY'S 100 CLUB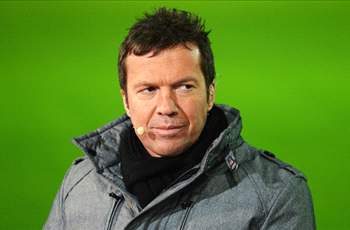 | | | |
| --- | --- | --- |
| NO. | PLAYER | CAPS |
| 1 | Lothar Matthaus (above) | 150 |
| 2 | Miroslav Klose | 130 |
| 3 | Lukas Podolski | 111 |
| 4 | Jurgen Klinsmann | 108 |
| 5 | Jurgen Kohler | 105 |
| 6 | Franz Beckenbauer | 103 |
| 7 | Thomas Hassler | 101 |
| 7 | Philipp Lahm | 101 |
| 9 | Ulf Kirsten | 100 |
These are the snapshots of Schweinsteiger's Germany career. As he's racked up the caps, he's racked up with heartaches. Despite his personal and professional growth, Schweinsteiger's time with the national team remains a story of destiny unfulfilled. This is Germany, where they expect to win things. Their trophy drought now stretches back to 1996; it will have been their longest dry spell since the years between the World Cup win in 1954 and the European Championship victory in 1972 by the time the World Cup rolls around in Brazil next summer.
As a senior lieutenant, the criticism comes Schweinsteiger's way more than others these days. Gunter Netzer was the latest to have a pop. Before him it was Franz Beckenbuer, and Uli Hoeness. He plays it too slowly, they argue; he's not quick enough, they say - if it's not one thing, it's another. He's never hidden, though, not even when his own Bayern flesh and blood were booing him in November 2009.
He's turned the corner there, that's for sure. Shunted to the flanks in the early part of his career, he has since come home to central midfield and become one the best players in the world. Confident, responsible.
He emerged, famously, with Philipp Lahm and Lukas Podolski. On the pitch they inspired goodwill and hearty commiserations through their formative years in the national team. Those early near-misses were excused. A young team, a developing team. No more. Being there or thereabouts no longer cuts it. It's a catastrophe that Schweinsteiger has reached 100 caps before Germany have lifted another trophy.
The 29-year-old dutifully acknowledges the significance of his ton total but there is the sense he is a little embarrassed by it. Or, more accurately, by the lack of success through it. He's impatient now.
"Of course it's something special," he said this week.
"One hundred international matches, that's nothing you take for granted. But I do hope there will be a lot more - and hopefully some success. [Winning the World Cup] is my goal and we can surely reach it some day."
The years are passing him by as the grey flecks on his temples would attest to. The success that seemed inevitable at one stage is evading him throughout his Germany career like he evades challenges dribbling through the midfield.
Not so at club level for Bayern's vice-captain. The treble, with the crowning glory of the Champions League title, has elevated the club to the status of winners. Bayern have acquired an immediate impenetrability. It does not make it any easier to deal with setbacks on the international front. "I don't want to win 20 doubles and then retire without having won a major trophy with Germany," Schweinsteiger said after finishing third at the 2010 World Cup. "I just don't want to." He was one of the players who turned down the offer of an official Berlin reception after finishing third in South Africa.
It took 11 years in the Bayern colours before Schweinsteiger finally landed the big title and shrugged off accusations of mental fragility. There is no Jens Jeremies in the Bayern or Germany midfield these days, snapping at calves and ankles. There, instead, goes a group of players raised to play the same way, to trust their instincts and their techniques. To win, and lose, together as one. Schweinsteiger's predecessor for club and country, Michael Ballack, will be regarded as one of European football's great nearly men - despite his undoubted talent.
Schweinsteiger has done it for Bayern and still has time to put it right with Germany. Expect him to pursue it with a fervent zeal. Schweinsteiger is not a Ballack and never will be. He is the emblem of Joachim Low's flat hierarchy and not a dominant, alpha midfield presence. There is no Ballack to drag him or his team-mates along. It is to Schweinsteiger, now, that Ozil, Khedira, Muller and Reus look for guidance and instruction.
Times have changed - and so has "Schweini".