COMMENT
By Gary Niblock | Belgian Football Writer
Francois De Keersmaecker's chairmanship of the Belgian FA, which began in 2006, has been anything but plain sailing. He has overseen a period of managerial turbulence since Rene Vandereycken stepped down in 2009. If the career lawyer was stung by Dick Advocaat going off to earn ten times as much in Russia, he was stunned by Georges Leekens' departure last May, which proceeded the now infamous comment that the now Club Brugge coach had accomplished 90% of his work.
Yet despite Belgium not featuring at any major tournament since 2002, De Keersmaecker believes that
les Diables Rouges
have all the necessary ingredients to end their decade-long drought. The chairman of the Technical Committee, Philippe Collin, has expressed his confidence that qualification will be achieved. Key defender Thomas Vermaelen also weighed in with the view that anything less than six points from their opening two games (Wales away and Croatia at home) will be a disappointment, and given the excellence he, along with his peers, have produced on a consistent basis at club level, it is no surprise that the Arsenal skipper has set the bar high.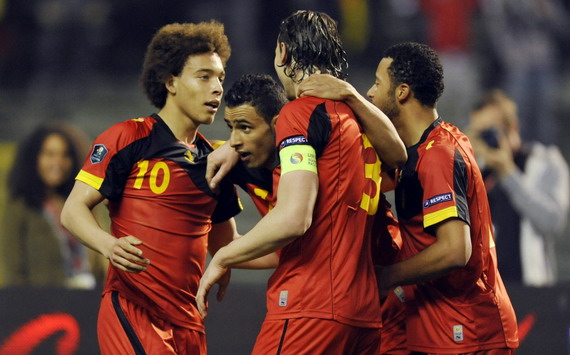 Better the devil you know | With their wealth of young stars, Belgium should flourish
Vermaelen forms one half of a central defensive axis with Vincent Kompany that is the envy of almost any other international side with both able to blend the more traditional battling qualities with composure on the ball. Even if you manage to breach those two, you come across one of the world's outstanding young goalkeeping talents in Thibaut Courtois. Loaned out by Chelsea to Atletico Madrid, he could be said to have been a step up even from David De Gea as he kept 23 clean sheets and won the Europa League with the Spanish outfit. The time will come in the not too distant future when Petr Cech will not be able to halt his seemingly unstoppable progress.
Competition for places is perhaps at its fiercest in midfield. Axel Witsel, who has just completed a €40 million transfer to Zenit from Benfica and the domineering Everton midfielder Marouane Fellaini are frighteningly imposing yet technically adept. Spurs newcomer Mousa Dembele has taken his game to the next level since being considered solely as a midfield player capable of driving the team forward (as he did in the recent 4-2 win over the Netherlands) while Kevin De Bruyne has made no secret of his ultimate desire to operate as a playmaker and not out on the flanks. Porto's Steven Defour may be in the shadow of these illustrious names but as he rightly acknowledged recently, he has made an already tough choice now fiendishly difficult, if not impossible, with both good performances in training and a shut-out of Wesley Sneijder in that recent friendly.
BELGIUM'S STAR PLAYERS


Thibaut Courtois
Mousa Dembele
Marouane Fellaini
Eden Hazard
Vincent Kompany
Kevin Mirallas
Thomas Vermaelen
Axel Witsel
3 caps
40
35
29
47
28
36
30

Kevin Mirallas was the Greek league's Player of the Year and has already settled in well alongside Fellaini at Goodison Park, offering a goal threat cutting in from the left-hand side. If some are still yet to be convinced by the former Olympiakos man, one player who has built a strong case for selection is Dries Mertens. The winger scored one and set up two against the Dutch last month as he took the game by the scruff of the neck. Fellow Eredivisie star Nacer Chadli offers a more robust if less spectacular option out wide or even in the congested centre.
So many stellar names with experience under their belt, with room to grow, and yet not one full-back has been mentioned. It is an area of chronic weakness filled by Guillaume Gillet, who does not play there for his club and the outstanding Jan Vertonghen, who can feel aggrieved at having to play at left-back, such is the security provided by the defensive foundations of Kompany and Vermaelen. And nor have any out and out strikers cropped up. Romelu Lukaku, no longer an automatic starter, remains the great hope with his still young career kick-started back into life following his loan to West Brom, though he is currently carrying an injury.
If Wilmots is to exorcise the ghost of 2002 and that disallowed goal against Brazil, then the fortunes of Eden Hazard will mirror those of
de Rode Duivels
. Hazard, like the entire team, has been unable to fulfil his promise at the top level in the key moments. If the start of the season is anything to go by, he has shown he can take his club game up a notch. At his best, he is Belgium's brightest star, its most spectacular. Now is not only the time for Hazard to take his Lille and Chelsea form onto the international stage, it is the opportune moment for the country whose famous people we often struggle to remember, to truly make its mark by qualifying for Rio 2014.