The Costa Rica international's star quality suggests he should switch to a squad that features in Europe's elite club tournament regularly rather than move to White Hart Lane
COMMENT
By Stefan Coerts
Matchday two of the Eredivisie again offered plenty of wonderful football. Groningen striker Tim Matavz netted a hattrick, young winger Jerson Cabral impressed for Feyenoord as he was involved in all three of his side's goals, while Toby Alderweireld scored an absolute stunner for Ajax. Nevertheless, the weekend belonged to the brilliant Bryan Ruiz as the Costa Rica international guided Twente to a 2-0 win over AZ with an astonishing goal.
The 25-year-old started the match from the bench as he didn't return from international duty until some 24 hours before kick-off on Saturday, but Twente coach Co Adriaanse had no other option but to bring on Ruiz at half-time after a difficult first half. Some 20 minutes later, Ruiz displayed his immense talent as he shrugged off his direct opponent before cutting inside from the right and beating the AZ goalkeeper with a delicate chip from a narrow angle. That wasn't the former Gent star's only contribution though as he oozed class every time he touched the ball and provided a number of intelligent passes.
Ruiz's superb performances from the past two seasons - and the last few weeks in particular - haven't gone unnoticed elsewhere and the attacker revealed last week that Tottenham Hotspur have approached his agent to discuss a summer transfer. He added that he'd be delighted to join the Premier League side as he's relishing the chance to play alongside Rafael van der Vaart.
BRYAN RUIZ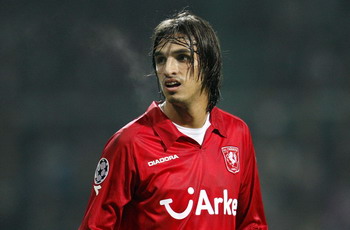 FACTFILE
Position: Forward
Date of Birth: 18 Aug 1985
Place of Birth: San Jose, Costa Rica
Height: 188cm
Nationality: Costa Rican

STATS
| | | | |
| --- | --- | --- | --- |
| Season | Club | Games | Goals |
| 2003-04 | Alajuelense | 17 | 3 |
| 2004-05 | Alajuelense | 31 | 13 |
| 2005-06 | Alajuelense | 35 | 8 |
| 2006-07 | Gent | 16 | 3 |
| 2007-08 | Gent | 31 | 11 |
| 2008-09 | Gent | 32 | 12 |
| 2009-10 | Twente | 34 | 24 |
| 2010-11 | Twente | 27 | 9 |
| 2011-12 | Twente | 2 | 1 |
However, Ruiz would be wise to think twice before signing with Spurs. As tempting as it might be to move to White Hart Lane this summer, there are several more interesting clubs out there that could come knocking in the final fortnight of the window.
Tottenham are naturally a step forward from Twente as Ruiz would not only join a bigger club, but he'd also move to a stronger league than the Eredivisie. Yet, there's one crucial thing that manager Harry Redknapp can't offer the attacker: Champions League football.
Many will point to the fact that Spurs made it to the quarter-finals of last year's edition and may qualify for the competition again, but there's a pretty big chance that 2010-11 was a one-off for the north London side.
Redknapp's men have qualified for the formerly named European Cup only once in 50 years and they face stiff competition from more established teams such as Arsenal, Chelsea, Liverpool, Manchester United and Manchester City, making a quick return to Europe's elite club tournament rather unlikely.
Ruiz, who turns 26 on Thursday, is nearing his personal peak, but still has some room for improvement. He will have to play football at the highest level to unlock the final percentages of his potential though and the chance that he will get this at Tottenham is very slim.
Although Spurs are currently sitting in pole position to lure Ruiz away from Enschede, the tricky attacker has also been linked with clubs such as Arsenal, Valencia and Villarreal this summer. None of these three teams seem to be in a rush to make an offer for the forward at the moment, but this situation will likely change soon.
Arsenal are expected to cash in on Samir Nasri (having now agreed to sell Cesc Fabregas to Barcelona) and they reportedly see Ruiz as a suitable candidate to replace the France international, while Valencia and Villarreal fear the departure of Juan Mata and Nilmar respectively before the summer transfer window slams shut and also have the 25-year-old on their shortlist to fill the void.
All of these three clubs have not only made more Champions League appearances than Spurs, but they are also far likelier to qualify again than Redknapp's club. Arsenal haven't missed out a single time in the 21st century, while Valencia and Villarreal have been fighting for third spot in La Liga for several years.
For now, Ruiz won't lose any sleep over whether to move to Tottenham or wait for a Champions League club, as the White Hart Lane side have yet to make an official offer for the attacker.
Saturday's display will surely have convinced Spurs of his qualities though and they could soon open talks. It's then up to Ruiz to decide whether he wants to make one step forward now or wait and make two later this month.
Follow Stefan Coerts on