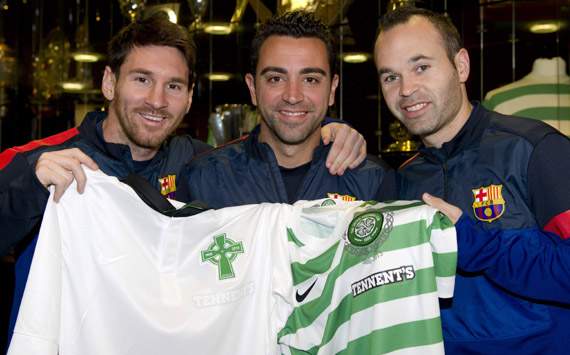 It's an image
Celtic
fans could barely even dream about:
Lionel Messi
and
Andres Iniesta
holding aloft the hooped jersey. Oh, and
Xavi
there too!
Has Henrik Larsson been extolling the virtues of Glasgow to his former team-mates? Does Iniesta long to face clubs as steeped in history as Ross County? Is the Ballon d'Or winner hooked on deep-fried Mars bars?
Sadly not Bhoys fans, unfortunately Messi & co. will not be strutting their stuff in green and white on the hallowed turf of Celtic Park. Nor is this a case of preemptive, Andre Santos-style shirt swapping.
The trio actually snuck past Tito Vilanova and out of training before stumbling upon Celtic's 125th anniversary celebrations. They posed for a cheeky snap before hitting the streets of Glasgow. Possibly.
But fear not, there will be plenty of opportunity to see the Catalan club's three amigos in the Champions League Group G clash, where an injury-hit Celtic side will be looking to avenge their stoppage-time heartbreak at the Camp Nou.