Goal.com is publishing exclusive extracts from Luca Caioli's new book, Ronaldo: The Obsession for Perfection, which charts the Portuguese forward's spectacular rise from a poor childhood in Madeira to superstardom with Sporting Lisbon, Manchester United and Real Madrid

He is certainly capable of entertaining the crowds, and he proves it on his second outing, on October 7, 2002 in the Portuguese SuperLiga. The current title holders are at home to Moreirense FC, who have been promoted from the Second Division. As matches go it's not particularly special.
But Cristiano Ronaldo is in the starting line-up for the first time, and at 17 years, eight months and two days old he makes history as Sporting's youngest-ever goalscorer. He scores "a monumental, majestic, unbelievable goal … there are not sufficient adjectives to describe this young Sporting prodigy's achievement," scream the
SportTV
commentators.
It's the 34th minute: Ronaldo gets a back-heel from Tonito just over the halfway line, he dodges past two defenders, slaloming back and forth for some 60 metres; he follows it up with a 'bicicleta' on the edge of the area to wrong-foot another opponent and slides it smoothly past Moreirense goalkeeper Joao Ricardo, who makes a desperate dash out into the box.
Cristiano tears off his shirt, hugs his team-mates and runs towards the stands. (Coach Laszlo) Boloni celebrates with his colleagues in the dugout. He is the one who took the risk and changed Ronaldo's position. It's a risk which has paid off in spades.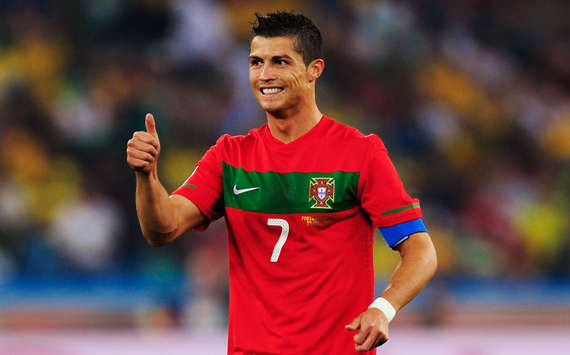 Madeira drive |
Cristiano made his debut for Portugal in 2003
Back to the match: the No. 28's performance is not over yet. Despite the presence of Brazilian striker 'Super Mario' Jardel – last year's Golden Boot, back on the Sporting team sheet after four months of injury – Cristiano is the playmaker, scoring the opener and taking it to 3-0 with a spectacular header. The only thing that mars the occasion is when Cristiano's mother Dolores feels faint in the stands. Perhaps it's the excitement of her son's performance, but in the end it's just a scare.
The following day Ronaldo dominates Portugal's front pages with his 'monumental' goal. The journalists milk the opportunity to tell his story, from his first street games in the 'slums' of Madalena in Santo Antonio. They interview his childhood coaches. They try to get hold of his father. The poor man has only seen the highlights – he followed the match on the radio because Andorinha were playing at the same time. He says that everyone on the island has mentioned his son's success and they joke that he should see if Sporting will loan him to Andorinha so that they can win something for a change.
| | |
| --- | --- |
| Ronaldo dominated Portugal's front pages with his 'monumental' goal ... But it's not just the Portuguese press that are interested in the newcomer's profile - Ronaldo is also making waves across Europe | |
Jose Dinis maintains that his son is a force of nature who has played ball day and night since he was a little kid. He hopes he will have a great future and will keep maturing as a person as much as a player. He has no desire to be famous simply because he is the No. 28's father, but he definitely won't be missing his son's next match. He's already bought a plane ticket to see him at Belenenses – his first trip to Lisbon in six years.
It's not just the Portuguese press that are interested in the newcomer's profile. Ronaldo is also making waves across Europe, thanks to his goals and his name – let's not forget that the original Ronaldo (Ronaldo Nazario de Lima) is enjoying his umpteenth comeback and has just helped Brazil win the Korea-Japan World Cup on June 30, 2002. He is the tournament top scorer with eight goals. Italy's
Gazzetta dello Sport
is already talking about the 'new Ronaldo' on its front page.
What does the kid from Madeira think about such a comparison? 'I would never dare to think about it. Real Madrid's Ronaldo is a superstar, he's the best player in the world. He's my favourite player.'
Cristiano's performance in the first team has been outstanding. He has become the fans' golden boy.
www.corinthianbooks.net
Follow Luca Caioli on

With every extract published, Goal.com will be giving away one copy of Luca Caoili's new book. To have a chance of winning an ebook or hard copy of Ronaldo: The Obsession for Perfection, answer the following question: Following his treble against Atletico Madrid on Wednesday, how many hat-tricks has Cristiano Ronaldo scored in La Liga? Send answers to competitions@goal.com - the winner will be announced in next Friday's extract.
Last week's winner: Janelle Villadiego