COMMENT
By Keir Radnedge
For one reason or another, the Club World Cup has never quite 'worked'. Barcelona, if they put a glorious stamp on victory in the imminent 2011 event in Japan, might change all that. But it's a big ask of even Lionel Messi and Co.
Logic plays no part in this. The prospect of the world's finest club teams meeting up at this climactic time of year should ring all the bells in terms of television and sponsor excitement, and supporter passion.
But it doesn't – and, after exactly 50 years in one form or another, the likelihood is that it never will.
The idea was dreamed up, initially, in South America. Conmebol envied Europe's instant success of the European Champion Clubs Cup and thus created its own version, the Copa Libertadores, in 1960 with the precise ambition of a club challenge to Europe's champions.
That first year matched Penarol of Uruguay, inaugural South American champions, against a Real Madrid side then at the marvellous peak of their arrogant five-year command of Europe. Alfredo Di Stefano, Ferenc Puskas, Paco Gento and Jose Santamaria had thundered seven goals past Eintracht Frankfurt in the European final in Glasgow and they ran a further five past Penarol at the Santiago Bernabeu.
Those strikes, after a goalless draw in the rain-swamped first leg in Montevideo, ensured Madrid won the first official club championship of the world, however the title was dressed up. It was also variously labelled the Intercontinental Club Cup or the Europe-South America Cup.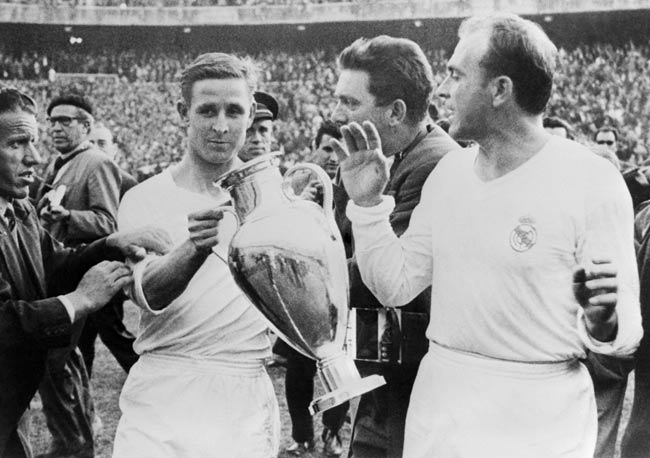 Conquering the world | Real Madrid defeated Penarol to claim the first trophy in 1960
Penarol beat Benfica the following year, despite the Portuguese flying out the fledgling Eusebio for a play-off in Montevideo. Then Pele's circus-act Santos won both South American and world titles for the following two years. Pele was thus, simultaneously, a world champion with both club and country.
But the pressure to win overtook the football. The Santos-Milan tie in 1963 was ugly with the Argentine referee, Juan Brozzi, being later banned and Milan goalkeeper, Luigi Balzarini, flying home with a row of stitches in a gash carved carelessly into his forehead.
Inter beat Argentina's Independiente in both of the next two years as the event descended into its 'Angry Argentina' years. Racing beat Celtic in a play-off in 1967 in which five players were sent off (though one, Bertie Auld, refused to go) then Estudiantes de La Plata took the initiative in a series of kicking matches with Manchester United, Milan and Feyenoord.
The status of the event had sunk so low that Ajax, in 1971, refused to compete and helped create the Uefa Super Cup instead. Several other European clubs, fearful of the bruises, followed the Ajax example. The concept of a world club title was rescued only in 1981 when Toyota stepped in as sponsor to take the match to Tokyo as part of Japan's campaign to win World Cup hosting rights.
Playing on a hard, cold, bumpy pitch in late November or early December was not conducive to memorable football – apart from Flamengo's Zico-inspired 3-0 beating of Liverpool.
In due course then, Fifa's other confederations began to challenge the nature of this so-called world club championship. Eventually, after one false start in 2000, the present format was adopted in 2005 with all the continental club champions competing plus a host nation club.
This month sees the seventh year of what is officially the Fifa Club World Cup but might be subtitled the Political Correctness Club Cup. Everyone is represented; everyone has their say; and still not enough fans around the world really care.
Maybe it would help in terms of credibility and direct support if the event were shared around between Italy, Spain, England, France and Germany.
After all, the World Cup itself won't be coming back to Europe until 2018, will it?
Follow Keir Radnedge on



Keir Radnedge has covered every World Cup since 1966, analysing the international game for newspapers, magazines, TV and radio around the world