Andres Iniesta has scored landmark goals for Barcelona and Spain, but it was his all-round performance in the 2009 Champions League final that led a Manchester United superstar to call him the best in the world – and he shouldn't even have been playing
BARCA: THE MAKING OF THE GREATEST TEAM IN THE WORLD
EBOOK ALREADY AVAILABLE & HARD COPIES OUT TODAY,
PUBLISHED BY BACKPAGE PRESS
Iniesta was injured in a 3-3 draw with Villarreal, a few days after scoring a dramatic, injury-time winner against Chelsea in the 2009 Champions League semi-final. From diagnosis of a two-centimetre tear in his right thigh muscle, there were 15 days until kick-off in the final, against Manchester United, in Rome.
He told the doctors in the Hospital de Barcelona, up on Avenida Diagonal, just a few hundred metres from the Camp Nou that "there is no way any injury was going to make me miss this match." He told his father "not even a hole in my leg would stop me playing."
What he, his family and all the medics at Barcelona knew full well was that this muscle tear was a couple of millimetres below the one which had cost him two months' recuperation the previous November. The truth was that under no circumstances should he have played and in no circumstances, having convinced the normally conservative Pep Guardiola to risk him, should it have been so easy for Iniesta to sprint away from his midfield markers, Michael Carrick and Anderson particularly, in setting up the crucial opening goal for Samuel Eto'o, or to complete 91 minutes.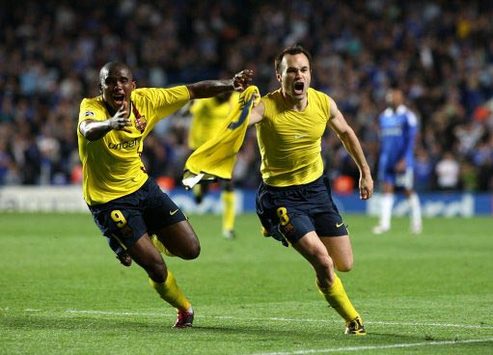 Semi-final hero | Iniesta put Barca in the final, but was told not to shoot against United


At half-time, the Barca medics warned Iniesta that, at all costs, he mustn't shoot, because his thigh injury had already deteriorated so badly that the stretch and strain on that muscle if he attempted to pull the trigger might cause it to rupture. What drove him was the memory of the 2006 Champions League final in Paris against Arsenal, which he admits was "the worst day of my football career – it took until Rome to get the thorn out of my side about not starting that match".
Despite playing against Sevilla in the last Liga match before the 2006 final, Iniesta was dropped for Paris. A lot of people have the impression that Iniesta and Xavi ran the midfield – they didn't. Instead of Barca's La Masia graduates, it was Cesc Fabregas, then of Arsenal, who stood out – starting, playing terrifically in a 10-man side after the 18th minute and then leaving the pitch in the 74th minute with Arsenal winning 1-0.
Barca lined up: Valdes; Oleguer (Belletti 71), Puyol, Marquez, Van Bronckhorst; Van Bommel (Larsson 61), Edmilson (Iniesta 46), Deco; Giuly, Ronaldinho, Eto'o.
Iniesta's entry changed Barcelona's mobility, how much they stretched Arsenal and dragged Arsene Wenger's increasingly tired players around the centre of the pitch, but even with a winner's medal in his hand, he judged the night as having been incomplete. Hence the risk in Rome.
| | |
| --- | --- |
| Iniesta's entry changed Barcelona's mobility ... but even with a winner's medal in his hand, he judged the night as having been incomplete | |
Guardiola subsequently described Iniesta's fitness as having been "about 60 per cent", so imagine the magnitude of his performance when Wayne Rooney disconsolately told his United team-mates in the losers' dressing room: "We've just lost to the best player in the world". He was talking about Iniesta, not Messi.
I asked Iniesta about Rooney's sentiments just before the World Cup and he told me: "If I said that I wasn't pleased then I'd be lying. It's nice to hear, but the best thing is that the description comes from a top player and an important footballer. From a guy like Wayne Rooney, it says a lot. I could just as easily have said the same thing about him and his talents. Wayne has always impressed me, he works so unbelievably hard for the team and, above that, he has so much quality." Typical Iniesta. Take a compliment, give one back.
www.backpagepress.co.uk
Follow Graham Hunter on

With every extract published, Goal.com will be giving away one copy of Graham Hunter's new book. To have a chance of winning an ebook or hard copy of Barca - The Making of the Greatest Team in the World, answer the following question: Who scored Barcelona's second goal in their 2009 Champions League final win over Manchester United? Send answers to competitions@goal.com - the winner will be announced next Friday.
Last week's competition winner: Kfrevans