With the draw for Euro 2012 made on Friday, Graham Hunter recalls the previous finals, which heralded a new era in European football at international and club level. Size, it would turn out, really wasn't that important.
BARCA: THE MAKING OF THE GREATEST TEAM IN THE WORLD
EBOOK AND HARD COPIES OUT IN JANUARY 2012, PUBLISHED BY BACKPAGE PRESS
Had you sat Carles Puyol, Xavi and Andres Iniesta down in mid-May 2008 and told them that not only were they about to produce Spain's most glorious tournament performance, but they were also about to enter the greatest era in the history of FC Barcelona, I'll tell you precisely what would have happened.
Iniesta is a humble type. One of his most-used expressions in an interview is the self-deprecating, 'Qué sé yo?' ('what do I know?'). That day he'd have changed it to, 'Qué sabe usted? ('Are you having a laugh?'). Puyol would have tossed that mane of hair and snorted his derision as he cut short the chat and Xavi, kindly soul that he is, would have taken time to find you psychological help.
The nail in the coffin of Barca's deathly season had been driven at the Bernabeu on May 7 – just four weeks before Euro 2008 began. Madrid thrashed Barca 4-1, Frank Rijkaard's team had to form a humiliating guard of honour for the new champions, Iniesta was injured, Xavi was sent off and Puyol, to this day, recalls it as his worst night in football.
Yet under the brilliant influence of Luis Aragones, all three were about to march Spain to thrilling glory, a process I was privileged to be around during those few weeks in the mist and rain of Neustift, near Innsbruck.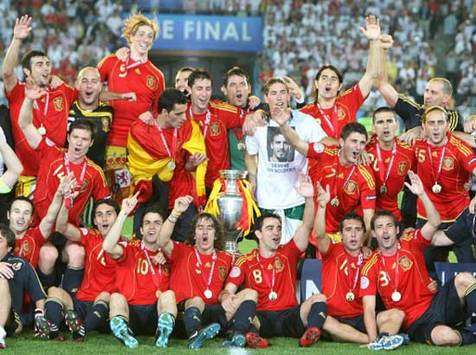 Eurostars | Spain's players celebrate their win in 2008


There were some who thought Xavi was a continuation of an old problem for club and country: talented but fragile. Instead, he was the solution and by Euro 2008 he was ready to prove it.
It was the first time that the 'wee men' were beginning to dominate under Aragones. Iniesta, David Silva, Cesc, Santi Cazorla, Xavi and David Villa were lifting Spain to new levels of performance and reliability. Not one of them is above 5ft 9in, some considerably shorter.
In Spain's group were Russia, coached by Guus Hiddink. Andrey Arshavin, banned for the first two matches, returned in the decisive group match against Sweden. He destroyed them, helping to make the first goal, hitting the post and scoring the second; a man-of-the-match performance. In the quarter-final he surpassed even that, pulling Holland apart.
Before the Spain v Russia semi-final, I filmed an interview with Xavi – he was buzzing.
"Another little guy who can rule the world! Do you know, I'd never even heard of Arshavin before this tournament and he's absolutely superb? He's just one more example of how football is for the smart guys, not the big guys who can run all day." Then Xavi ruined poor old Arshavin's day (not for the last time) with a goal and a star performance as Spain romped through the semi-final 3-0.
| | |
| --- | --- |
| Iniesta, David Silva, Cesc, Santi Cazorla, Xavi and David Villa were lifting Spain to new levels of performance and reliability. Not one of them is above 5ft 9in, some considerably shorter | |
All three Barca players made the Uefa team of the tournament, Xavi produced the assist pass in the final and they returned home as conquering heroes.
However, by the time they returned from their holidays, Barcelona's pre-season had started - with a vengeance. No comfort zone, no laurels to rest on. And a new coach.
Xavi explained the impact Pep Guardiola had from the first instant. "When we joined the training the squad were working their butts off," he said. "The coaches, the physical trainers, Pep - they were on us like hawks, pushing for repetitions, pushing for intensity of training. Puyi [Carles Puyol], Andres [Iniesta] and I all kind of looked at each other: 'Woah! What's going on here? These guys are absolutely full-on'. More importantly, I thought to myself, 'This is one of those moments where you either jump right on the train or it's leaving without you'."
Four years and 13 trophies later, the decision not to be left behind looks a relatively good one all things considered.
www.backpagepress.co.uk
Follow Graham Hunter on

With every extract published, Goal.com will be giving away one copy of Graham Hunter's new book. To have a chance of winning an ebook or hard copy of Barca - The Making of the Greatest Team in the World, answer the following question: Which current Barcelona player scored the winning spot-kick as Spain beat Italy in a penalty shootout in the quarter-finals of Euro 2008? Send answers to competitions@goal.com - the winner will be announced in next Friday's extract.

Last week's competition winner: Sandesh Naik