Jose Mourinho
has leapt to the defence of former
Chelsea
player
David Luiz
following
Brazil
's humiliating
World Cup
semi-final loss to
Germany
.
The defender was the negative focus of much of the post-match analysis after being directly at fault for at least two goals in the 7-1 loss on Tuesday.
BELO HORROR-ZONTE: LUIZ FALLS APART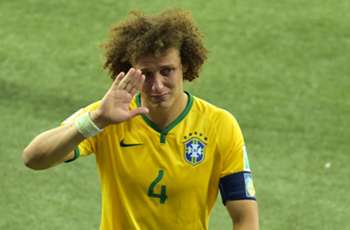 PLAYER RATING VS GERMANY


Lost his man to allow Muller to open the scoring from a corner and was very suspect defensively. He did provide a few good balls from deep, but was error-prone and something of a shambles.
FROM OUR LIVE! COMMENTARY

No hiding place for Brazil here as the Germans swarm all over them! Khedira pings the ball sideways to Ozil, who deftly returns the favour to his former Real Madrid team-mate. He's left with all the time in the world to slot home simply! This is unbelievable!
Mourinho admits Luiz, who recently completed a £40 million move to Paris Saint-Germain, made mistakes but feels it is unfair to single one player out with the team as a whole playing poorly.
"I don't think it's fair to separate a player from the team, because the team was really bad," Mourinho,
Yahoo
's Global Football Ambassador, said.
"David made mistakes? Yes he did. But, Dante made mistakes, Marcelo made mistakes, Fernandinho made mistakes. The team as a team made mistakes. So I don't think it's fair.
"I think everyone in my situation, everyone that is a player, everyone that is a coach, everyone that is not involved in the World Cup, but could be in that position. I think all of us are feeling really sorry for them."
Mourinho feels the record-breaking defeat will go down in history, much like that World Cup final loss to Uruguay in 1950, and sympathises with the squad.
He continued: "It is a historical moment. A moment that we will remember forever, the same way that we all know that once Brazil lost a World Cup final against Uruguay and the same way my son, who is 14 years old, knows that.
"In fifty years' time our kids will know that Brazil lost at home against Germany, one to seven. From my point of view, from the professional point of view, it's heart-breaking and I'm really sorry for them."
Jose Mourinho is an exclusive analyst for Yahoo's worldwide football coverage, www.yahoo.co.uk/worldcup is the only place to read all his expert opinions during the FIFA World Cup 2014.