By Julian Bennetts

The video is called 'el major dia de mi via' [the best day of my life] and it would melt the coldest of hearts.
It takes in a day of drama in San Jose as Costa Rica stops to watch the national team take on Greece in the quarter-finals of the World Cup.
Filmed last Sunday the emotions are familiar to us all; delight at taking the lead, agony at conceding a last-minute equaliser and then utter bedlam as the penalty shoot-out is won.
The Costa Rican journalist who is showing everyone the video in the press room at the crumbling Vila Belmira stadium in Santos is emotional, a look of wonder on his face.
"I called home after the game, some four hours later, and my father was crying down the phone to me," he says. "I had never heard him cry before."
This is new, unchartered territory for Costa Rica, the success story of the World Cup.
As Celso Borges, the articulate midfielder, enters the press room he pauses for a second. For his previous press conference there were a dozen journalists and three cameras. Now over 20 lenses are pointed at him and 100 or so pens are poised to note down his every word.
The stadium can't take it – the air-conditioning unit begins bleeding water at an alarming rate perilously close to the electrical sound-desk – and there is a fear that the team might not be able to either.
Exhausted, struggling with injuries and suspensions, it is likely that Saturday's quarter-final with Netherlands may be a bridge too far. But that can wait. Firstly, it is time to revel in the success that a nation of under five million people has thoroughly enjoyed over the last month.
The star is Jorge Luis Pinto, the coach. In his second spell with the national team, he was extremely unpopular a month ago.
Central to that was his decision to take striker Marco Urena, who plays for Kuban Krasnodar in Russia, over Deportivo Saprissa forward and local hero Kendall Watson. Urena scored the third goal in the win over Uruguay, and so far every decision Pinto has taken has been justified.
He works his players hard, with double training sessions every single day. The government has cottoned on to the mood of the people and offered the Colombian coach Costa Rican citizenship.
It is thought unlikely he will accept, and he is not expected to continue in his position after the World Cup.
Pinto, whose football education in Germany shines through, is considered likely to take a club job in Mexico or Colombia after the tournament – after all, what else can he achieve with Costa Rica?
In his stead will come Luis Marin and Paulo Wanchope, his assistants. Marin is expected to be appointed manager, with Wanchope his second in command, by virtue of the fact he has been in charge of Costa Rica's defence, the most impressive aspect of their team.
A key part of that defence is Keylor Navas, the goalkeeper. Linked with Arsenal and Napoli, subscriptions to cable television have rocketed in Costa Rica since he moved to Levante, in Spain. Even more are expected to subscribe if Joel Campbell makes an impression in Arsenal's first-team.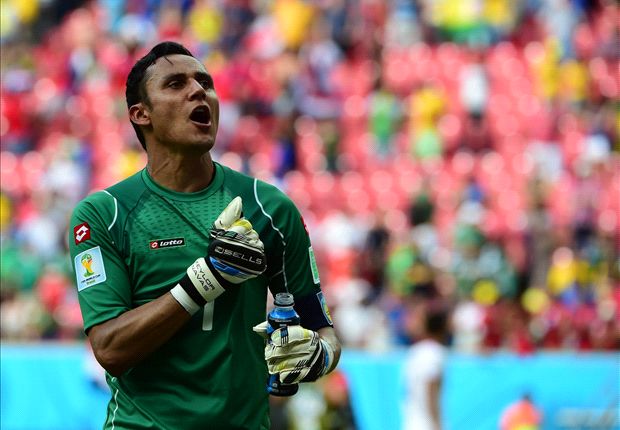 Neither of those players have trained this week, struggling as they are with injuries and fatigue. It is a common problem for a country that has a fine first XI but struggles for strength in depth. With Oscar Duarte suspended and Roy Miller injured, Pinto's five-man defence is almost in tatters and there is a fear they will be picked off by the Dutch.
"They are all tired but happy in their hearts," is the take of Erick Sanches Alvarado, the fitness coach.
To this point Costa Rica have undoubtedly benefited from being underestimated, as well as the conditions playing into their hands.
As they train in the Vila Belmira – the former home of Pele and Neymar, with the players taking inspiration from Pele's locker in the dressing room, which remains untouched since his last game for Santos in 1974 – they are professional and well drilled.
"We didn't come here to visit Rio, lie on the beach and be tourists," says Borges.
"We came here to compete and I really hope we can create memories for the people back home.
"I don't know if we are fully understanding what we are doing but I think that [making history] has given us something, and of course we see the pictures and videos of people back home.
"Whatever the result is against Holland we can be proud of what we have done.
"But the feeling among us now is that the teams we have beaten and the way we have beaten them gives us confidence."
Confidence yes, but it may not be enough. Costa Rica have had their moment in the sun, but there is a fear the game against the Dutch may be a bridge too far.
Still, what a story, and what a video. Maybe they can pull off one last surprise.