COMMENT: The South Americans have failed to reach the last four of a World Cup since the days of Diego Maradona and now need their current star to step up once again
By Ben Hayward in Belo Horizonte
Argentina are always among the favourites to win the World Cup. Two-time winners, in 1978 and 1986, the Albiceleste are expected to go all the way to the final this time around. But first they have to make it through to the last four - something they haven't achieved since finishing as runners-up in 1990.
Back then, Diego Maradona was still in his prime at 29, albeit playing through the pain of a badly swollen ankle. Lionel Messi, meanwhile, was just three years of age. Now, at 27, he is the man making things happen for Argentina - pretty much the only one so far - and his next trick will be to try to propel his nation to a World Cup semi-final for the first time since the Maradona era.
Since their back-to-back World Cup finals in 1986 and 1990, Argentina have made it to four quarter-finals (1998, 2006, 2010 and 2014) and lost once in the last 16 (1994). They fell in the group stages in 2002.
In their way of a place in the last four this time are Belgium, a team swept aside at the semi-final stage in 1986. Then, it was a vintage display from Maradona which led the South Americans to the final as the skipper struck twice within 12 second-half minutes to settle a difficult duel with a 2-0 win.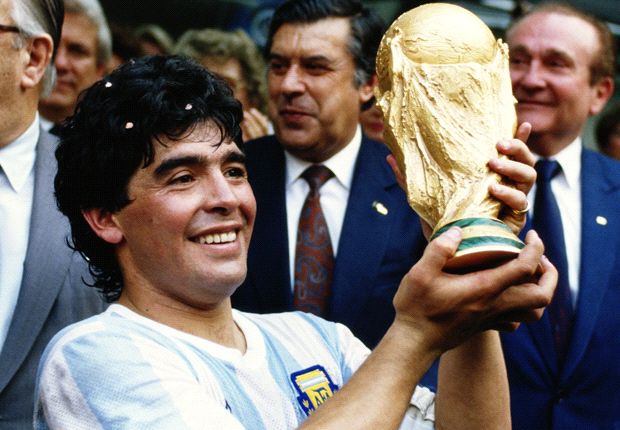 Happy days | Maradona played in two World Cup finals, winning the trophy in 1986

The first was a fine finish - an opportunistic toe-poke over goalkeeper Jean-Marie Pfaff. The second, however, was wonderful - a mesmerising run past four Belgian defenders and angled shot past Pfaff. It was the type of performance Maradona produced in almost every game as Argentina claimed the title in Mexico.

Something similar is happening this time around with Messi. While the team's performances have been off-colour so far at Brazil 2014, the Barcelona forward's fantasy football has saved the day in all four of their games.

Messi struck a wonder goal against Bosnia-Herzegovina in Argentina's opening match, which turned out to be the winner in a 2-1 victory, before hitting an arguably even better goal to give Alejandro Sabella's side a last-gasp 1-0 success over Iran and then two more special strikes to help his team beat Nigeria 3-2. Then, in the last 16, it was his run in the dying minutes of extra time which set up Angel Di Maria for the winner against Switzerland.

"We have lost fluidity," Maradona said this week. "Unless Messi is attacking, I don't even get out of my chair. It seems to me that Argentina have no idea and we cannot put all the weight on Messi's shoulders."

Such things were also said in 1986, however, when a somewhat sterile Argentina side came to life thanks to their talisman, the world's best player at that time. Maradona.

For Diego in 1986 read Leo in 2014. Argentina again find themselves with a struggling side, looking to one divine talent to help them achieve their holy grail. But beating Belgium and ending their semi-final hoodoo of recent times is a more urgent priority. And while Argentina may be short of inspiration, Messi most certainly is not.