By Enis Koylu
For almost a decade now, German football has reinvented itself with an exciting array of classy players and talented youngsters. The Bundesliga brand has grown and grown and, yet, Bayern Munich's 2013 Champions League win remains its only triumph of global significance.
There's little doubting that what the German Football Federation has done in recent years is admirable. In a response to the failures of the European Championships of 2000 and 2004, further emphasis was put on clubs bringing through youngsters who have been brought up playing attacking football.
But the first generation to benefit from the change of approach could be remembered as one of lovable losers, nearly-men who never quite managed to clear the final hurdle.
Bastian Schweinsteiger and Philipp Lahm can rightly consider themselves to be among the finest players ever to represent their country. Both have racked up over a century of caps during their time as mainstays of the first XI, starring in three World Cups and three European Championships.
Miroslav Klose, meanwhile, has claimed Gerd Muller's long-standing record of goals for the national team in his 13 years as their premier striker and stands equal with Ronaldo on 15 World Cup goals. A true great of the game, yet, just like Lahm and Schweinsteiger, success has always eluded him.
Since they hosted the World Cup on home soil eight years ago, Germany have made a habit of dazzling everyone in the early stages, but freezing when the tournament comes towards its conclusion.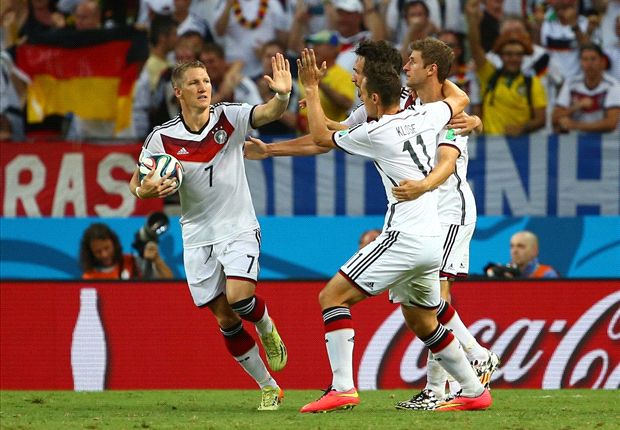 Past, present & future | Klose celebrates with Schweinsteiger and Thomas Muller
Klose cruised his way to the Golden Boot in 2006 but found himself incapable of getting past Italy's firm defence in the semi-finals, the Azzurri scoring twice at the death to silence the Westfalenstadion.
They went one better at Euro 2008, dispatching Portugal and Turkey in thrilling contests in the last eight and last four respectively, but fell at the final hurdle to Spain.
It was the same opponents who knocked them out of the World Cup two years later in the semis after they had played some of the most expansive, enthralling football the tournament had seen.
With their players two years older and wiser, they were backed by many to win Euro 2012 but once again, the penultimate round proved impossible to negotiate, Italy knocking them out in typical fashion.
Germany were always famed for their steely mentality, able to win at all costs, and the new generation, though excellent players in their own right, have yet to show that they can match their predecessors.
Even Bayern's Champions League triumph was at the third attempt in four years, including a disappointing loss to an inferior Chelsea team on home soil.
But they are quickly running out of chances. Klose is now 36 and has been vocal in his desire to bow out of the international game at the conclusion of the current World Cup. It would be ridiculous if Germany's best-ever scorer and the joint best marksman in the tournament's history never won the trophy.
As for Schweinsteiger, injuries have hindered his career in the last few years. Now approaching 30, time is catching up on him and this may well be his last run at the World Cup, while Lahm's pace will desert him as time goes by.
The younger contingent of the squad will have other chances; the likes of Mesut Ozil and Thomas Muller have immense talent and the scope to go to the very top of the game. But they will be doing their older colleagues a disservice if they do not do their utmost to deliver now.
Friday's quarter-final with France is the next step in the path to the final and the time has come to perform. They have had a mixed tournament so far but have shown they are capable of raising their game when they need to. History is there for the making.