Elmo Cordeiro has waited 64 years to watch Brazil play a World Cup game in Belo Horizonte.
A ball-boy at the 1950 World Cup, Cordeiro witnessed what he claims was the biggest shock in the history of football. But it had nothing to do with the 'Maracanazo' and it happened in Belo, not Rio.
Then just a teenager, Cordeiro worked for the construction company which built the city's Estadio Independencia. And two days before the start of the World Cup, he was offered the chance to work as a ball-boy.
"There were three games in Belo and the first one was Switzerland against Yugoslavia," he tells
Goal
.
"I was excited to be a part of it and Yugoslavia were very impressive. They won 3-0."

It was something of a low-key debut as neither of those teams are particularly remembered for their performances at Brazil 1950. What followed, however, was anything but.

Cordeiro's next match saw England - playing in their first World Cup - against United States, a team with part-time players and expected to lose heavily.

"England were the inventors of football," said the 79-year-old, who can still reel off the Three Lions' line-up from that day in June, 1950. "Williams, Ramsey, Aston, Billy Wright, Hughes, Dickinson, Finney, Mannion, Bentley, Mortenson, Mullen," he says without any hesitation.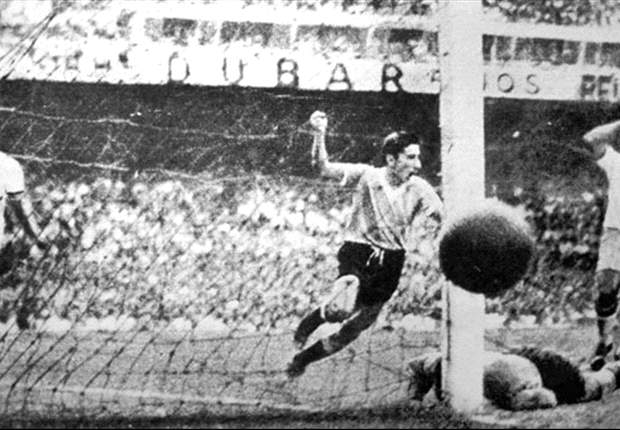 'Maracanazo' | Brazil's 1950 loss to Uruguay is considered a huge shock - but not by Elmo Cordeiro

But there was one name missing. "I couldn't understand why Stanley Matthews wasn't playing and I started to ask people after the game," he explains. Matthews, as it turns out, had been on a goodwill trip to Canada. Against unfancied USA, England didn't think they would need him and he watched on from the stands. They lost 1-0.

"England were the 'Kings of Football' and they expected to win easily, but I think they really missed Matthews," Cordeiro adds. "It was a huge shock - the biggest in World Cup history at the time."

But 1950 had more surprises in store. After watching Uruguay thrash Bolivia 8-0 in Belo, Elmo travelled to Rio for the final fixture at the Maracana, which he would watch as a fan, hoping to see Brazil claim the trophy with only a draw needed. "I took a ride to Rio," he said. "It was 18 hours and I stayed at a hostel. Brazil lost and everyone was so sad.

"But the 'Maracanazo' wasn't a surprise," he added. "Uruguay had a better team and were better prepared physically. When I watched them beat Bolivia 8-0, I expected them to be champions."

Some 64 years later and having already attended several games at this tournament, Elmo finally gets to watch his beloved Brazil in a World Cup match in Belo Horizonte, where they will return for the semi-final if they can beat Chile on Saturday and then negotiate a last-eight meeting with Colombia or a revenge match with Uruguay.

"It has been a beautiful World Cup so far," he said. "Hopefully this one will have a happy ending too."


Follow Ben Hayward on