COMMENT
By Sammie Frimpong

Forget his claims that he would be around to help his country qualify for, and play at, the next World Cup (he probably said so partly in jest, partly to spite Jose Mourinho); Samuel Eto'o's international career is as good as over.

He might yet take part in a few more Nations Cup qualifiers but surely, at 33, he couldn't be serious about featuring at Russia 2018, could he?
At the ongoing World Cup in Brazil - where Cameroon's participation came to a miserable end on Monday against the hosts - Eto'o played in only one of three group games, an opening defeat to Mexico. He wasn't fit enough to be available for the 4-0 thumping by Croatia in the next match, neither for the 4-1 concluding loss to the Selecao.
Referee Jonas Eriksson's final whistle in the latter game might have as well been the death knell to Eto'o's days of meaningful service to his country.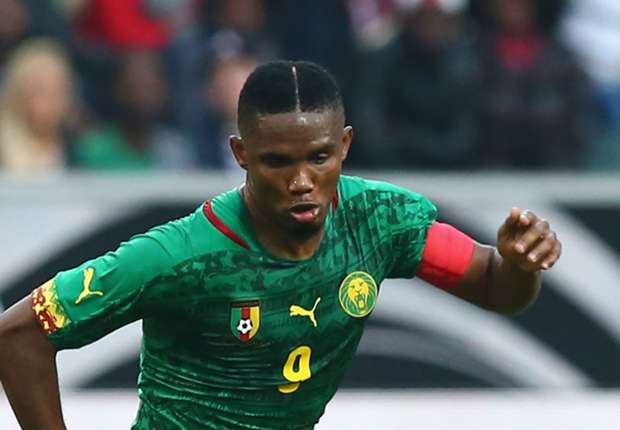 Even for a nation known for producing considerably aged men who score goals as excellently as they celebrate them, an argument for Eto'o's being at the next World Cup is a no-starter.
So, as he prepares to mark out his final days as an Indomitable Lion, just how would Eto'o be remembered by posterity when he does sign off?
Well, while Eto'o might be Cameroon's all-time topscorer with 56 goals and has helped the central Africans to some successes, he hasn't really distinguished himself in the larger picture.
Eto'o, whose debut for Cameroon came a day before his 17th birthday, has enjoyed memorable milestones while serving his nation but these have been rather infrequent.
Success at the Olympics Mens' Football tournament in 2000 earned him a regular place in the national team proper, going on to conquer Africa at the Nations Cup editions of 2000 (where he was joint runner-up in the scoring charts) and 2002, as well as reaching the finale of the 2003 Fifa Confederations Cup, but it wasn't until post-2004 when the imposing Patrick Mboma left the scene that Eto'o's star was granted the limelight.
Incidentally it was just around this time that his career at the very top, following a move to Barcelona, begun to reach the heights he's occupied for the last few years.

Starting with the 2006 Afcon, Eto'o was Cameroon's main man bar none and, on mostly a personal level, this newly found prominence had a positively telling effect. Eto'o topscored at that edition, in Tunisia, with five goals, but failed to take the team beyond the quarter-finals, his missed penalty-kick handing Cote d'Ivoire a 12-11 advantage in a tie decided by a marathon shootout.
Two years later, Eto'o and Cameroon went all the way when Ghana hosted the competition, only to be crushed in the final by an Egyptian team that, two years later at the same competition, would halt them in the last-eight round.
Despite Cameroon's failures, Eto'o had cause to celebrate over the course of those two Afcons, his aggregate of seven goals taking him four clear of Ivorian Laurent Pokou as the competition's all-time leading scorer.
He hasn't had the opportunity to add to that tally, though, as Cameroon has failed to qualify for the last two tournaments. Eto'o would hardly be proud of such disappointments, given he has been the team's skipper on all of those occasions.
On the global stage, Cameroon, led by the former Inter star, have been woeful. Three World Cup campaigns since Eto'o's debut at France '98 have yielded little (besides a trio of goals for himself), with the side failing to make progress from the group phase at the World Cups of 2002, 2010, and 2014. At Germany 2006, they weren't even present.

And then there have been the frequent rows with Fecafoot (Cameroonian football's governing body) and national team authorities - over unpaid bonuses, poor organization, et al - which have led many to question the Douala-born's committment to the nation's cause.
Eto'o, in defence of his relatively underwhelming stint with Cameroon, would have several factors to cite as excuses. Frequent managerial changes - he's had nearly as many coaches as the number of years spent representing Cameroon- haven't helped, the country's football has suffered from chaotic administration, while Eto'o could also argue that he hasn't had enough quality around him in the national set-up to provide a strong supporting cast to his lead role. Let's face it: the likes of Jean Makoun and Geremi Njitap haven't exactly made him look as good as Ronaldinho and Lionel Messi have at club level.
Still, Eto'o isn't entirely unblemished. Big players are supposed to make their teams tick as much as possible - refer to Diego Maradona at the 1986 World Cup - and, in that sense Eto'o, whose Cameroon career has been rewarded with little more than personal glory, has failed.