By Peter Staunton in Cuiaba
Japan were the first team to qualify for the 2014 World Cup and they are likely to be among the first teams to leave.
There has been a wide gulf in their performance levels in reaching the tournament and what transipred when they actually got here. "I think even the players didn't expect how it's going now," goalkeeper Eiji Kawashima told
Goal
.
After two games, one goal and one point, Japan must now beat Colombia in Cuiaba and hope for a result to go in their favour in the match between Cote d'Ivoire and Greece.
In the Japan camp, they know that things have not been up to scratch. "I expect more from myself, my team-mates and my country," defender Maya Yoshida told
Goal
on Monday. The Samurai Blue have just not been able to make it work in Brazil and they are overwhelmingly likely to depart ahead of schedule.
There is a feeling of disappointment and coach Alberto Zaccheroni made mention of Japan's problems at this World Cup being "mental." "In Japan, many, many people didn't expect this result," says Kawashima. "Now we have to show ourselves more than before. We have to prove what we've been doing for these four years."
Many factors have contributed to Japan's poor showing here in Brazil but there is no need to conduct a root-and-branch reform of how football in Japan is taught.
The Samurai Blue are on a development curve to rival any in Europe or South America and the results should certainly be brought to bear in the coming years. They are on the right track to have every member of their first team, at least, playing in the top European leagues by the time Russia 2018 rolls around.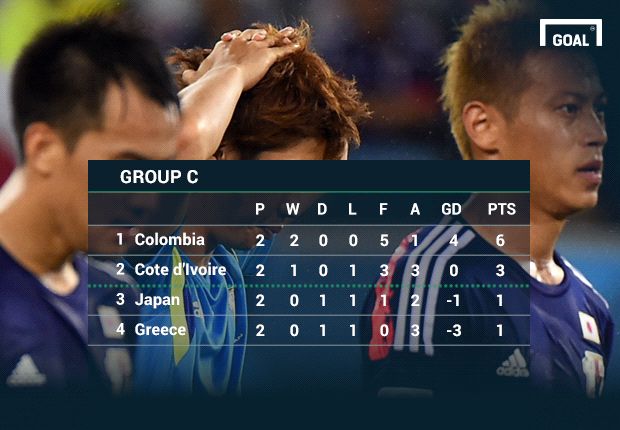 Radical overhauls to how strategies were implemented have seen Japan grow to the status of the strongest team on the continent. Crucial milestones like the establishment of the J-League and the the successful hosting of the 2002 World Cup were passed.
Academies at Fukushima, Kumamoto and Osaka have helped forge a Japanese football identity and help prime talents flourish. Japan finished fourth at the last Olympics and are reigning continental champions at senior and under-23 level. By seamlessly slotting one age group with another, they are achieving holistic growth.
Instead, the Japanese planned well for this World Cup but were let down by certain key decisions. Firstly, their base at Itu was passed over by Germany as it was deemed unsuitable for travel between Brazil's wildly differing climactic zones. Itu is relatively temperate. Japan played their two matches far in the north, where it is more humid.
Furthermore, events occurred during their games which they seemingly hadn't prepared for. They scored the first goal against Cote d'Ivoire. From there it was obvious the Japanese didn't know whether to stick or twist. That is an indictment of both coach and players. Zaccheroni has not faced too many tactical conundrums throughout his four years in charge.
Japan were preparing for this World Cup for four years and Zaccheroni and his men only had one chance to get it right. It is the last chance some players will have on the world stage and it fizzled out in disappointment. Japan did not give a true account of themselves. Instead, the watching world is left with an impression of a one-paced team who struggle in the chance creation and finishing department.
To say that both are failings of Japan at this World Cup is true. To say they are failings of Zaccheroni and his side throughout the last four years would be misleading. Japan play attacking football and plenty of it. They thrive when having to take the game to the opposition. Four years against teams who perceive them as the giants of Asian football will do that. They want the ball at their feet.
"When we play against the Asian teams and then European teams or South American teams it's completely different," Yoshida says. "Asian teams stay behind and play defensively so that's why we can take initiative in the game. But when we play against other countries it's more difficult for us."
Then they ran out of ideas against Greece. Zaccheroni had neither the men nor ideas to alter the strategy from the bench against 10 men. Worse still the players out there couldn't raise their game to the levels needed. Japan seemed incapable of varying the game.
Often in the qualification phase and friendlies they made chances down the flanks, on the counter and with through balls. Here the idea didn't seem to stretch too far beyond putting crosses into the box. For that kind of football, the lineup was unsuitable. Japan have tried plenty of forwards at this World Cup - Yoichiro Kakitani, Yoshita Okubo, Yuya Osako and Shinji Okazaki - but none carry the aerial threat of Mike Havenaar, who was left out.
Zaccheroni gave the squad a day off on Saturday to help clear their heads. He cancelled training as well as their press obligations and let the squad dine out at a local Churrascaria. They haven't enjoyed their football to this point. It is clear that they are failing to cope with the expectation now placed on the team; both as a result of the quality players within the squad and from fans and media at home. "This kind of pressure isn't easy to control even when we think that it's OK," Kawashima told
Goal
.
Japan's World Cup pedigree is curious. They have qualified now for the last five tournaments in a row but they have only been beyond the groups twice. In that time they have been Asian champions three times. It is clear that they cannot bring their continental form to the world stage.
But Japan have a summer of soul-searching ahead. Zaccheroni will leave his position. They will be back on the market for a new manager equipped to deal with the unique demands of Japan and its people. They will, rightly, be favourites for January's Asian Cup in Australia. They will probably win it too such is the gulf in class between them and the rest of the continent. But that will be scant consolation for knowing that they blew their big chance to show how far Japanese football has come.