By Ben Hayward in Belo Horizonte
It was an unconvincing start. Argentina's 2-1 win over Bosnia last Sunday saw their World Cup campaign kick off successfully, but serious doubts also emerged over the tactics of coach Alejandro Sabella and his decision to start with a 5-3-2 system at the Maracana.
Even though Sabella switched to 4-3-3 at half-time and Argentina improved in the second half in Rio, the debate has dragged on all week. On Monday, Lionel Messi told reporters back at the team's base in Belo Horizonte that he much prefers playing in a 4-3-3. Full-back Pablo Zabaleta later said the same.
On Friday, it was a serious Sabella who fielded questions at the pre-match press conference ahead of his side's game against Iran at the Estadio Mineirao on Saturday. Was he annoyed at Messi's public preference? Is team spirit really as good as he says it is? And will he dare to stray from 4-3-3 again in this competition? It was all the Argentinian journalists wanted to talk about.
"I'm not annoyed at all with Messi," Sabella said. "I chose him for that press conference. He is free to say what he likes." On the atmosphere in the
Albiceleste
camp, meanwhile, he added: The mood is one of respect and cordiality."
Finally, he confirmed Argentina would start with the players' favoured formation against Iran. "Tomorrow we'll play 4-3-3," he said. "After that, we'll see. I won't rule out any hypothesis or possibility. Our system is 4-3-3, but if we have to change it, we will."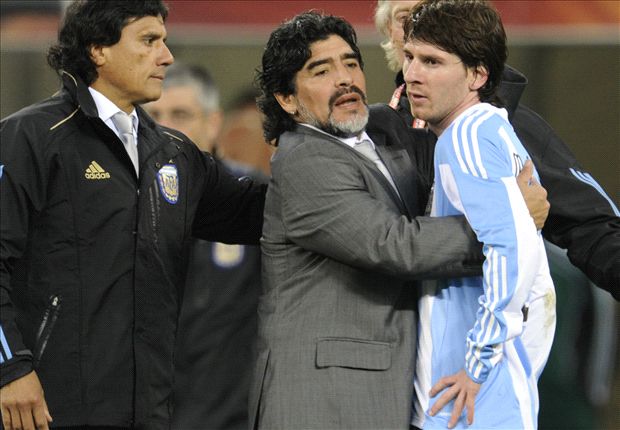 Unhappy ending | Maradona's Argentina fell flat in 2010
Pressed further still, the former Estudiantes coach complained: "If you are not self-critical, they say you are stubborn. And when you are self-critical, they say you are weak."
Coaching a national team can be a thankless task, particularly when a side as big as Argentina are concerned. The intense media scrutiny is part and parcel of the job, but unlike four years ago in South Africa, Argentina should be thankful they have a coach who studies their rivals meticulously and possesses the nous to tweak tactics when necessary.
"Let's not buy into this Germany lie," Diego Maradona told reporters a day before his side's World Cup quarter-final against Joachim Low's side in South Africa four years ago. But the 4-0 defeat that followed didn't make those words sound smart at all. Nor was the formation that day, with four centre-backs starting in defence (including the hapless Nicolas Otamendi at right-back), a lightweight midfield with only Javier Mascherano in the centre and a forward line left lop-sided by the coach's insistence on including Carlos Tevez.
Sabella is much more intelligent. Tevez wasn't wanted by Messi and others - and has been excluded altogether, while the three-man midfield in his side offers more defensive steel and the front three of Messi, Sergio Aguero and Gonzalo Higuain all work well together.


"We are Argentina and we shouldn't be too concerned with other teams," Messi said on Monday. "We should concentrate on playing well ourselves." All very well in theory, but those words almost sound they like come straight from a Barcelona blueprint - and recent results should remind Leo that not even the Catalans can win all the time.

Likewise Spain. Other teams have devised tactics and systems to negate the top teams, like Netherlands did to Vicente del Bosque's side in their stunning 5-1 win last week - with, perhaps ironically, a 5-3-2.

So while in theory it's fine to remain true to a style and a philosophy, the team that wins this competition is likely to need tactical alternatives as well. And Sabella has them, having used 5-3-2 and 4-4-2 as well as 4-3-3 in his time as coach of the Albiceleste, which has brought 22 wins and only four defeats in 35 games and also seen him get the best out of Messi in an Argentina shirt.

Perhaps reserve goalkeeper Mariano Andujar summed it up best on Tuesday when he said: "My personal opinion is that focusing on ourselves is much better, but it's true that your rivals can make things difficult, so it's a positive thing to be able to play with several different systems. Alejandro is an intelligent coach and later on in the competition, if all goes well and we face a big team, we will need tactical variants."

Messi should take note. With Maradona's motivational methods, Argentina were never going to win the World Cup, but with the shrewd Sabella in charge, they have every chance of success this time around.

Follow Ben Hayward on