By Richard Jolly
Brazil
have
Neymar
.
Argentina
have
Lionel Messi
.
Portugal
have
Cristiano Ronaldo
. Sometimes superstars lead to a simplification of football. They encourage us to ignore their 10 team-mates and focus on the famous faces.
But sometimes they just win matches and justify their lofty billing. Because, as England know to their cost, Uruguay have Luis Suarez. The PFA Player of the Year and the Footballer of the Year had already established his status as the scourge of English defences. Now he can add the England defence to his list of victims. Even semi-fit, Suarez is deadly enough to be a match-winner. It finished Suarez 2 England 1.
His vocal band of backers among the Liverpool support believe he belongs alongside Messi and Ronaldo among the world's top three. Others make a case for Neymar, Zlatan Ibrahimovic, Franck Ribery, Arjen Robben, Andres Iniesta or England's other nemesis, Andrea Pirlo.
There is a common denominator. None of these players are English. It is a moot point quite how far down any unofficial rankings you have to scan to find one of Roy Hodgson's players but it is an indication that the 23-man long-list for last year's Ballon d'Or contained a solitary Brit: the proud Welshman Gareth Bale. He, as he showed in the Copa del Rey and Champions League finals, can decide defining games.
England's record against the leading footballing nations in major tournaments is famously poor. Defeats to Italy and Uruguay has rendered it still worse. There are two obvious antidotes: either to have a team capable of prospering in such games, which is Germany's answer, or to possess an individual who can make the difference.
For a decade, the expectation has been that Rooney would fill that void. Yet his status is subject to a wider debate: he has secured the most lucrative contract in the history of English football and now, having ended his World Cup drought, is the national team's joint-fourth highest goalscorer. But Rooney does not belong in the planet's top 20 players at the moment. Some would not put him in the top 50.
He has been the king of qualifiers, the man for the medium-sized occasion. When it has mattered - at the 2006 and 2010 World Cups and Euro 2012 - Steven Gerrard has delivered more without ever replicating the blistering brilliance that Liverpool fans know all too well. The captain was match-loser, not match-winner against Uruguay. At 34, he may never play in a major tournament again.
So it raises the question of who, if anyone, can be England's talisman in Euro 2016 and the 2018 World Cup? Not Rooney, surely: as Paul Scholes bluntly pointed out, his career is on a downward curve. He ought to accept a diminished status.
PERMUTATIONS: WHAT ENGLAND NEED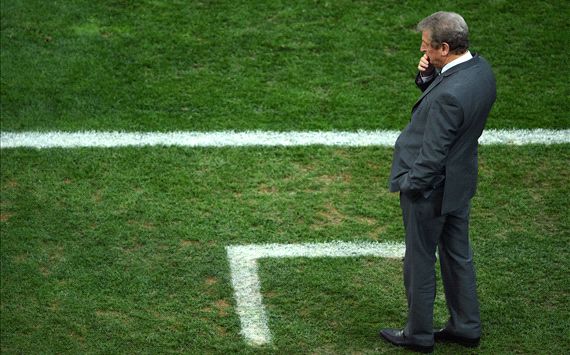 Perhaps Daniel Sturridge will step up. Perhaps he can sustain the form he showed in one superb season and show that a fine finish against elite opposition, in Italy, wasn't a one-off.
It is likelier that the onus should switch to still younger men. Raheem Sterling and Ross Barkley represent the future. They are 19 and 20, potential rivals for the No. 10 spot for a decade or more. Sterling was the star of the Italy game, Barkley an impact substitute whose running power has provoked comparisons with Paul Gascoigne.
They are raw and unproven and yet they are also at an age when, strange as it sounds, some England players have peaked. Rooney's finest hour came in Euro 2004, Michael Owen's in the 1998 World Cup. A teenage Aaron Lennon was the emerging talent of the 2006 squad. Now, when he should be in his finest years, he goes unselected and few even notice.
It should worry England. They need players to realise their potential, for young talents to augment their ability with understanding. They need to have the personality to leave an indelible imprint on World Cup matches. Just as Suarez did.