By Jon Fisher at the Estadio Maracana
Euro 2008. World Cup 2010. Euro 2012. Now, defeated. Spain's stranglehold over international football ends here. Loyalty to certain players and the key introduction of another brought about the end of this particular era.
A team built on quick passing, ball retention, tigerish tackling and high-energy pressing were beaten at their own game by a Chile side that dominated physically and, just as importantly, took their chances when they came.
VIEW FROM SPAIN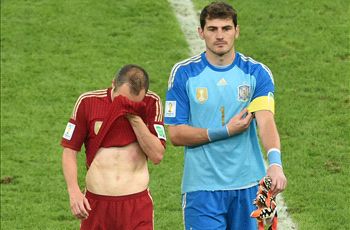 Pilar Suarez | Goal Spain

Nobody wanted to believe that Spain would eventually lose.

The team that have won everything in recent years have been eliminated and humiliated by two clearly superior teams.

The style, the identity and the passion of Spain seems to be missing. Some will try to accuse Barcelona players, others will try to name Iker Casillas as the man responsible for this failure, but the real truth is that this Spain simply aren't playing and dominating as they did in the recent past.

The hegemony of world football is looking for a new owner - la Roja have also abdicated their crown.
From the moment Eduardo Vargas neatly sidestepped Iker Casillas to put the South Americans in front after a lovely flowing move, there was rarely a sense Vicente del Bosque's men would salvage anything from an absorbing encounter.
They created chances - Xabi Alonso lashed wastefully over the bar after good work from Diego Costa, Costa himself fired into the side-netting and Sergio Ramos missed his kick when well placed.
The profligacy was symptomatic of Spain's display. There was a lack of conviction from one to 11.
The malaise started, not for the first time, with Casillas. And it was his mistake which contributed to Chile's second goal, punching Alexis Sanchez's free-kick back into the danger zone from where Charles Aranguiz toe-poked home.
Vicente del Bosque had paid the price for loyalty.
Poor in the Champions League final for Real Madrid, woeful against the Netherlands in the World Cup opener, Casillas should not have been in the starting line-up.
Pressed on whether he was considering dropping his captain prior to the Chile game, Del Bosque shied away, instead praising the 33-year-old for his willingness to rally the troops in the dressing room following the 5-1 drubbing by the Oranje.
Talk is cheap. Casillas' actions over the past few weeks should have ensured Del Bosque took the bold step of leaving out one of his trusted lieutenants.
He did that with Xavi, dropping the Barca veteran to allow Andres Iniesta to move into a central role. It was the only thing he got right. Iniesta was brilliant, attempting to push his side forward single-handedly. Unfortunately for him, his team-mates were not on the same wavelength.
Chief culprit was Diego Costa. Despite Brazil's woes in attack they can consider themselves to have had a lucky escape. For Spain, their efforts in persuading him to play for his adopted country have proved fruitless.
His only meaningful contribution of an otherwise forgettable performance was an overhead kick inside the area which Sergio Busquets somehow stabbed wide from three yards. It was that sort of afternoon.
He was hauled off to jeers after 64 minutes. Spain looked better without him, finally forcing Chile goalkeeper Claudio Bravo into meaningful action, but the goal which may have given them hope never arrived.

For Chile it means progress into the knockout stage alongside Holland. For Spain, a meaningless game with Australia before returning home to condemnation and investigation.
It is too easy to say Spain need to overhaul their squad. They still possess some of the best players in the world. What they need is a re-think. Del Bosque has often spoken of how he favours the Barcelona philosophy - that'll be the Barcelona team that has just completed their first trophyless season in six years.
It seems harsh to criticise Del Bosque, a man who has presided over arguably the greatest period of success in international football. But his demeanour at the pre-match press conference spoke volumes. Spain needed someone to bang their first on the table, snarl, rally the troops. Instead, he remained calm, pleasant, laid back. Like a loveable granddad.
The 63-year-old is contracted to remain in charge until 2016 but that should now be ripped up. It's time for re-evaluation. Spain have stood still since winning their second consecutive European Championship in Poland and Ukraine. World football has caught up.