The fans at Natal's Fifa Fan Fest cheered and suffered for their teams, but in the end both sets of supporters appeared to be satisfied with the result
By Luis Herrera in Natal
There was emotion. There was tension. There were chants, jumps and smiles. There were cheers for Neymar from the people in yellow jerseys and ovations for Guillermo Ochoa and the guys in green.
And when it was all said and done, there was a feeling that everybody on both sides was relatively satisfied to be going home with that 0-0 result.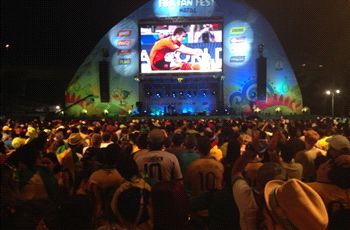 A scoreless draw is in most cases an unacceptable result for the host of a World Cup, especially if we are talking about a team that is also the favourite to win the title, but this was one of the few exceptions.

It didn't even matter that this could be considered a revenge match for Brazil after Mexico denied them Olympic gold two years ago. The bond between both teams and their fanbases continues to overcome any bitter feeling.
Natal has embraced Mexico as its second team in the same way supporters of El Tri have done for the Selecao in years gone by.
Even if Miguel Herrera's men won't come back to the city after this match, there are still plenty of Mexican fans who are using the city as their basecamp and will remain here ahead of a short trip to Recife.
It's fitting considering Brazil is the second team of many Mexicans, as cities like Guadalajara have proved when the World Cup and other events have been played there.
After the final whistle, the Brazilian fans were obviously disappointed that their team didn't win, but almost nobody lost control over it. Instead of criticising coach Luiz Felipe Scolari, blaming their own players or cursing the opposing goalkeeper, the locals turned to their visitors and embraced a joint celebration.


#BRA 0-0 #MEX Everybody happy at the #fanfest in #natal https://t.co/eEOFQKfVZp

— Luis Herrera (@luisrha) junio 17, 2014
Brazilians and Mexicans took pictures together, partnered to dance and wished each other good luck for the rest of the tournament. The locals hope Mexico can keep going until the latter stages. The visitors would be happy to see the Selecao win it all.
The Fan Fest was a display of fun and fair play at its best, the way every game should end.