EXCLUSIVE
By Vaishali Bhardwaj
Former
Everton
and
Manchester United
striker Louis Saha predicts that
Ross Barkley
will be one of England's standout players at the World Cup this summer.
Barkley enjoyed a scintillating breakthrough campaign with his club side Everton last term in which the 20-year-old scored seven goals in all competitions under new boss Roberto Martinez.
The talented midfielder's eye-catching displays last season earned Barkley a call-up to the national side in 2013 before the youngster forced his way into Roy Hodgson's 23-man England squad for the World Cup.
Saha knows all about Barkley's abilities having played with the midfielder during a four-year spell with the Toffees between 2008 and 2012.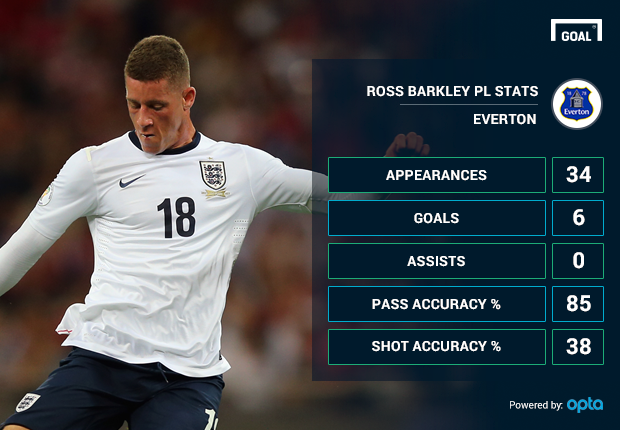 "[Barkley] is a great prospect for England. For me, two years ago, when I was playing with him and training with him, I knew that he had the talent and the strength and confidence," Saha told
Goal
.
"He's an instinct player, not saying that he is thinking about everything he's doing so he needs to improve in that.
"But, that is great because when a player has that kind of potential to improve, he can show you what a great player he can be.
"I'm a big fan of [Adam] Lallana and Ross Barkley. When you have the desire and the quality you perform so I don't see why those two players will not perform [at the World Cup]."
Saha – who retired from football last year – also witnessed the development of another England stalwart, Wayne Rooney, while playing for Manchester United between 2004 and 2008.
While the 35-year-old praised Rooney for being a great player for both club and country, Saha admitted that his former team-mate needed to increase his goal-scoring tally to compete with the likes of Real Madrid winger Cristiano Ronaldo and Barcelona star Lionel Messi.
"I think he is still a complete player as he likes to be involved, to be attacking somewhere and to score goals," Saha said.
"But, I think he can still improve because he needs to score more goals to be the best in the world.
"He definitely has the potential but compared to those two players [Messi and Ronaldo], he still can do more to improve and to be the most important player."
Rooney's team United have undergone a series of changes since Saha left following the retirement of Sir Alex Ferguson in 2013 after nearly three decades in charge.
Saha's previous manager at Everton, David Moyes, replaced Sir Alex at Old Trafford but was sacked after just 10 months when United failed to qualify for the Champions League.
But, the Frenchman admitted that while Moyes's inability to adapt to his new job resulted in his dismissal, United's owners were to blame for his appointment in the first place.
"The only mistake [he made] was that he wasn't able to adapt quickly because the time was only 10 months," Saha said.
"If you give a six-year contract to someone you obviously make a mistake if you sack him after 10 months. You, as a board, made a mistake."
Holland boss Louis van Gaal will take over from Moyes after the World Cup and Saha backed the 62-year-old to bring success back to United.
"He is well-known for being really strict, organised and willing to make sure that the tradition and the way they [United] play is still there," he said.
"He will have to adapt because Manchester United will remain Manchester United and I think he is smart enough to do that so I wish him luck."
Van Gaal will have many issues to deal with once he arrives in England, one of which will be the future of forward Danny Welbeck.
The 23-year-old recently admitted he was frustrated by the lack of games at United but Saha advised the striker not to leave the club.
"Danny is an immense player for me – I really am a big fan," Saha said.
"Danny should only stick to trying to score more goals and that's what is sometimes difficult [for him] – when you have too many qualities. I'm sure United is the right place for him."