By Liam Twomey in Rio de Janeiro
In a conference room deep within the heavily guarded confines of the Copacabana Fort on Monday, Brazil's Minister of Culture Marta Suplicy was giving a speech.
"The World Cup is an opportunity to project an image beyond samba music," she told assembled journalists and Fifa dignitaries. What she could not know as she spoke was that less than 200 yards away, members of her own government department were doing precisely that.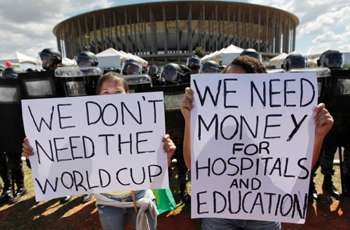 "The grievances are insufficient pay and working conditions, combined with a lack of state investment."
It began with a handful of people armed with a banner and a megaphone outside the fort's main entrance and ended with hundreds forming a chanting, swaying, defiant mass which commandeered one of Rio de Janeiro's busiest roads and denied access to one of the world's most iconic beaches.

Employees of Brazil's Ministry of Culture have been on strike since May 12 – leaving all 30 of the country's federal museums, including the National History Museum, National Museum of Fine Arts and the National Library, closed ever since – but this, in conjunction with protesters from the health and education sectors, was their most effective public statement yet.
The grievances are insufficient pay and working conditions, combined with a lack of state investment in the department – just 0.6 per cent of the total federal budget.

It is not about football but, as Brazil prepares to host a competition which has ended up costing the country €8.5 billion, it also undeniably is.

I meet Lia Jordao on the edge of the crowd, handing out information leaflets in English and Portuguese which detail the reasons for the protest. Despite the potential risks she tells me her name and cause without hesitation, and for most of our conversation she wears an expression that screams both pride and anger.
"The Brazilian government is betraying the people," she insists. "We don't make money so this is the only way we can show our value."
"We are not paid enough because the government does not consider culture a priority and there is no incentive for us to improve. If I went away and did a PhD I would be better at my job but it makes no difference to my wages. We lose good people to other departments because of it."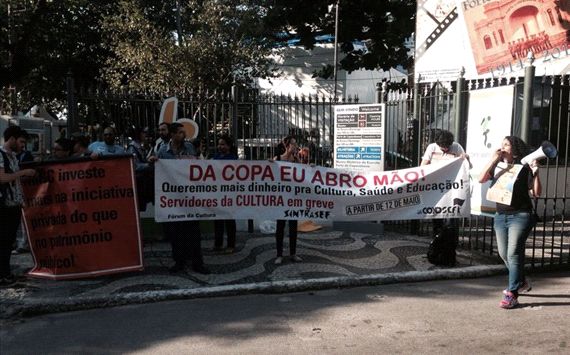 We don't want this cup | Brazilians make their presence felt with banners and megaphones
Nor is it a new issue. Ministry workers went on strike in 2005, 2007 and 2011 citing similar grievances. Each time the Brazilian government acquiesced to a new agreement; each time, Jordao claims, they reneged on the deal.

On this occasion, with the World Cup a matter of days away, Dilma Rousseff's administration is playing hard ball. Last week it filed a lawsuit against the strikers and, in her speech on Monday, Suplicy insisted that World Cup visitors could still enjoy any of the 3000 Brazilian museums not under federal control.

In truth, Rousseff has bigger problems. A poll conducted by local firm MDA in April revealed a drop in her presidential approval ratings to 47% and, with elections scheduled for October, she can ill afford a repeat of the violent protests which marred last summer's Confederations Cup.

Jordao is not all that concerned by the possibility of her actions overshadowing Rousseff and Fifa's big moment.

"We are not against football, but this is bigger," she continues. "The World Cup is a lot of money but we don't have the basics."
Follow Liam Twomey on